Wireless Charging Wisdom
20th December 2022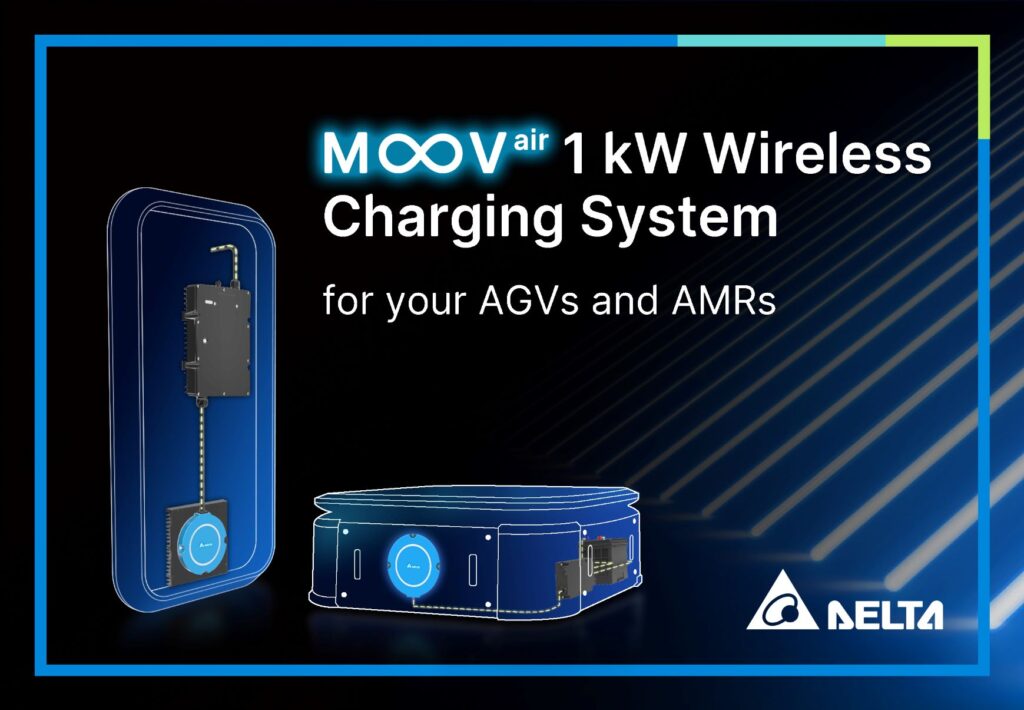 A new wireless charging system for e-vehicles such as AGVs and AMRs follows the maxim: 'Charge Wisely, Charge Wirelessly'
As it opens a brand new EMEA office in Helmond, the Netherlands, Delta, a global provider of power and thermal management solutions, has introduced the brand new Wireless Charging System MOOVair Series – an innovative industrial charging solution for automated electric-driven vehicles. The newly presented MOOVair 1 kW Wireless Charging System offers up to 1 kW contactless, high efficient charging for all types of 24 V / 48 V batteries, and is suitable for automated e-vehicles that require a frequent battery charge.
Alistair Coltart, Line of Business Head for Industrial Battery Charging Solutions, said: "Driven by the growing trend of automation and digitalization within industrial applications, the usage of electric driven, battery powered autonomous vehicles is heavily increasing. This trend is requiring an automated, highly efficient and reliable battery charging process, which can be 100% supported by wireless charging technology. With decades of experience in electric and electronic technology development, Delta is ready to help our customers on this. Our new product, the MOOVair Series, supports safe, smart, wireless charging in order to enable fully automated, unmanned operation for your AGVs, AMRs, and e-vehicles in factories or other application fields."
The 1 kW Wireless Charging System features a 1,000 W output, peak efficiency of 93%, and power transmitted over a gap of up to 20 mm. It is made of two parts: a transmitter connected to the AC supply as primary charging unit and an onboard charging unit connected to the battery. The onboard charging unit is available in versions suitable for 24 V or 48 V batteries, and multiple onboard units of either variant can share one transmitter pad saving space and cost. The onboard charging unit is compact (168 x 82 x 28 mm) and lightweight (1.5 kg, onboard charging pad included), making it simple to place inside even small e-vehicles. With the charging pads protected against water and dust to IP65, and a robust design for shock and vibration, the MOOVair Series has reliable performance even in harsh industrial environments.
Technical service
Another highlighted feature of the MOOVair Series is the choice to charge either by inbuilt profiles covering a range of batteries (bespoke profiles available on request) or by CAN bus control. With no cable, no connector wear, no maintenance downtime, smart communication and remote management, the 1 kW Wireless Charging System MOOVair truly realizes smart, automatic 24/7 operation for industrial electric vehicles manufacturers, including AGV and AMR, battery manufacturers, system integrators, industrial automation planners and solution providers.
Delta has inaugurated a new facility at the Automotive Campus in Helmond, near Eindhoven, the Netherlands to support the expansion of its industrial automation, industrial power supply and automotive business development, product testing and technical service in Europe, the Middle East & Africa (EMEA). Through the implementation of Delta's smart energy-saving solutions and innovative eco-friendly design, the new 4,055-square metre facility is expected to consume 56.84% less electricity than traditional buildings annually. The Delta Helmond office will eventually house over 150 employees and further cement Delta's leading capabilities for e-mobility.