Win For Jungheinrich in Design Safety Awards
20th September 2016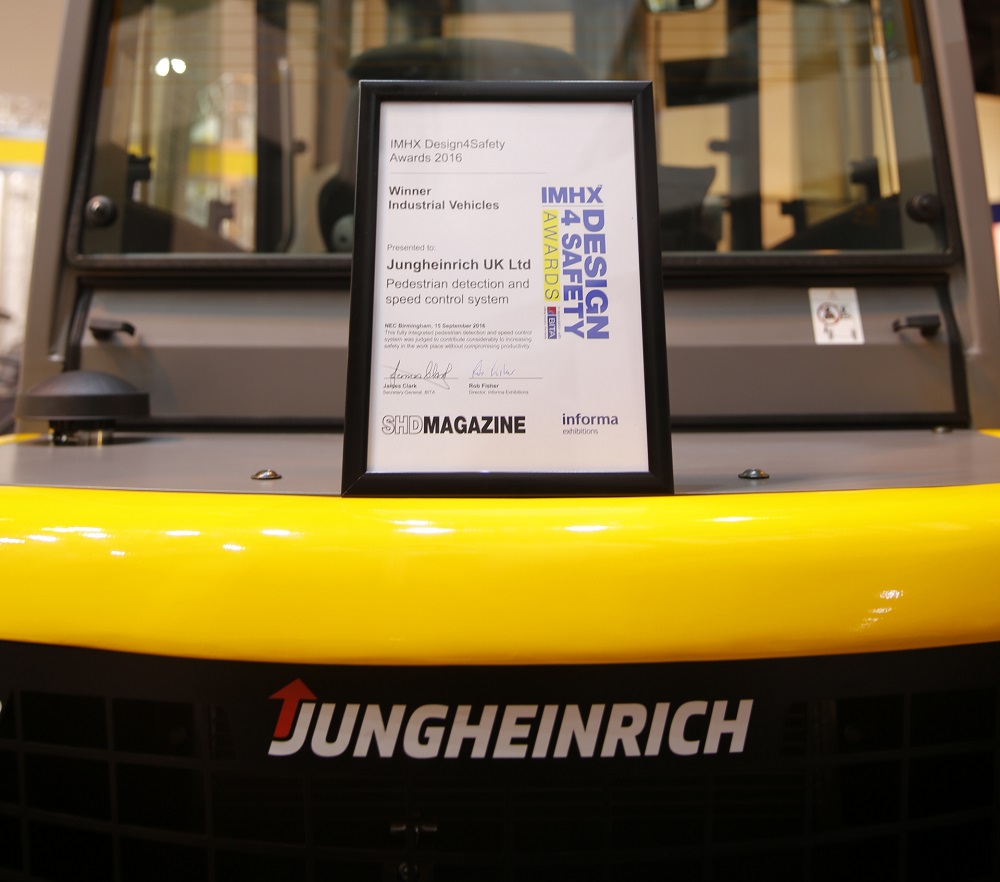 Jungheinrich has won the Industrial Vehicles category at this year's prestigious Design4Safety competition, for its integrated pedestrian detection and speed control system.
Organised by the British Industrial Truck Association (BITA), the Design4Safety awards highlight the importance of product design in improving safety standards and the final was held in Birmingham during the recent intralogistics exhibition, IMHX.
Collecting the award, Jan Lorenz, Managing Director of Jungheinrich UK Ltd, commented: "Safety has always been a key driver for Jungheinrich's product design team and this recognition is an acknowledgement of our commitment to safety and incident reduction."
Jungheinrich's pedestrian detection and forklift speed control system has been designed to significantly improve worker safety without compromising operational productivity.
The solution, developed by Jungheinrich in partnership with Arcure, is based around the Blaxtair intelligent on-board camera that continuously scans for potential obstacles in a truck's path and identifies the obstacle. When an obstacle is detected and identified, the system delivers audible and visual alerts for the driver while automatically slowing the truck to 'crawl' speed.
At long distances the system is configured to respond to obstacles identified as pedestrians. When something is detected at close quarters, the system will respond to various types of obstructions, so pedestrians and, for example, racking or even the building's structure will trigger the alarms and reduce the truck's speed.
As a result, pedestrian safety is improved within the warehouse but throughput and operational efficiency are not compromised because the operator does not need to respond to frequent unnecessary warnings as he goes about his routine.