UK AGV Specialist to Show New AGV at IMHX
9th September 2019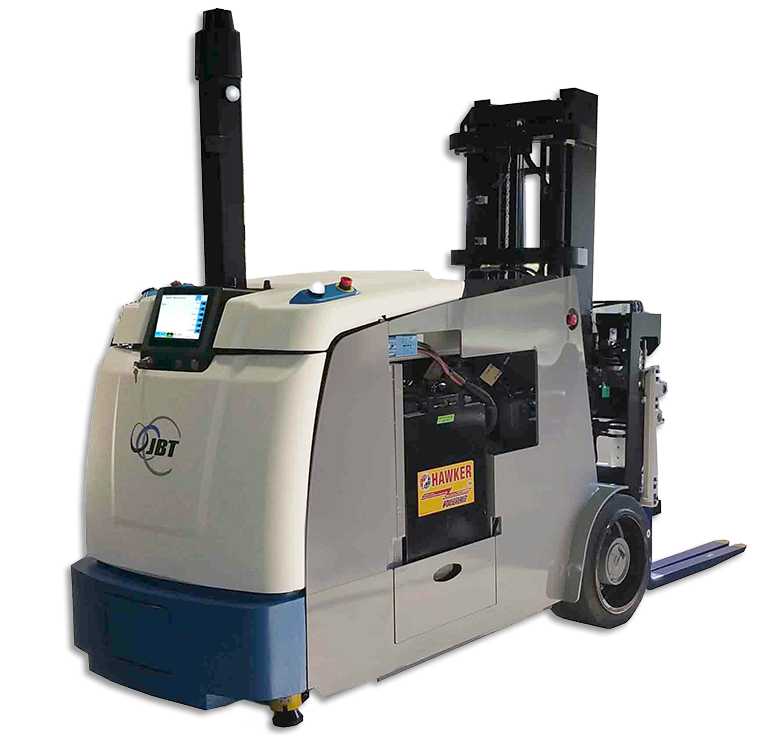 JBT, a Leicester (UK)-based global designer and manufacturer of automatic guided vehicle systems (AGVs), is introducing a new forkover-style AGV specifically designed for the UK market at IMHX 2019.
The new forkover features a streamlined design, with a higher maximum capacity of 1,250 kgs in a reduced footprint. These features allow it to operate efficiently and safely in tighter spaces. The forkover joins a growing family of AGV designs JBT offers for the UK market, including a new reach AGV, an expanded line of counterbalance units and a vehicle specifically designed for Automated Trailer Loading. JBT's AGV systems are manufactured at its EMEA (Europe, Middle East, Africa) headquarters in Leicester.
JBT's technology is opening up new automation capabilities in the UK market, offering Automatic Trailer Loading (ATL), which has proven to deliver substantial ROI.
"JBT has been designing and installing ATL systems for over 15 years," says Mark Stevenson, JBT's sales director for AGVs in EMEA. "With an ATL system, AGVs can pick up pallets from storage, from conveyors or staging, and place them directly into standard trailers at the loading docks. Our SGV Manager software directs all AGV movements and manages the fleet for maximum throughput. SGV Manager also provides inventory location management."
JBT has been designing, building and servicing AGV systems and software from its UK headquarters in Leicester for over 30 years. The company can solve the most challenging applications. In addition to ATL, JBT has delivered AGVs for outdoor operations and in freezers.
"Our wide range of AGV options means that we can better serve our customers with the right product for the right applications, as they work to meet their business goals in an Industrie 4.0 world. And our manufacturing base in Leicester provides an excellent central location to efficiently service our customers throughout the UK."
Meet JBT at IMHX 2019, Stand 20E20