Strong Partnership for Production Logistics
29th March 2023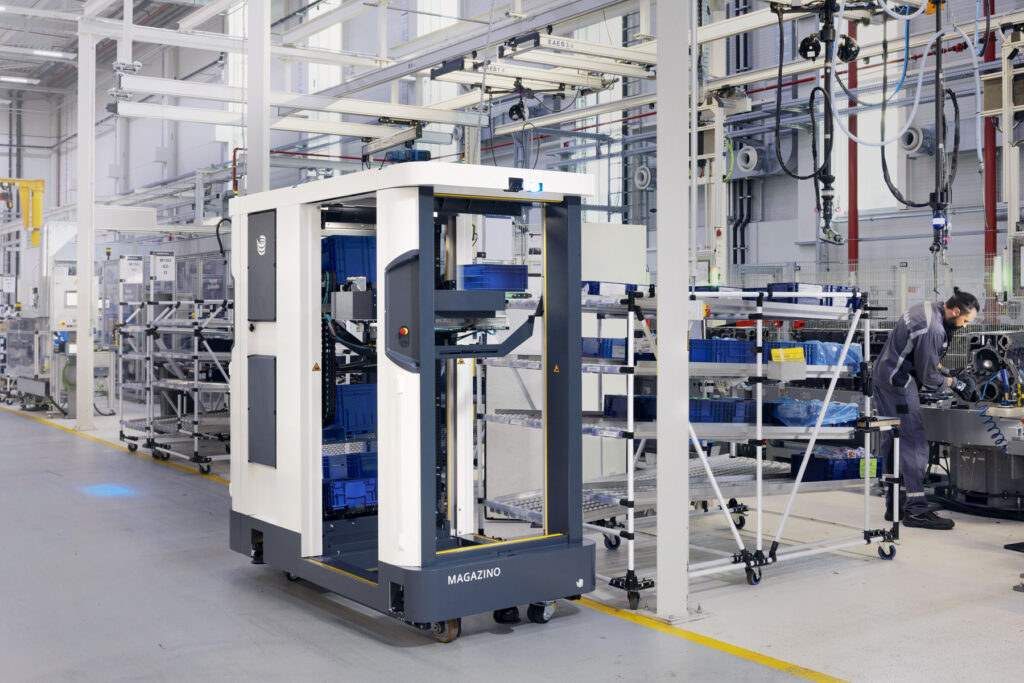 cts GmbH, the automation specialist from Burgkirchen in Upper Bavaria, Germany, has entered into a long-term and strategic partnership for production logistics with the robotics company Magazino GmbH from Munich. Magazino complements the cts logistics portfolio with the supply chain robot "SOTO" which brings materials to the assembly line, just-in-time and completely autonomously. The range of mobile robots is thus extended by an additional option. Together, the companies offer solutions that further drive the development towards a living "Smart Factory".
The SOTO robot combines these elementary logistical process steps into a single, fully autonomous solution: picking up KLTs of different sizes from a warehouse or into one, autonomously transporting multiple KLTs from source to sink, and exchanging containers at machines or delivering them to line-side flow racks at different heights. The combination of these capabilities clearly sets the SOTO robot apart from the market environment and enables true end-to-end automation in material handling for the first time.
Cooperation between cts and Magazino
"We are pleased to have Magazino as a technology partner in the field of production logistics. The industry is constantly facing new challenges that make it necessary to develop innovative solutions. We can offer our customers an overall concept tailored to their needs thanks to our high level of expertise and extensive experience," reports Alfred Pammer, Head of Sales and Marketing at cts GmbH.
"Working with a strong integration partner like cts GmbH provides our customers with a reliable service in planning, commissioning and support. With this support, the SOTO solution as a complete package becomes an economical and reliable tool in production," added Andreas Marx, Senior Partner Manager at Magazino GmbH. "We are very pleased to have cts GmbH as a first class partner at our customers' side."
Magazino develops and builds intelligent, mobile robots that perceive their environment and make decisions themselves. The autonomous robots work in parallel with humans and make processes in the areas of e-commerce, fashion and production logistics more flexible and efficient. Magazino has grown steadily in recent years and now employs 120 people at its Munich site. Magazino's investors include Jungheinrich AG, Körber AG, Zalando and Fiege Logistik.