SSI Schaefer's Weasel® Wins the IFOY Award 2016
10th June 2016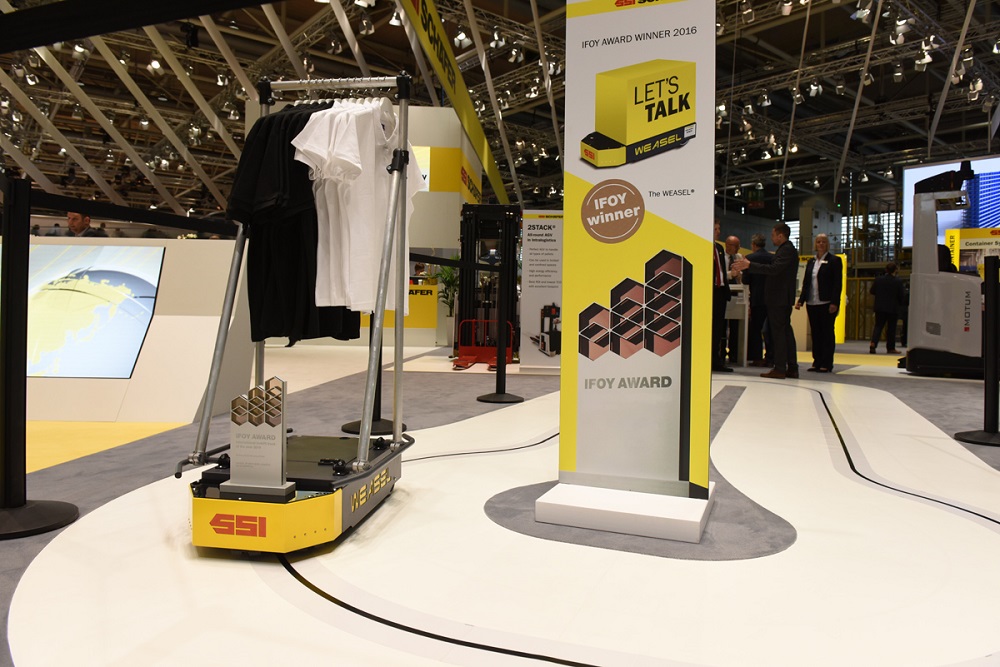 Hot on the heels of Schaefer's announcement of its further ambitions in robotics, comes the news that the German company's Weasel® automated guided vehicle (AGV) has won the "International Forklift of the Year" (IFOY) Award 2016 in the "Intralogistics Solutions" category. The award was presented at CeMAT in Hannover last week.
The Weasel system transports bins, cartons, trays and other products of various sizes (up to 35 kg) between work stations, goods-in, goods-out and the waste disposal areas. An internal AGV has been created, which in contrast to conventional AGVs, works without the need for complex sensors or control systems. Special features of the solution include the automatic RFID bulk reading in the goods-in zone and the flexibility and scalability of the system. Weasel systems are not rail-mounted and can therefore be flexibly integrated into existing structures, as the vehicles navigate along an optical track. The AGV grows with the company, and seasonal peaks in output can be handled easily using additional Weasel systems. The system is being used as an internal fleet solution at the fashion logistics service provider, NextLevel Logistik® GmbH, which is active in the rapidly growing e-commerce sector in Germany.
The "International Forklift Truck of the Year" (IFOY) Award, an independent non-profit organisation, aims to recognise the best intralogistics products and solutions on an annual basis and to develop ways to assess the best technical and strategic performances in intralogistics and encourage innovation. The IFOY Award was presented by the Materials Handling and Intralogistics Association of the VDMA (German Engineering Federation). The winner was selected by an international jury of well-known specialist journalists in the European logistics industry, under the auspices of the Federal Ministry for Economic Affairs and Energy.