Socially Distanced Robotics
29th October 2020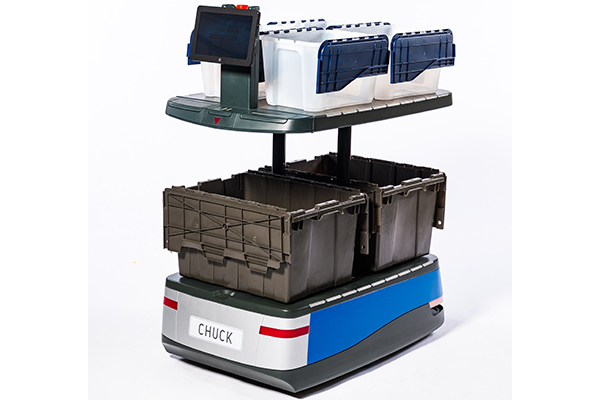 The top priority for warehouse managers is to keep their associates safe while running their operations. Automation and robotics specialist 6 River Systems has devoted a team to focus solely on post-Covid recommendations, updates and features to improve worker safety.
With the snappily-named 'Chuck', 6 River Systems (6RS) says it can double or triple the productivity of warehouse associates—at half the cost of traditional automation and without requiring any new infrastructure or change to warehouse layout. "Chuck is the most configurable collaborative robot in the industry, with which it's easy to increase throughput, accelerate new hire training,
reduce associate walking, and delight customers," says Simon Jones, Head of Sales UK and Ireland. The solution goes beyond collaborative robots to increase efficiency across entire warehouse
operations, enabling productivity gains in picking, packing, sorting, and replenishment as well as actionable insights through real-time data.
Simon Jones claims that customers already using Chucks for automation have an advantage in the fight against Covid-19 compared to traditional cart pick operations. "They are more efficient and require fewer associates in the building than manual operations to get the same throughput," he says. "Distributing pickers across the picking area is a fundamental characteristic of the solution, and pinch points where employees tend to have to congregate, like tote pick up and offload are eliminated, " Jones adds. "While this is a great start, our goal is to deliver even more ways to increase associate safety at our customers' operations."
The biggest challenge is that each warehouse operation is unique and not every solution works for every site. Likewise, designing solutions during the Covid-19 pandemic is a balance between safety, efficiency, current site design and demand. "Rather than offering a one-size-fits all solution, we have compiled a list of recommendations to review and implement in partnership with each
customer site," he adds. "Although health and hygiene recommendations differ from operation to operation, we are recommending that all associates wear protective gloves and a mask. Chuck is designed with large, easy to clean and robust action and pause buttons and lights, reducing interactions with touchscreens. The touchscreens are compatible with styluses and with a wide variety of gloves, which helps prevent cross-associate contamination." Read the whole story here: https://flickread.com/edition/html/index.php?pdf=5f3d1fcf3160d#44