Self-Driving Vehicle Innovator in Multi-Product Launch
12th September 2018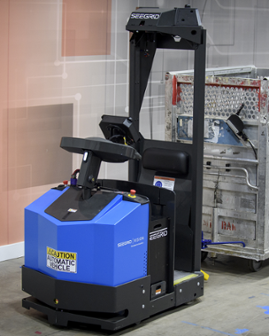 Seegrid, which makes connected self-driving vehicles for materials handling, has announced a multi-product launch with the release of a new vision guided vehicle, a new data analytics and reporting offering, and enhanced functionality of its Seegrid Supervisor fleet management software.
The launch is the company's largest release this year, as Seegrid expands its suite of automated solutions aimed at optimizing materials handling. The Seegrid Smart Platform helps manufacturing, distribution, and e-commerce companies streamline their supply chains with automated material movement, making operations safer and more efficient.
The latest addition to the Seegrid Smart Platform, the GT10 Series 6 Plus, raises the autonomy level of Seegrid self-driving vehicles by utilizing rear-facing sensors to detect obstacles while autonomously hitching to carts. This new vehicle offers fully automated material movement from pick-up to drop-off, removing the need for human assistance to complete tasks and allowing companies to deploy employees to more value-added roles.