Seed Financing Secured for AMR Warehouse Platform
23rd June 2022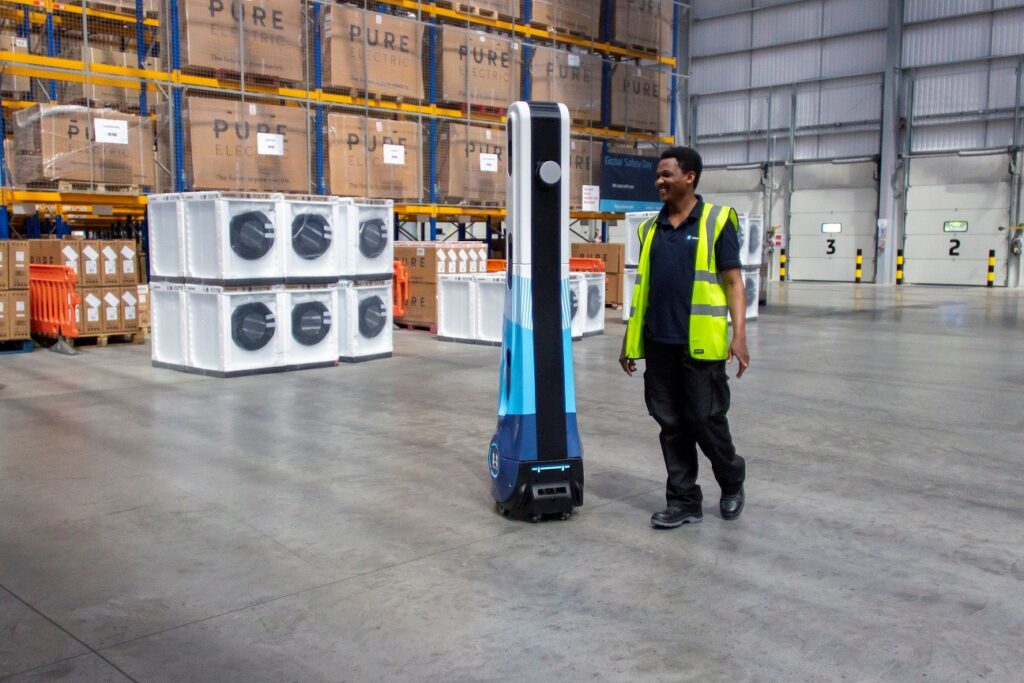 BotsAndUs, a cutting-edge intelligence and robotics company has secured $13m in seed funding to expand its logistics-disrupting solution globally. Lakestar leads the round, with participation from Maersk Growth, Kindred Capital, and Capnamic.
Efficient warehousing is a crucial part of global supply chains. The rapid increase in demand for near-instantaneous storage, dispatch, and delivery of goods is placing enormous time and cost pressures on companies, who now need to rethink and enhance their logistics and storage operations. 69% of companies are currently looking to improve their inventory control and lower costs.
BotsAndUs collects real-time insights using fully autonomous, mobile robots to quickly process pallets at every stage in their journey throughout a warehouse. Triggered by the arrival of goods, their robots capture the volume and condition as they enter and leave the warehouse. The same robots scan goods on shelves and record their location and quantity. Robots operate without human intervention and do not require additional investments in infrastructure. These robots will save time by eliminating manual dimensioning and stock checking; ultimately allowing managers to have full and real-time visibility of their operations from the comfort of their desks.
"BotsAndUs is already paving the way for artificial intelligence and robotics to completely transform logistics. Our integrated AI and robotics platform is helping companies boost their performance and unlock their full potential. We're confident we can make our vision a reality: transforming logistics on a global scale with real time data to eliminate errors and enhance performance across all steps" says Co-founder and CEO, Andrei Danescu.
BotsAndUs already won key customers across various industries. In addition to Maersk and Huboo, BotsAndUs works with Menzies Aviation, the air cargo company that services more than 200 airport locations, – including at Europe's largest airport, London Heathrow. The company recently entered into a partnership with Maersk – the global integrator of container logistics, to collaborate with Maersk's warehousing and contract logistics division, initially in one of their warehouses, exploring automating inventory management and acceptance processes, and with time to improve customers' visibility and access to inventory across facilities. With the fresh capital, BotsAndUs is targeting markets including Germany, France, Nordics, USA, and Canada and driving product development.
"More than 80% of warehouses have no automation at all. With warehouses expected to grow by 50% by 2025 and labour shortages of over 30%, automation clearly holds the key to ensuring logistics operations are as optimised as possible. Logistics is an industry that always faced margin pressures and little means to invest into a digital infrastructure. BotsAndUs real-time data capture abilities create this infrastructure and the basis for long term automation of warehousing operations. We're delighted to join the stellar team on their journey to transform logistics and enable companies to perform at their best," says Lakestar Partner Christoph Schuh.
"Maersk Growth's investment in BotsAndUs is a great reflection of how we in Maersk are working towards improving end-to-end customer visibility and access to inventory across our warehouses, ultimately offering our customers fulfilment tailored in real time and in response to changing demands," says Ingrid Ebner, Global Head of Contract Logistics, Maersk. "We are delighted to back such a talented and inspiring team. BotsAndUs are tackling big opportunities in global logistics. Most warehouses have limited or no automation, and could benefit significantly from exploring this space. Many firms currently stretch the capacity of people and process in response to business challenges. BotsAndUs provides an easy on-ramp for warehouses to explore automation, enrich data and enable intelligent optimisation to utilise untapped capabilities from existing assets and teams," says Oliver Finch, Investment Partner, Maersk Growth.