Robotics: Winning Combination
13th December 2022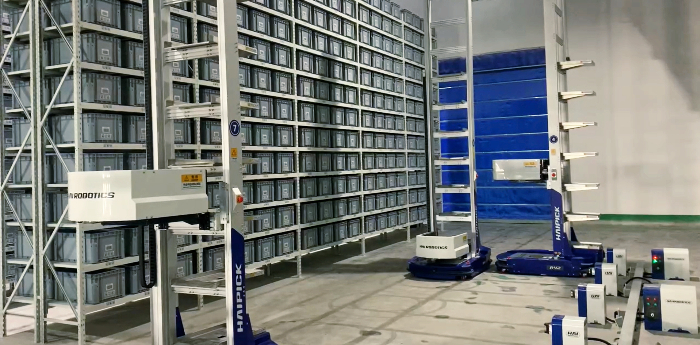 How a UK warehouse facility used robotics and automation to meet some very common challenges.
WINIT is a Shanghai-based provider of full warehousing and logistical solutions for cross-border ecommerce. It serves the United States, Australia, and several European countries. In the UK alone, WINIT runs three warehouses with a total combined footprint reaching 550,000 square metres.
The challenge
In the past two years, the demand for global warehousing services has surged dramatically due to the growth of cross-border ecommerce businesses. WINIT's UK facility in Tamworth, Staffordshire, was confronted with expanding challenges as the demand for global warehousing services soared.
Rapid business growth and the need to handle a variety of goods and fulfil a high number of orders – combined with the shortage of warehouse workers – meant that WINIT was faced with two main challenges: improving operational efficiency and increasing storage density.
The robotics fix
WINIT automated its order-fulfilment centre operations with the help of the HAI Robotics ACR (Autonomous Case-Handling Robot) solution. The solution involved deploying 100 HAIPICK A42 robots and 16 on-conveyor workstations for order picking.
What the solution does
As the HAIPICK A42 robots can extend to more than 4m in height, they are able to store goods on both lower and higher shelves, leading to better utilisation of the space available. They are driven by AI algorithms and can move smoothly through the 10,000 square-metre facility, bringing cartons and totes to workstations, where operators can pick and sort goods efficiently.
The on-conveyor picking workstation automatically conveys the cases unloaded by the HAIPICK robot or the cases that need to be loaded, making use of automated storage and retrieval functions. It offers an ergonomic design; workers and HAIPICK robots are indirectly connected, and the goods can be sorted on the conveyor line without too much movement. It delivers convenient operation and efficient warehousing.
Another bonus is that the HAI Robotics solution can easily be implemented in one part of the warehouse and scaled up as business grows further.
Workflow has improved by 3-4 times, storage density by 60%, increased picking efficiency by 50%, and brought on-time order delivery to almost 100%.
With the help of HAI Robotics, the overall service and operation of WINIT has not been significantly affected despite the disruptions to the global supply chain since the start of the COVID-19 pandemic.
"These smart robots have more than met our expectations," comments Bob, Warehouse General Manager at WINIT's Tamworth facility. "We picked HAI Robotics as our autonomous robot supplier from a choice of several other companies because it is one of the first developers. Its system has better stability than that of others, and its staff is professional. So it was an easy choice."
Satisfied workers
HAI Robotics' automated robotic solution has also extended the capacity of each individual WINIT operator by increasing efficiency, a big plus in a slow jobs market. The WINIT warehouse workers are also enjoying the benefits of this solution. The on-conveyor workstations are ergonomically designed to help operators fulfil orders faster, more accurately and with lower effort.
Becky, a warehouse operator, said that with the help of the robots, she can now stay in the workstation and just wait for the robots to pick and carry goods back and forth to her workstation. She no longer walks thousands of steps indoors to pick orders. "Getting goods now is like getting something at my fingertips. [The robots] make my work much easier. Now I don't need to move around and bend my waist. Everything is easy."
This robotic solution allowed the facility to increase the average worker efficiency rates to 450 cases per hour and increased the daily handling volume up to 50,000 pieces. The goods-handling efficiency rate for the warehouse was improved 3 to 4 times over the previously manual processes and the picking efficiency rate of operators fulfilling orders was increased by 50%.