Low-lift Pallet Truck Helper
28th February 2023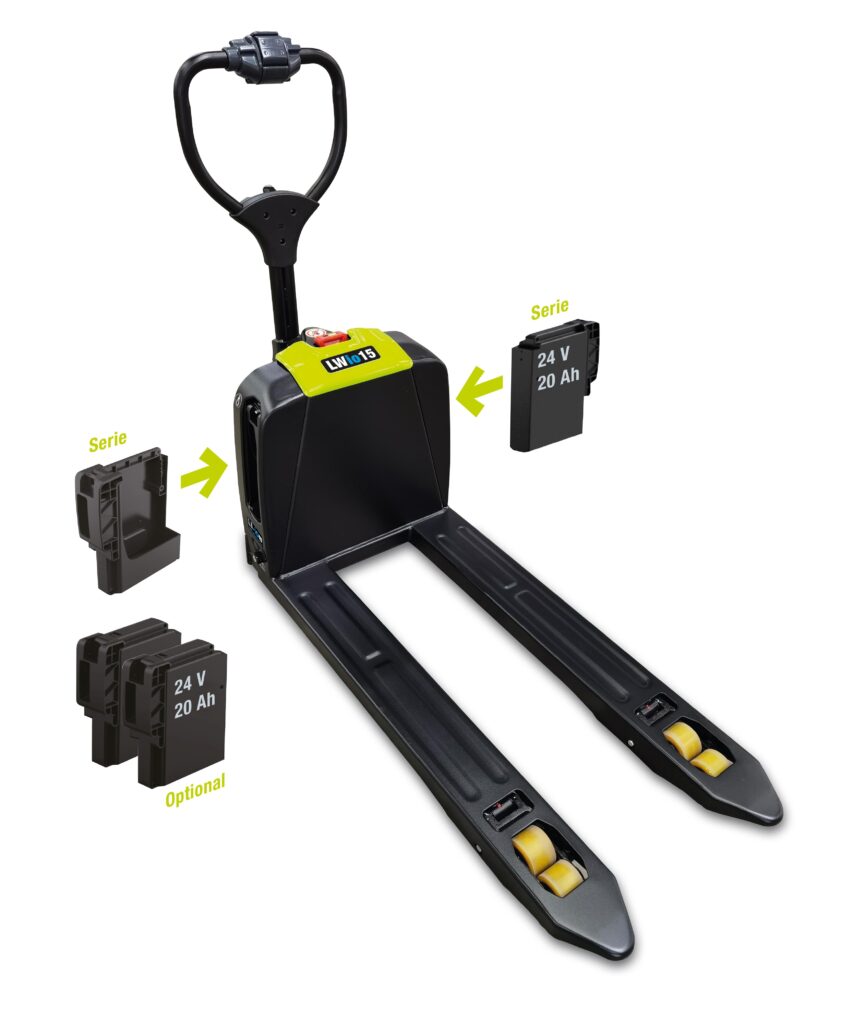 Clark has launched a new low-lift pallet truck for light transport tasks. The vehicle with the model designation LWio15 has a load capacity of 1500 kg and is suitable for short distances in goods distribution, production or in the warehouse. The vehicle is equipped with a long-lasting and powerful Li-Ion battery, which makes the LWio15 a reliable helper in industry, trade and logistics. Especially when a low-lift truck is only needed occasionally, the LWio15 is extremely cost efficient.
Compact and safe pallet truck
The LWio15 drives and lifts purely electrically. The operator can therefore operate the truck safely and ergonomically without any effort. With a length to the front of the forks (L2 dimension) of only 400 mm and an aisle width of only 1810 mm, the low-lift truck is extremely compact and manoeuvrable. Via a switch integrated in the ergonomic tiller, the truck can also be moved with the tiller raised. This makes the low-lift truck ideal for use in space-critical work areas and narrow aisles. Optional side support rollers prevent the vehicle from tipping and ensure stable and safe handling even when cornering. The LWio15 has a lifting height of 105 mm and is available with a fork length of 900 mm or 1500 mm, depending on the application.
Li-Ion battery guarantees high availability
The LWio15 is equipped with a 24 V (20 Ah) Li-Ion battery as standard and a storage compartment in which a second battery, also with 24 V (20 Ah), can be accommodated as an option. Intermediate charging, for example during breaks, can extend the vehicle's operating time and avoid downtimes without limiting its service life. To charge the battery, the external charger included in the scope of delivery is simply connected to a 230 V socket. The battery can be quickly and safely removed from the side when it needs to be changed.
The operator also benefits from numerous advantages that have a positive effect on operating costs: Compared to the monobloc battery, the Li-Ion battery has a longer service life. There is no additional expense for maintenance work around the battery acid, as the Li-Ion battery is maintenance-free. Intermediate charging can be carried out without a special charging room, as no gases are released during charging.
Since the forklift was invented by Eugene Clark in Buchanan, Michigan (USA) in 1917, CLARK has been one of the worldwide market leaders in the materials handling vehicles business. With more than 100 years of experience in the materials handling vehicles sector and over 1.4 million forklifts sold worldwide, the CLARK brand, which is proud of its roots in America, is associated with modern and robust product design, progressive, sophisticated technology and excellent customer service. Since 2003, CLARK has been part of the South Korean Young An Group based in Bucheon and offers a complete product portfolio consisting of forklifts with electric power or internal combustion engines and load capacities of 1.5 to 8 tons, narrow-aisle forklifts, warehouse equipment and an extensive range of services.
CLARK Material Handling International (CMHI) with its head office in Bucheon, South Korea, is currently represented worldwide at more than 480 locations in over 90 nations. The operations are managed at four headquarters around the world. Production is assembled according to European quality standards at plants in Korea, the United States, Vietnam and China. With 170 Clark dealers in 60 countries, CLARK Europe GmbH is one of four subsidiaries of CMHI and serves the regions of Europe, the Middle East and Africa from its headquarters in Duisburg, Germany.