Next-generation stand-in low lifter
1st June 2022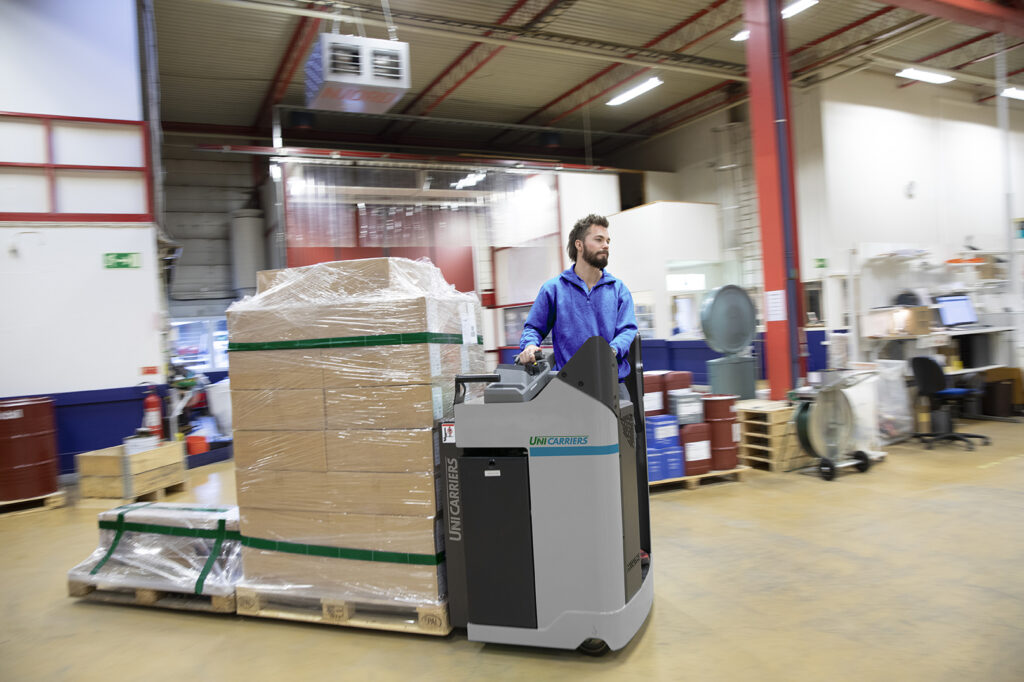 UniCarriers has launched a new generation of the ALR stand-in low lifter, now offering enhanced features in line with the highest standards of technology, quality and ergonomics. Available in 2 and 3-tonne capacities, the ALR is ideally suited to heavy-duty operations such as internal transportation and cross docking applications.
Space-saving and safe
The compact ALR stand-in low lifter is specifically designed for use in confined warehouse spaces and allows for agile movement in areas where other pallet trucks may not fit. The operator is contained safely inside the compartment, helping to minimise risk of injury when working up and down narrow aisles near racking and pallets.
Stay in control
For flexibility, the ALR has a newly redesigned steering wheel that can be fully adjusted in both height and angle depending on the operator's driving direction, and new ergonomic controls enable smooth, intuitive handling with less strain. While driving, the operator can maintain a comfortable position thanks to the optical presence control, which is an alternative to a pedal as it allows the operator to lift their foot without it causing the truck to brake.
The operator compartment has a low step for easy entry, and a dampened floor minimises vibrations to reduce fatigue – helping operators to stay alert and productive through long shifts. The advanced multi-functional display is easy to read and shows a variety of information, including driver settings, battery status and hour meter.
Make it your own
At UniCarriers we know that every business and every application is different, which is why we work closely with customers to provide tailored products. The ALR low lifter offers a range of optional features to allow customers to create a product package adapted to their needs. For example, customers can choose to add an overhead guard combined with a panoramic roof, or 360-degree steering for improved manoeuvrability. If a task requires the truck to move with forks trailing, the Ergo Forks Trailing Control will allow the operator to face ahead whilst maintaining a completely unobstructed view.
All in a day's work
Time is of the essence during fast-paced picking operations. The ALR has a powerful AC motor for high speeds, quicker accelerations and greater efficiency on jobs. When it comes to motive power, multi-shift applications may benefit from a high-performance Li-ion battery option which offers fast opportunity charging. But to ensure high availability at all times, UniCarriers believes it is essential that customers receive quality full-maintenance site support. The modular ALR is built using UniCarriers' shared components concept, which enables our engineers to provide exceptional first-time-fix rates for maximum uptime.