New UniCarriers Order Pickers Offer 12m Reach
24th October 2016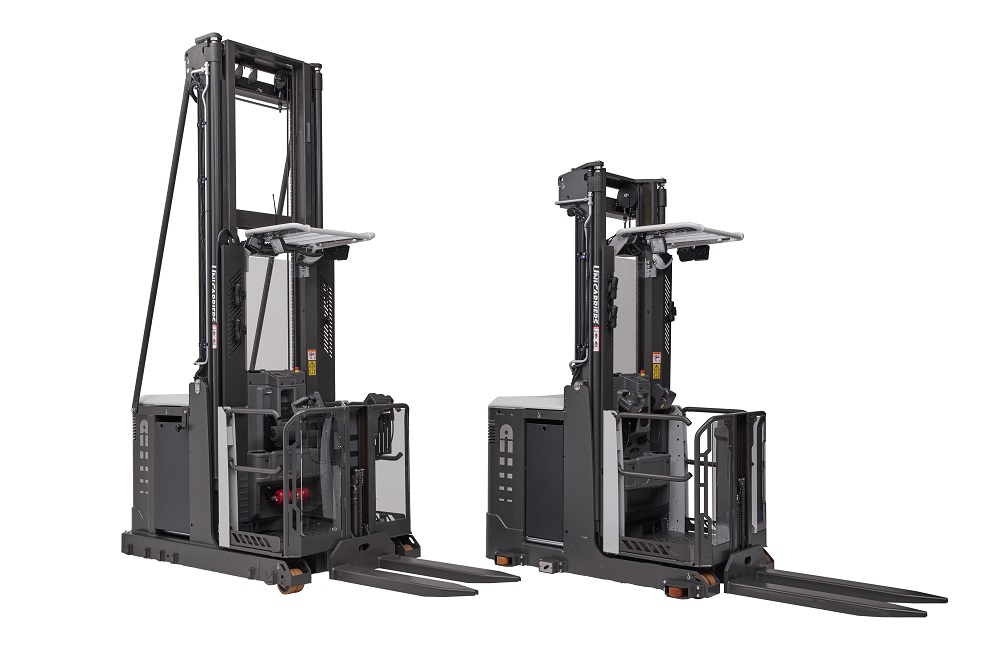 With the introduction of the EPM 100 and EPH 125, UniCarriers is launching two more models from its completely revised picking range into the market. Available for order from November 15th, these new machines complete the order picker family, which also includes the EPL 100 introduced in January 2016. These three vehicles now allow UniCarriers to offer customised solutions for low, medium and extra high pick heights. Thanks to their ergonomic driver cabs and advanced safety systems, the order pickers present an ideal workstation for efficient picking processes.
Equipped with 48-volt, high-performance motors and pick heights up to 12,100 mm, the EPH is the perfect solution for intensive operations. This truck can operate with loads up to 1,250 kg and achieves a top speed of 12 km/h.
Designed for picking heights up to 9,850 mm, the 24V EPM can reach a maximum speed of 11 km/h while carrying a load of 1,000 kg. The EPM now completes the range of order pickers including the compact EPL for picking heights up to 3,400 mm and the above mentioned EPH.
These new order pickers feature a stable, completely re-designed chassis. The modern cab design includes controls that can be adjusted to the height and position of each driver's individual requirements. The EPM and EPH are optionally available with operating controls on both the mast and fork sides to ensure maximum productivity and ergonomic design.

Safe and economical to drive around warehouse
For safety reasons, high level order pickers may only move if there is a driver in the cab. To ensure that this is the case, all models in the EP series are fitted with a full floor covering sensor on the driver's cab platform. Which means that the operator is not tethered to a single spot, which greatly improves comfort. The operator is free to stand comfortably and not restricted to a position dictated by having to depress a deadman button. The side safety gates are also connected to a cut-out which ensures the lift height will not exceed 1,200 mm without the gates being closed. If they are not, the machine will not function. Featured as standard, the built-in on-board computer provides rapid access to all vehicle settings and manages the authorised drivers' login details and user profiles.

Longer battery life thanks to eco mode
In addition to standard mode, the EPM and EPH also feature an eco mode. This reduces battery consumption and provides a more energy-efficient operation. At 66 decibels for the EPM and 65 for the EPH, these order pickers are also whisper-quiet in their operation. The models can be freely driven around the warehouse or work in very narrow aisles controlled by guide rails or inductive guidance. Safer operation can also be ensured in very narrow aisles with preparation for the option of a Personal Protection System. When using this system, the truck detects people or other handling equipment in the aisle with the help of a laser and stops moving if necessary to avoid a collision.