New Toyota Warehouse Truck Ideal For Confined Spaces
24th November 2016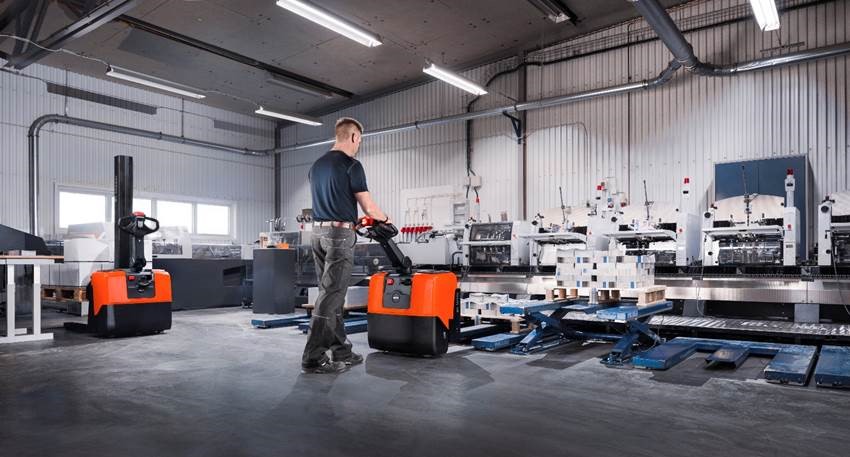 The BT Levio LWE130 and the BT Staxio HWE100 are powered warehouse trucks that can be used in a wide variety of lower-intensity applications. They are ideal for working in confined spaces such as retail sales areas, shops and supermarkets, but also hospitals, especially thanks to their low noise level. The compactness of this lightweight lifter and stacker also suits their use on-board delivery vehicles such as lorries. Moreover, the LWE130 lifter model can transport loads of up to 1.3 tonnes with ease over short to medium distances with a travel speed of up to 5.5 km/h; while the HWE100 stacker can stack up to 1 tonne to heights of up to 2 metres.
The BT Levio LWE130 & BT Staxio HWE100 come with a built-in charger for fast and easy charging, by simply plugging it into a power socket. The LWE130 lifter also offers the option of an in-vehicle charging system for opportunity charging when travelling on delivery vehicles. In-vehicle charging features intelligent control to only operate when the main vehicle engine is running.
Both the lifter and stacker model are equipped with a revolutionary low-maintenance AC motor that offers durability and strength, as well as low energy consumption. These trucks are also designed to be easily accessible for efficient servicing.
For optimal driver comfort, the BT Levio LWE130 and BT Staxio HWE100 are user-friendly and intuitive thanks to their quieter operation and programmable driver parameters. To ensure safe and efficient material handling, they are both designed to be compatible with the fleet management tool I_Site that monitors for example driver authorisation (with a PIN code), machine utilisation and detects possible impacts of your truck in real time.
The HWE100 stacker model also offers automatic height adjustment; an option that uses a photocell to monitor the height of the top of the load. As items are moved on and off, the fork height is automatically adjusted to a comfortable level for the operator. Finite positioning is also easy with this powered stacker. The unique click-2-creep feature means that by simply double-clicking the control lever the truck is set to creep speed, allowing safe control in tight situations, and the BT Staxio HWE100 also boasts a 5-point chassis that gives the truck excellent stability and control.
"The previous BT Levio LWE130 and BT Staxio HWE100 have already proven their strengths and are now available with operator parameters, PIN code access and the Click-2-Creep function. We have also improved these trucks with new features, offering the customer not only reduced noise levels and more efficient charging, but also improved energy efficiency" says Johan Bäckström, Product Manager.