New Kärcher Ride-on Sweeper Offers Speed and Convenience
13th February 2019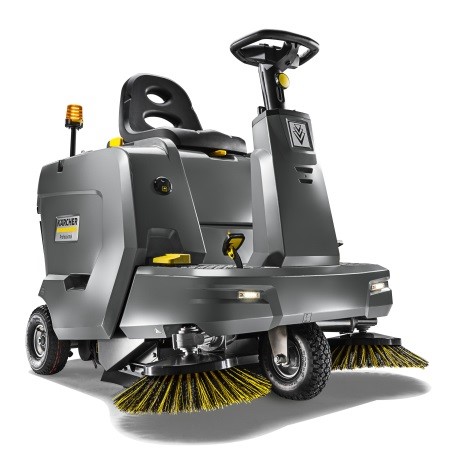 The battery-powered KM 85/50 R is the new entry-level model in the ride-on sweeper range from Kärcher. It is an alternative for operators seeking a very compact and manoeuvrable machine, rowho do not wish to compromise on convenience and speed. The company says that professional users can expect area performance/hour at about 30% higher than that of a walk-behind sweeper with the same working width.
Clean solution
The machine can be equipped with a second additional side brush as required. The operator can adjust the rotational speed during operation to suit the type and amount of dirt. In addition to optimum cleaning performance, this results in reduced dust impact. The floating main sweeper roller requires no manual adjustment or wear adjustment by the operator. The contact pressure is automatically adjusted and the roller reacts flexibly to uneven surfaces.
The collected dirt is divided evenly between two 25 litre catch pans. This facilitates removal and transport of the full container for emptying.
Operator-friendly operating concept
Thanks to the slim construction style and a working width of 85 cm with one side brush, this machine is ideal for cleaning in narrow corridors or between shelves quickly and conveniently. It also fits easily between doors with a minimum width of only 90 cm. The turning circle is less than 2 m. The machine is suitable for indoor and outdoor operation.
The seat position and steering column height can be adjusted for a healthy and fatigueless working posture. With self-explanatory symbols and clear imagery, the coherent and intuitive operating concept minimises the possibility of erroneous operation. Both sophisticated and practical: the Kärcher Home Base system offers supports and holders for further accessories such as litter pickers, brooms or an additional container.
Easy to service
The main emphasis in the development of the KM 85/50 R was on minimum maintenance effort. If there is a loss of suction power, the filter cleaning can be activated conveniently during operation from the driver's seat with a handle. A mechanical stripping system subsequently removes the dust from the filter segments very effectively. The filter and main sweeper roller can be replaced without additional tools.
Meet Kärcher at LogiMAT next week, Hall 10, A31