More in Cold Store with Combi-WR
14th February 2023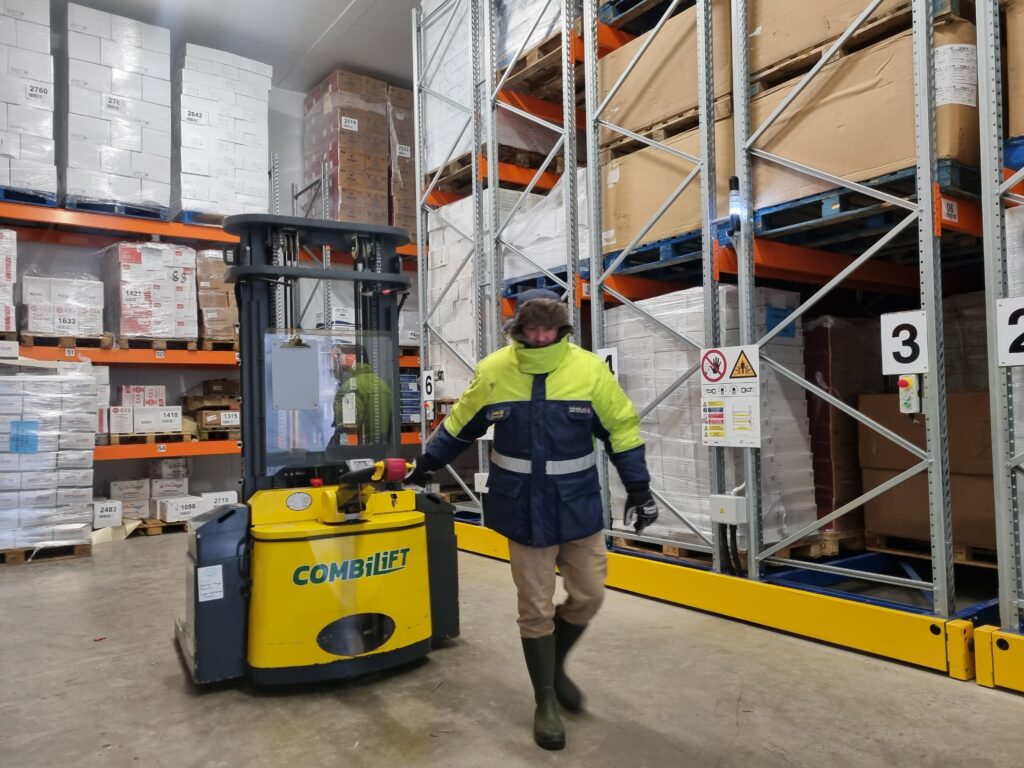 Warehouse space does not come cheap, but for frozen and chilled products companies, the cold store costs per m² are even higher compared to ambient facilities. Maximising capacity should therefore be a priority in the existing footprint as well as in new builds, and this is exactly what Jordan International Transport set out to do with the design of its new purpose built storage facility in Moy, Co Tyrone, Northern Ireland. From here the company transports frozen and chilled fish and seafood to all of Ireland, the UK and mainland Europe on a daily basis.
Growth was a major driver for the decision to build the warehouse and switch to a new system, which aimed to maximise space and achieve greater output. In the initial planning stages, Storage and Distribution Manager Barry McIlvanna spoke to materials handling specialist Combilift as well as a racking supplier to identify the most suitable equipment. A combination of automated racking and a Combi-WR pedestrian stacker has enabled substantially more pallets to be stored in a smaller area.
A further consideration was to improve the ratio of stored products and the amount of space needed to access them, as Barry explains: "The freezer system has to work just as hard to cool the relatively unproductive areas set aside for access. With standard racking and conventional forklifts such as the counterbalance and pallet trucks we were previously using, only about half of the space could be used for storage. With the new system, this has risen to 85% so our freezer circuit can operate much more efficiently and therefore more cost effectively."
In common with all of Combilift's pedestrian trucks, the Combi-WR features the unique, patented and award winning multi-position tiller arm which enables the operator to remain at the side of the unit rather than the rear. "The operator's position with this pedestrian version allows a greater level of control over the products when moving them around and as you have full visibility of the loads, the forks and the surroundings it's safer for operators and other staff nearby, particularly when working in our narrow aisles and tight spaces," said Barry.
Pedestrian stacker and automated racking maximise space
As well as enabling an almost doubling of pallet density, the performance of the electric powered stacker, even in the demanding cold store environment, has been exemplary according to Barry. "It's perfect for our set up. Working at -18 degrees over a few hours it never misses a beat. We were initially concerned whether a truck could work equally effectively in such cold temperatures compared to normal conditions, but the team at Combilift had all the right specifications and solutions."
Barry sums up: "Quick accessibility to products, adhering to deadlines and guaranteeing a high level of service have kept us at the top of our game for over 25 years. We believe being the best means using the best equipment available – and that's what we have with the Combi-WR. I am sure that any future growth will involve more of Combilift's products."