Groundbreaking Ceremony Held for New Eindhoven DC
16th October 2015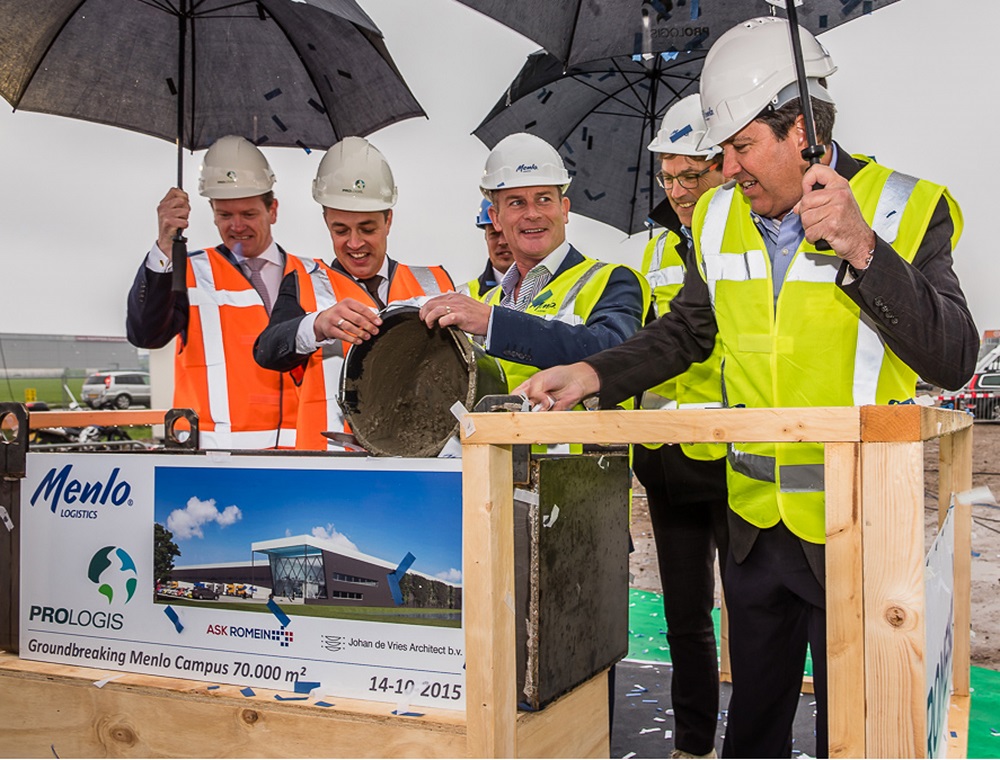 Menlo Logistics (Menlo), the US$1.7 billion global logistics and supply chain management subsidiary of Con-way Inc. (NYSE: CNW), together with global industrial real estate developer Prologis, Inc. (NYSE: PLD), today held a formal groundbreaking ceremony for their new 70,000-square-meter regional logistics facility in Eindhoven, the Netherlands.
A time capsule was buried as part of the ceremony containing an artist impression of the completed building, a Polaroid picture of the ceremony and a newspaper dated October 14. Presiding over the occasion were Robert Bianco, president, Menlo Logistics; Philip Dunne, president Prologis Europe; Tony Gunn, managing director Europe, Menlo Logistics and Staf Depla, alderman City of Eindhoven. Guests included representatives of the two companies, customers of Menlo and local dignitaries. The formal laying of the building's foundation, symbolized by pouring of concrete, has been preceded by work on the site, which is proceeding on a schedule that will make the facility operational by April of next year.
In welcoming guests, Menlo's Bianco said, "In a way Menlo's development in Europe has come full circle. We started operations here, not far away in Eersel some twenty years ago and just as the Netherlands and the Benelux region as a whole have risen to prominence as Europe's premier logistics hub, so Menlo has followed a similar path. Today, we lay the foundation of our seventeenth facility in Europe at a location which is ideal for us to continue increasing the scope of our logistics capabilities."

The logistics center is located at the Acht industrial park in Eindhoven adjacent to the A2/N2 Eindhoven ring road, which offers direct access to Belgium and Germany, as well as Amsterdam to the north. When completed, it will be one of the largest build-to-suit projects in the region. The expansion spotlights Menlo's commitment to investing in the expanding market for quality supply chain management, warehousing, distribution and fulfillment services in the Benelux, and its growing prominence as a strategic logistics hub for central Europe.

"This transaction reflects the strong demand for Class-A facilities in Tilburg, Eindhoven and Venlo and further strengthens Prologis' presence in this market," said Bram Verhoeven, country manager, Prologis Benelux. "We are pleased to further our global partnership with Menlo in the development of strategic industrial real estate properties that provide high-value logistics services for local, regional and global businesses."

Commenting on the development of the new investment, Menlo's managing director in Europe, Tony Gunn, said, "As a multi-client, multi-discipline facility, Eindhoven will become our flagship location for the wide range of logistics services we provide to customers across the seven primary industries we service in Europe. These include high-tech, healthcare, retail and consumer, manufacturing and e-commerce. It will also provide jobs for over 200 people and is an ideal match for the needs of our strategic growth plans in the Benelux, as well as Europe as a whole."