Geek+ Robotics Highlighted at Annual Microsoft Gathering
12th November 2019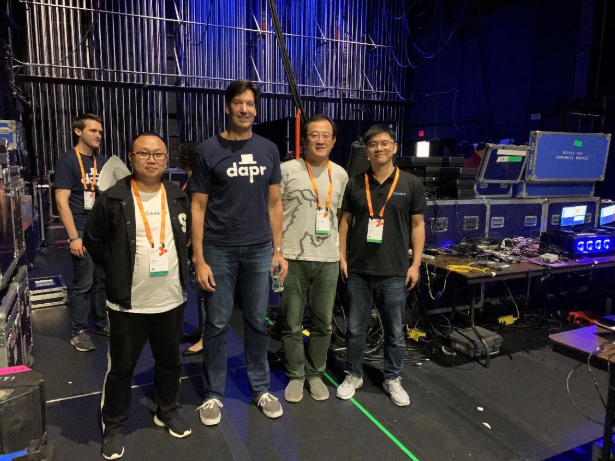 Microsoft Ignite is Microsoft's annual gathering of over 26,000 technology leaders and practitioners from around the world. This year (Nov 4-8), Geek+ AI robotics solution was a cornerstone of Microsoft Azure CTO Mark Russinovich's keynote address.
On stage, the Microsoft tech leader operated the Geek+ S20 intelligent sorting solution, demonstrating in real time how the sorting robot can adjust his course when encountering an obstacle (in this case a large teddy bear) thanks to an easily operated application platform operating the AI system. During the process, the S20C robots performed flexible obstacle avoidance and accurate delivery, leading to a round of applause from the audience.
Geek+ and Microsoft have been cooperating closely on applying cloud data applications to AI robots, and this is just one of the specific examples of how we working together to promote supply chain transformation driven by artificial intelligence.
Geek+ CARE Strategy
On October 15 this year at the Geek+ Global Smart Logistics Summit, Geek+ announced its three year CARE strategy: Customer Focus, Artificial Intelligence, Robots as a Service, and Ecosystem-enabling. In-depth cooperation with Microsoft is one of the practical actions taken to implement CARE, building a tech ecosystem for an agile and intelligent supply chain.
Geek+ Sorting System
The Geek+ sorting system that debuted at Ignite can be deployed in Microsoft Cloud, and uses Microsoft DAPR technology for robotic system scheduling. The demonstration used the S20C flexible robot of the Geek+ intelligent sorting product line. S20C is equipped with a rich sensor system, which can sense the surrounding environment, realize automatic order acquisition, automatic scheduling of machine scheduling, automatic conveyor belt docking, intelligent navigation and other functions.
Compared with fixed installation sorting equipment and flat-bottom robot sorting schemes, the S20C can be easily installed, expanded more quickly, and has the advantages of flexible obstacle avoidance, arc turning, destination identification, accurate delivery, etc., which can help customers truly achieve intelligent sorting with flexibility, automated, high-return.
In addition, with the help of the "Geek+ Cloud Brain" platform, Geek+ is the first in the industry to realize remote cloud real-time scheduling capability of large-scale multi-model robot clusters.
The sorting S series robot are applied to a number of China and international apparel, e-commerce, fast-selling and express delivery warehouses or sorting centers to make traditional warehouse, sorting and other warehouse operations smarter and more efficient.
Seen from left to right are: HaiShi Bai (Microsoft), Mark Russinovich (Microsoft Azure CTO), Dong Liang and Feng Peng (Geek+ Sorting Team)
Watch the video here: