Flexible, Manoeuvrable Addition to AGV Family
24th February 2023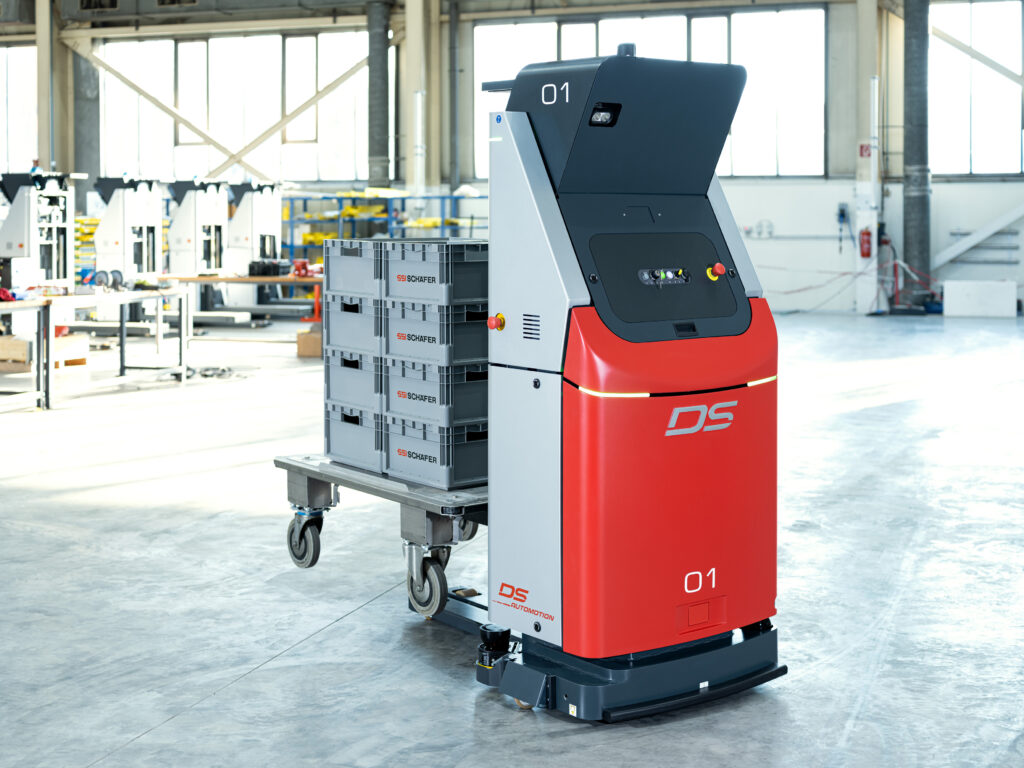 At the LogiMAT 2023 show, DS Automotion, the specialist for mobile robotics, will present several new AGV highlights in hall 6, booth D05, which are also fully VDA5050 compatible. These include the compact, modular LUCY wheeled arm AGV, the driverless AMADEUS counterbalanced truck and the fully area-mobile OSCAR omni undercarriage AGV, all of which will be on live display. The innovative concept of plannable autonomy, presented last year, was nominated for the IFOY AWARD 2023 in the software category.
Compact and Agile
DS Automotion's trade show eye-catcher is the compact, modularly designed wheel-arm AGV LUCY. The agile lightweight forklift truck can transport up to 500 kg and lift a maximum of 600 mm.
LUCY offers maximum driving flexibility even in narrow areas. The compact wheel-arm AGV can lift up to 500 kg. Thanks to its modular design, it can be individually adapted to safely transport a wide variety of load carriers. The compact vehicle thus covers many areas of application in in-plant logistics.
Strong Middle Class
The AMADEUS counter is a driverless counterbalanced truck from the established AMADEUS family with a lift height of up to 2.8 m and a load capacity of 1.2 t. It can navigate using all of the established methods and can be operated with various battery technologies and charging concepts. Its particularly small turning circle enables navigation even in narrow aisles. Visitors can experience it live for the first time at LogiMAT 2023.
Full Surface Mobility
OSCAR omni is a new compact undercarriage AGV that can carry a maximum payload of one ton with an underride clearance of 310 mm. Thanks to its omnidirectional drive technology, it offers unrestricted mobility in the area, which means that even complex plant concepts can be realized in small spaces.
Prizeworthy Innovation
The ARCOS vehicle software enables transport vehicles to act not only as AGVs but also as AMRs, thereby setting a benchmark in the world of intralogistics. This provides a transport system that can either use its autonomous functions or follow predefined tracks. For the first time, maximum flexibility and efficiency from the two worlds of AMR and AGV can be realized within just one transport system and in the same facility. This ground-breaking technology was nominated for the IFOY AWARD 2023. You will find the booth and contact person of DS Automotion in hall 6, booth D05.