Fighting labour shortages with automation
17th November 2022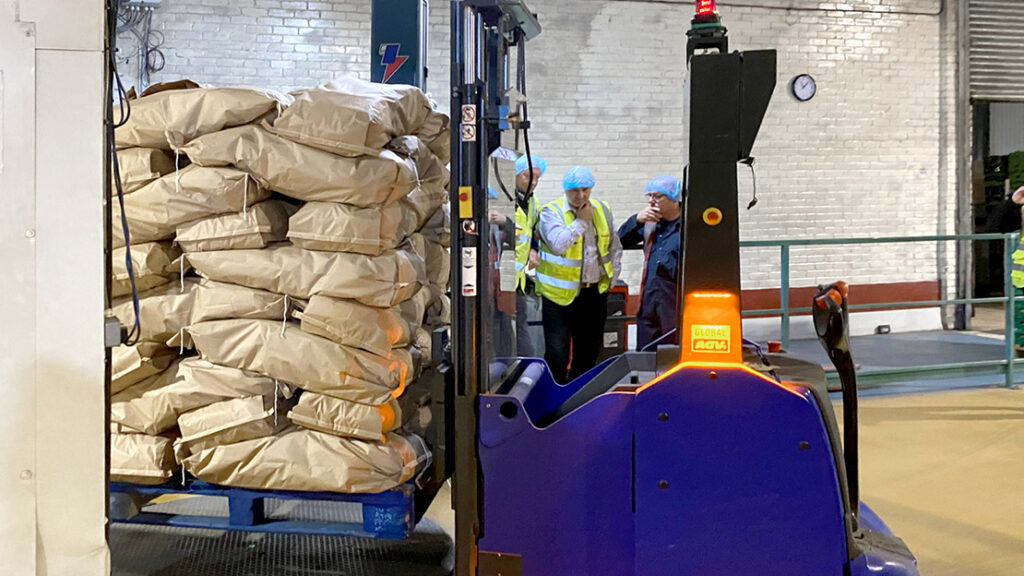 It is no secret that human resources are in short supply these days – not least of all skilled workers with a license to drive forklifts. At Bennet Potatoes, automation became the solution to its predicament. With a Global AGV from BILA, Bennet Potatoes managed to increase efficiency, productivity, and free up employees for other tasks, such as quality assurance.
Across industries, finding and retaining qualified manpower is difficult. The hours can be long, especially for repetitive work. Moreover, it has become increasingly difficult to find the right employees who have the necessary licenses and courses to work in supply chains. But where human resources are in short supply, automation can provide the capacity needed for any production.
More and more operations managers are looking for ways to allocate workers to more demanding and rewarding tasks, by handing over 'nonvalue-adding' tasks to automation. That way, the production uses the tools at its disposal in a way that benefits the company's goals and deadlines.
Automation counterattacks labour shortage
Global AGVs are designed to transport and store pallets without the need for a driver. Automating repetitive and monotonous tasks such as simple pallet transports can free up valuable employee resources and increase efficiency.
Precision, efficiency, and predictability are critical elements in supply chains – especially if you're working in time-sensitive or space-limited work environments. Every aspect of the production chain must work together to make it as optimal as possible.
Driverless forklift trucks offer a safe, and cost-effective transport solution for workflows that require repetitive material handling tasks to be completed in a timely manner. AGVs provide repetitive accuracy 24/7, except for short periods to recharge. The AGV can work around the clock and ensure continued workflow at night.
The AGV driverless forklift truck allows the operators to process larger volumes of goods, all while offering reliability. Global AGV ensures efficiency and a safer work environment for people and goods.
Avoiding damage to goods, saves both money and time, which makes the driverless forklift truck from Global AGV a valuable addition to your production chain. The AGV increases competitiveness on a difficult market.
Increasing productivity at Bennet Potatoes
The Global AGV has already helped many production chains and companies, by improving their capacity. At Bennett Potatoes' packing plant, it prepares both sacks and boxes of potatoes for distribution. The process that the AGV performs today was previously done manually. This created logistical challenges as the process takes place in a relatively small area, which is why lack of space and wasted time had previously been a hindrance to an efficient flow in the packing plant.
Previously, the three employees had their own hand pallet truck to perform their tasks, and the employees found that it created a hold-up where they had to wait for each other. It was also an observation that the Managing Director of Bennett Potatoes, Ian Bennett, had made. Combined with a lack of manpower, Bennett also wanted to use employee resources where it would be more beneficial. For this reason, there was a great need to automate this process.
The implementation of driverless forklift trucks from Global AGV helps to create a sustainable production environment that can be felt on the bottom line. The AGV also helps to free up two out of three employees to work on other more complex tasks in the factory.
Dragsbæk is a manufacturer and supplier of a wide range of food products for consumers and professionals both in Denmark and abroad. Dragsbæk, located in the northern part of Denmark, also reaps the benefits of their Global AGV: "The AGV has literally taken our production to the next level," said a company spokesman. "Margarine production previously involved many heavy, straining lifts for employees. Now, it's the driverless forklift that does the pallet lifting and driving, which has greatly improved our working environment, evidenced by the fact that we've reduced the sick leave rate and minimised the risk of occupational accidents."
Global AGV is described by its makers as the simplest stand-alone logistics solution on the market. The AGV is easy to install and can be operated by anyone. It takes, on average, only a couple of days to install a Global AGV and put it into operation, thanks to the intuitive user management. With its flexibility, it can be modulated and adapted to your requirements making it easy to integrate into existing production environments. Global AGV solves routine tasks while also eliminating bottlenecks and production stops, freeing up valuable resources for quality assurance of production.
For added flexibility, Global AGV is equipped with dual-mode technology that enables you to instantly switch between automated and manual operations. All in all, the flexibility and simplicity of Global AGV accommodate the dynamic changes in the production plan.