Electric Tugs Move Offshore With New Scotland Deal
8th May 2017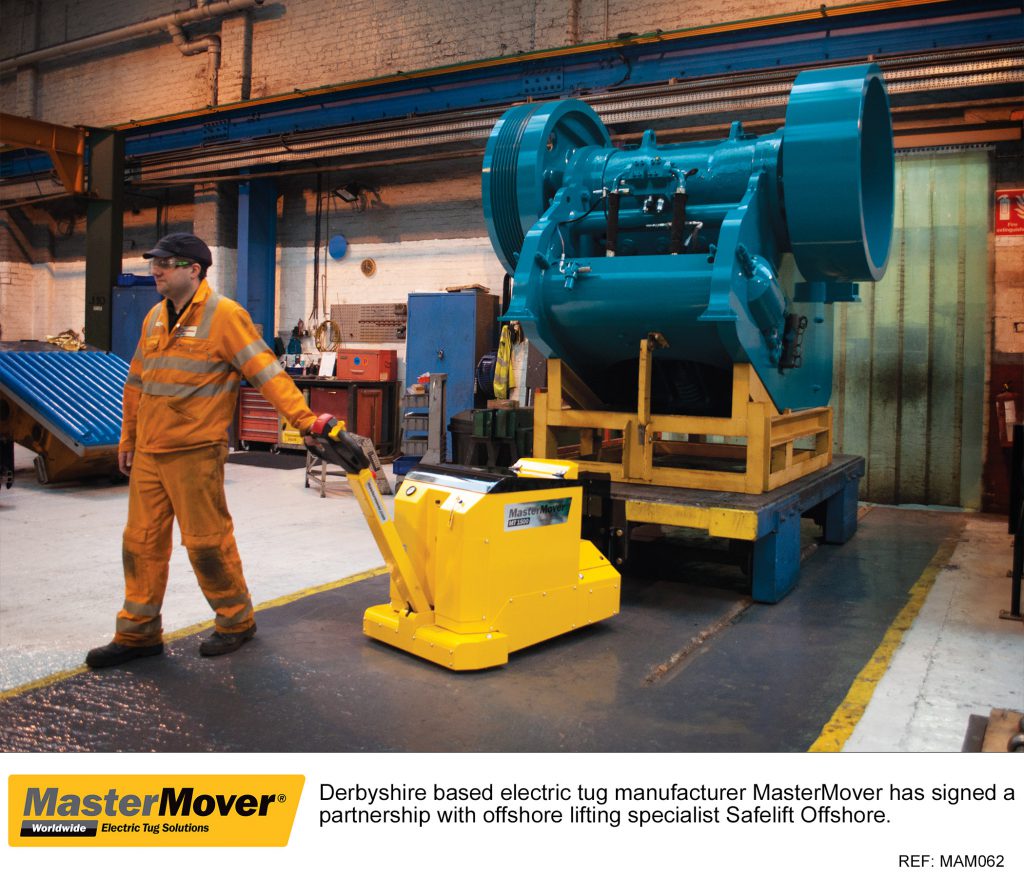 Derbyshire-based electric tug manufacturer MasterMover has signed a partnership with offshore lifting specialist Safelift Offshore. Safelift Offshore, based in Aberdeenshire, Scotland, will distribute MasterMover's entire range of electric tugs in Scotland. Safelift Offshore supplies to the offshore oil and gas industry, as well as to onshore sectors including the manufacturing industry.
MasterMover's electric tugs complement Safelift Offshore's range of trucks and trolleys. The electric tugs allow a single pedestrian operator to move loads from 50kg to 120 tonnes with ease. This is particularly important for offshore platforms where operators must move large objects such as pumps, vessels and spools in tight and awkward spaces.
Across the manufacturing and retail industries, MasterMover's electric tugs allow companies to semi-automate production lines, improving efficiency and removing any delays in production caused by waiting for trained forklift operators. Safetrade, a division of Safelift Offshore, will also be selling MasterMover's tugs for onshore use.
"We were looking for a partnership with a dealer who could get us closer to our existing Scottish customers," explained Hugh Freer, sales director at MasterMover. "We offer a comprehensive sales and support package alongside our electric tugs, so it's important that we have partnerships around the world to help us fulfil this. Safelift Offshore's experience in the oil and gas industry will also help our customer base to grow."
Safelift Offshore works with some of the world's biggest multinational oil and gas operators and supplies its offshore handling equipment to platforms across the world, including in Azerbaijan, Georgia and Turkey.
"We chose to work with MasterMover as all of the company's electric tugs are designed and manufactured in Britain," said Ritchie Barron, director of Safelift Offshore. "Our customers trust equipment manufactured in the UK for its adherence to strict manufacturing and quality control standards and they want to use it across the world, so we wanted to partner with an electric tug manufacturer with a commitment to UK manufacturing.