Drone to bring autonomous inventory warehouse solution
18th August 2021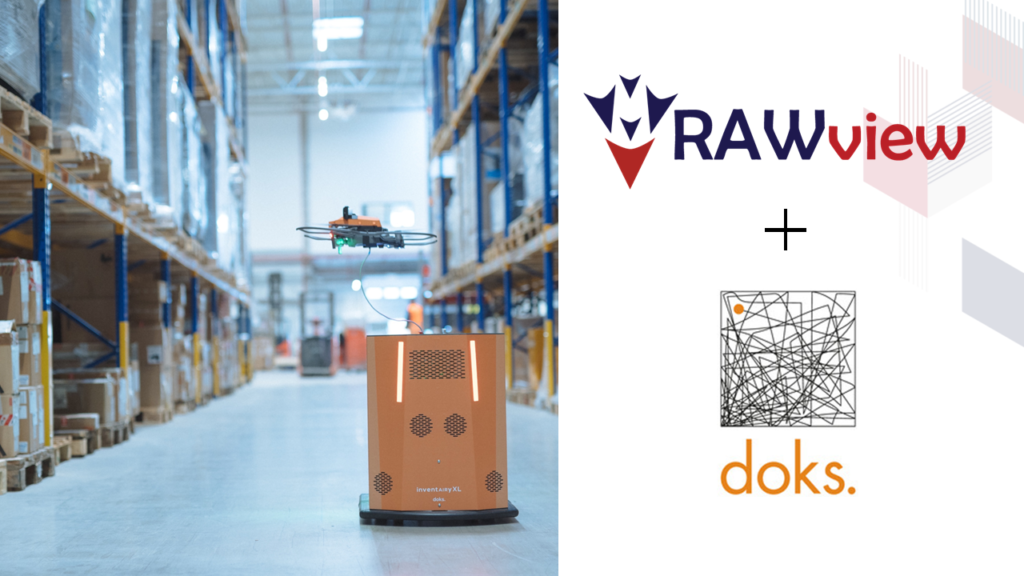 RAWview Drone Systems Ltd, a UK-based drone automation specialist has announced a new partnership with doks. innovation GmbH, a Germany-based developer of autonomous drone-based inventory management systems.
Thanks to ground-breaking technology, the fully autonomous inventAIRy XL drone system is now able to navigate through even the most complex of warehouse layouts to each individual rack location, where the contents are scanned and reconciled against ERP or WMS records, all without any human supervision or intervention and without any reliance on GPS. This is achieved by combining a drone with barcode scanning sensors, a ground vehicle for autonomous navigation and a docking station for autonomous battery charging. The result is an elegant solution that overcomes the biggest limitations of drone-based inventory control: flight endurance, unsupervised operation, and fully autonomous navigation within GPS and light-deprived environments.
Key selling points of the solution:
• Longest operating endurance on the market – 5 hours of fully autonomous operation, compared to approximately 20 minutes of other systems
• Highest workrate on the market – a single inventAIRy XL unit can scan in excess of 2000 rack locations per autonomous mission, compared to approximately 120 rack locations of other systems
• Zero modifications required to facility's infrastructure
• Autonomous recharging – other systems require manual swapping and recharging of drone batteries
• Ability to operate completely unsupervised and in darkness, ie. between shifts or when warehouse is closed
More importantly, by combining their expertise, the two companies are taking away another major pain point of warehouse operators who are looking to implement drone-based inventory control – the time and resources required to fully deploy and integrate drones into inventory processes.
Traditionally, the process of finding and implementing an appropriate drone solution for autonomous inventory reconciliation is time-consuming, complex, and expensive. In contrast, this partnership gives warehouse management teams access to a 360-degree solution that encompasses pre-deployment feasibility, supply and installation of hardware and software, and ongoing customer support. This means warehouse operators can seamlessly and cost-effectively transition to fully autonomous drone-based inventory control, with virtually no disruption to their normal operation.
Joe Waldron, Product Integration Director at RAWview said:
"As warehouse and project management teams seek to reduce cost, improve safety, and protect themselves against falling labour resources, they are increasingly turning to task automation technologies – one of the latest innovations in this space is drone-based inventory reconciliation.
"During initial conversations with doks. innovations' management team, it quickly became clear that both companies shared the same fundamental goal – to help businesses work safer, smarter, and more profitably. However, a shared goal was only the starting point; we needed to be sure that the technology behind our solution would meet the aspirations of our customers, and having conducted extensive analysis across the drone technology ecosystem, we concluded that doks. innovation offered a completely unique proposition, which is perfectly placed to resolve our customers' most challenging inventory management problems, and one that will help us to meet and exceed our customers' ROI expectations."
Benjamin Federmann, CEO of doks. innovation added: "As any warehouse manager will know, manual inventory counts are ill-suited to high volume and high velocity operations. With accelerating supply chains, warehouses are forced to assign more time and labour resources to stocktaking activities. Furthermore, scanning thousands of bin locations manually is inevitably prone to human error, which leads to discrepancies in WMS inventory records. Manual inventory operations also present very real safety risks to warehouse employees. These are the issues we set out to eliminate with the inventAIRy XL system.
"Welcoming RAWview as a sales and support partner means that customers receive a critical layer of hassle-free implementation, service, and support – all provided by a leading drone technology specialist."