Driverless Transport System Now in Use at BMW Motorcycle Plant
16th October 2017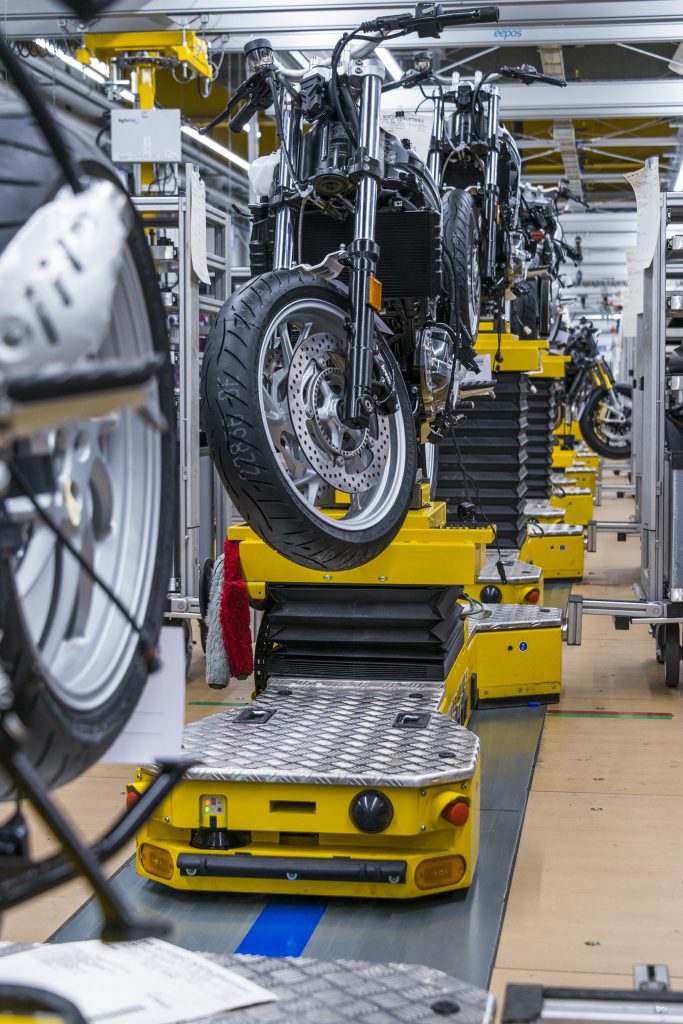 In Berlin, the BMW Group produces premium motorcycles. The increasing weight of these vehicles, their growing variety and dwindling batch sizes prompted a redesign of the assembly line for the two and four cylinder models. A driverless transport system with purpose-designed and extremely compact automated guided vehicles replaced an existing overhead conveyor installation. Offering more flexibility and improved ergonomics, it allowed its operators to concentrate assembly and packaging in one hall.
At its Berlin-Spandau plant, the BMW Group manufactures up to 800 motorcycles per day. Numerous models, types and colour variations as well as equipment options combine into an enormous product variety. New equipment for final assembly starting at the "wedding" of frame and engine needed to take on a growing motorcycle weight. It was required to facilitate volume production of individual motorcycles in any sequence – agile, efficient and worker-friendly.
Production engineers were impressed by the flexibility of a driverless transport system from DS AUTOMOTION they had visited at the Leipzig car assembly factory, particularly the opportunities it offers to quickly and easily alter routes. DS AUTOMOTION supplied purpose-built dummies for testing and evaluating both processes and ergonomics for the workers who were involved already in this early stage.
A Compact, Future-oriented Solution
Between them, the AGV experts from DS AUTOMOTION and BMW Group manufacturing engineers designed a particularly compact assembly line. "Our particularly compact driverless transport vehicle has a 400 kg transport capacity and is hardly larger than the footprint of the motorcycle it carries," says DS AUTOMOTION Project Manager Christoph Salmhofer. On the central lifting column of the AGV, the motorcycle can be lifted, turned shifted sideways for better accessibility. The working height in each station is adjusted automatically depending on the individual requirements of the worker on duty that are stored in a personal RFID tag.
Of the custom-designed AGVs, 54 carry the motorcycles along the assembly line and 13 during the packaging process following outgoing inspection. Although they appear different, the AGVs used for assembly and packaging are technically identical, which yields considerable benefits in maintenance.
Sustainable Productivity Gains
The AGVs navigate along induction loops in the floor. These are also used for permanently charging the batteries. This gives the AGVs availability rates very close to 100 percent. In case of problems, they can be steered out of the line to ensure unhindered operations. Dismantling the previous conveyors as well as installation and commissioning of the AGV system were carried out within one single stoppage. The driverless transport system from DS AUTO-MOTION has sustainably improved both efficiency and ergonomics of motorcycle assembling. It excels with improved flexibility, process stability and ergonomics and requires significantly less space.