Crown brings highly versatile SC 6000 Series electric counterbalance lift trucks to market
24th November 2015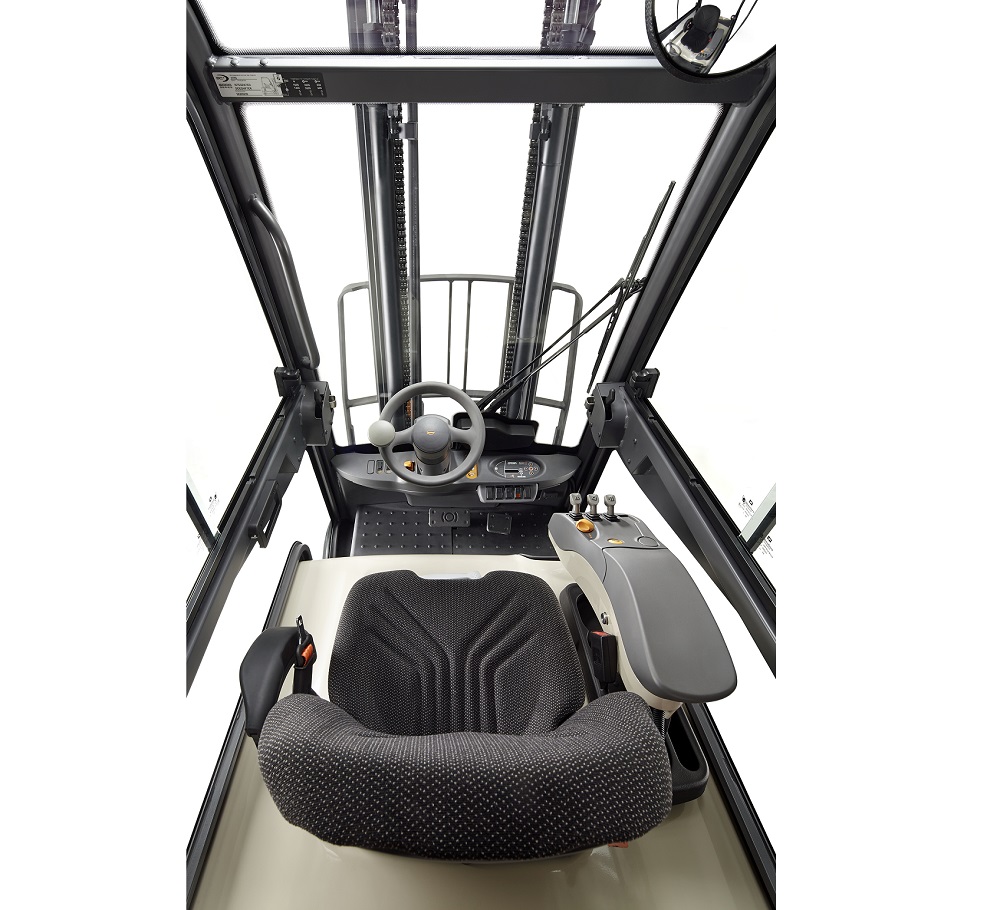 Crown, one of the world's largest material handling companies, extended its electric counterbalance lift truck offerings with the launch of the Crown SC 6000 Series. The new three-wheel and four-wheel models, with capacities ranging from 1.3 to 2.0 tonnes and lift heights of up to 7.5 metres, offer a combination of stability, advanced technology and task-focused ergonomics. The new lift trucks are capable of performing a wide variety of material-handling tasks in both indoor and outdoor conditions.

A personal approach

The SC 6000 Series incorporates Crown's proven ergonomics for operator comfort and control. For example, the low step height of 375 mm and head clearance make it easier to get on or off the truck. Furthermore, the truck design gives operators unobstructed views in all directions – even when fitted with one of many of the available cab options. The partial cabin includes windshield, rear panel and roof with an optional reading light. The soft cabin features flexible doors with integrated magnets for weatherproof side protection. Even the hard cabin for outdoor use offers unobstructed sight lines in all directions including upwards. For the ultimate in all-weather protection, the hard cabin also comes with clear-view doors, two-way sliding windows and a heater option. Regardless of the cabin option chosen, operators' freedom of movement remains unimpaired. Thanks to a wide variety of other options – for controls, lighting, accessories and more – the lift trucks can be precisely configured to each customer's specific needs.

Stable construction for agile operation

Customers such as the Austrian company Gebruder Weiss Transport & Logistik GmbH, who tested the new multifunction trucks on their premises prior to the market launch, can confirm the high quality of the Crown products. "The robust and durable Crown SC 6000 Series forklifts impress, both with their functional and ergonomic design, and their reliable and productivity-enhancing technology. The four-wheel model is exceptionally versatile and offers great ease of use, impressive hydraulic performance, and superb all-round visibility – even when a cab is fitted," reports Werner Drnec, Purchasing and Operations Manager at Gebruder Weiss.
The solid design – including a robust chassis and a full-length, solid floor plate beneath the battery – keeps the truck in excellent shape in the toughest conditions and the most demanding applications. Crown uses steel instead of plastics where it counts. The steer axles feature massive steel/cast-iron construction and heavy-duty tapered roller bearings which enable the truck to withstand jolts as it travels over rough surfaces and dock boards. This long-life rear-axle steering system has been tested for thousands of hours – and yet even the four-wheel truck's turning circle is nearly zero, making it almost as agile as the three-wheel version. A clear view of both front wheels facilitates taking advantage of the manoeuvrability this affords.
Detlef Erdmann, Warehouse Management Group Leader at Carl Kuhne KG, Germany – another customer involved in trialling the new trucks – also confirmed the outstanding driving performance and ergonomic handling of the SC 6000 counterbalance lift truck. "When working on ramps in particular, the forklift can be easily and safely manoeuvred, thanks to the ramp hold function and automatic speed control. The mast is extremely robust and offers high stability, both when extended and loaded. It also impresses with particularly soft mast staging, so our employees enjoy precision control of the loads under all conditions. The SC 6000 is an accomplished machine that more than meets our high demands."
Nested I-beam masts that minimise longitudinal, lateral and torsional flexibility mean the trucks perform reliably and give operators greater confidence while driving. Crown SC 6000 trucks are also fitted with high quality, heat-resistant drive motors that are designed to avoid the need to reduce the motor's power output to prevent overheating. The in-house designed and manufactured motors incorporate the highest thermal ratings in the industry – an advantage that also minimises downtime, as well as spare part and maintenance costs.
A truck that thinks

The intelligent on-board control system delivers precise control, providing great stability and comfort. The system ensures that the SC 6000 maintains constant speed on ramps and assists operators by automatically adjusting the operation of control functions in correspondence to different load weights, lift heights, steering angles and travel speeds. For instance, tilt speeds are automatically limited, based on fork height and load weight, and below free lift height, operators have access to the full range of forward tilt and full tilt speeds.
Another stand-out feature of the SC 6000 Series is ease of service. Crown's patented Access 1 2 3® technology provides customers with dependable, on-board diagnostics in real time. With the BTS 1000 battery transfer system, enabling one person to change a truck battery in just three minutes, Crown supplies an all-encompassing concept that streamlines workflows and ensures sustainable, productive and profitable warehouse operations.