Combilift Show Premieres Highlight Work Safety
19th September 2016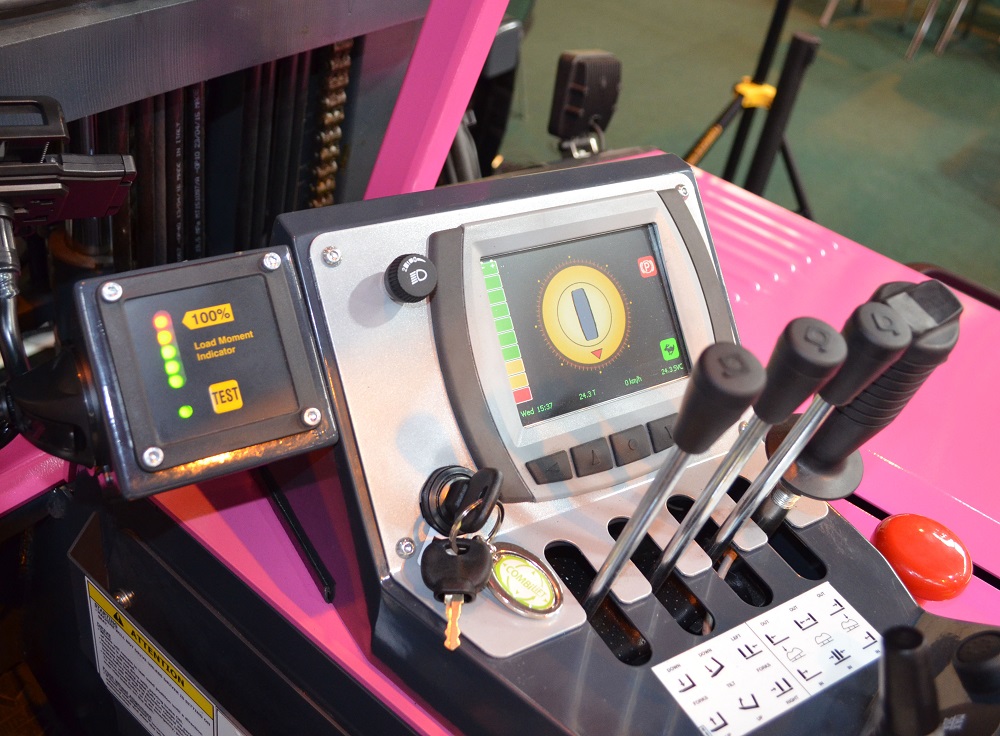 Combilift premiered a number of new developments at this year's IMHX, one of which will make a substantial contribution to safer working practices. Live demos of the new Combilift Safe-Lift showed how drivers can avoid the pitfalls of tip-overloading. There are several factors that can influence a forklift truck to become overloaded and these include the load centre, the weight of load, lift height and the type of load. The load centre – the distance from the face of the forks to the centre of gravity of load – plays a crucial part. But as we cannot expect forklift operators to have to constantly do the maths, the Combi Safe-Lift makes life easier and safer for them.
The Combi Safe-Lift incorporates features to detect, monitor, alarm and shut down operation to eliminate the occurrence of tip-loading. A strain sensor on the mast detects when the load centre is extended or when the forks are not fully engaged. The green, amber and red traffic light signalling on the load moment indicator unit fitted to the dashboard in the cab gives the driver a clear overview of the status of the load. An audible alarm is activated when the risk level is reached and the lift cut out valve shuts down operation until the driver has rectified the situation.
Meanwhile, the Irish company's Combi-Counterbalanced Stacker (Combi-CS) model represents a further move by the multidirectional forklift specialist into the pedestrian operated truck sector. With a load capacity of 1000kg @ 500mm, this walk behind stacker can work in the smallest operating aisles for a machine of its type and lift capacity.
The Combi-CS was developed to enhance health and safety procedures in areas where personnel may be present such as in production areas of manufacturing plants and it will also be of particular benefit to retail outlets and back of store where not only employees but also the general public may be present.
The patented multi-position tiller arm is a key feature on the machine for safer operation, maximum operator visibility and narrow aisle performance. The tiller can be turned to the left or right of the unit to position the rear drive wheel, allowing the operator to remain at the side of the machine rather than at the rear as is the case with other pedestrian stackers.
This position eliminates the risk of operators being trapped or crushed between the back of the machine and racking when handling products. It also allows for full visibility of both the load and the forks as the operator does not need to look through the mast and therefore enables higher awareness of other pedestrians in the vicinity.