Autonomous Lifting up to 12m With New Picker
20th February 2017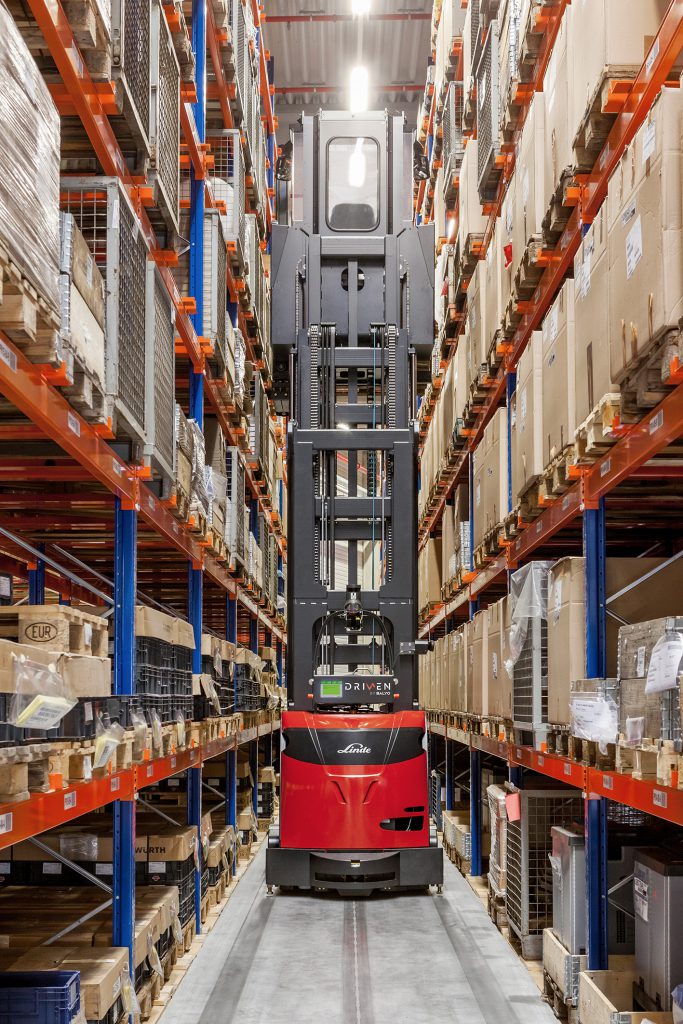 Warehouse equipment manufacturer and solution provider Linde Material Handling has added a new, state-of-the-art model to its range of standard robotic vehicles: The driverless Linde K MATIC VNA order picker with 1.5-tonne load capacity enables pallets to be autonomously stored at and retrieved from heights of up to 12 metres.
Independently operating industrial trucks, which can be flexibly integrated into existing intralogistics systems and gradually expanded in number, are meeting with steadily growing customer interest. "We assume that in the future robotic equipment will increasingly become part of multi-stage autonomous process chains, in which different trucks, as well as various machines and fixtures will communicate and interact with each other in order to further increase the productivity in warehouses and distribution centres," predicts Philipp Stephan, Product Manager Linde robotics at Linde Material Handling.
As part of last year's "World of Material Handling" customer event, Linde presented a preview of this using the following demonstration: Pallets were retrieved from a high-level rack by the K MATIC combi truck and placed on a transfer station, before being picked up by an L MATIC pallet stacker and transferred to a roller conveyor. Once the pallet has moved along the roller conveyor to the other end, it was taken up by a P-MATIC tow tractor and placed back on the rack. "Linde robotics is in a position to control autonomous process chains with different robotic industrial trucks, as well as with machines, e.g. stretch wrappers, or fixtures such as roller shutters, and thus realise complex material flow applications," says Stephan.
The simple and fast changeover from the autonomous to manual mode and vice versa is a significant advantage, which comes to the fore particularly in the new K MATIC. It takes just a few steps. "In this way, the K MATIC can be used for manual order picking during the day and then handle replenishment supplies with entire pallets in autonomous mode in the high-rack warehouse during the night," says Stephan.
Built-in intelligence
Integrating the vehicle into the operational data flow is achieved by means of the Robot Manager, which provides the interface to the warehouse management or enterprise resource planning system. As supervisor software, the Robot Manager receives, processes and transmits data in real-time and thus controls interaction with other networked machines and devices. The intelligent computer unit also ensures the transmission of data, such as the vehicle status for servicing purposes.
Compared to classic automated guided vehicles or solutions based on laser reflectors, the installation of Linde robotics trucks reduces the effort required of customers. This is because the Linde-MATIC series are based on "infrastructure-free" geoguidance technology. For the Linde K MATIC order picker this means: If the Robot Manager instructs the truck to change aisles, then existing structures such as walls, pillars or racks are sufficient for it to navigate safely and reliably. When in the rack aisle, the VNA order picker is guided by an inductive or mechanical track system to enable faster driving.