Automotive Assembly Set to Benefit with Flexible AGV
23rd May 2018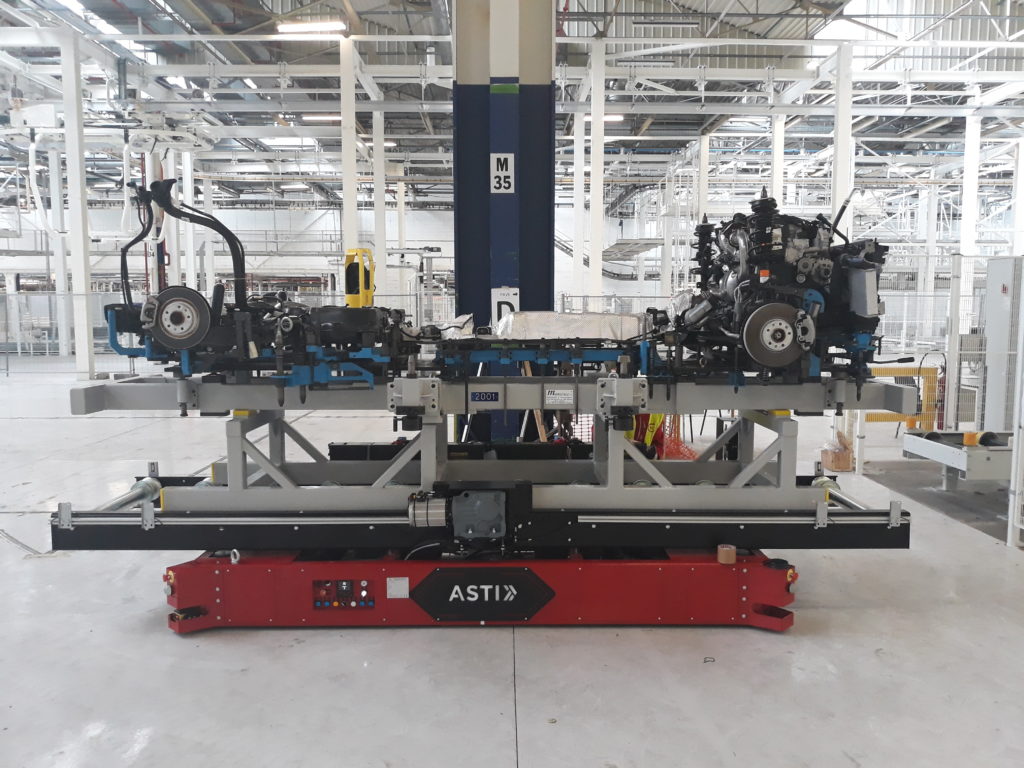 Spanish AGV maker Asti Mobile Robotics has developed a new model that it says will bring much greater flexibility to automotive assembly lines.
The automated QuadBot has two steerable drive wheels that allow it to move about the plant in four directions. It can carry up to 2000kg. Measuring 550mm high, it uses a roller transfer system to load and unload the cargo.
"If in the middle of the process I have to add or remove an operation, all I have to do is add or remove an AGV – it's easy," explains Vincent Bonamy, EasyBot Platform Manager at ASTI Mobile Robotics. "In this respect, reorganising processes and assembly lines is far simpler, as is dealing with potential issues. At present, it's an interim step toward total flexibility. While automotive companies' operations are rigidly constrained by their plants' fixed handling equipment, the QuadBot allows them skip from one workstation to another."
ASTI Mobile Robotics's new automated vehicle has a stopping precision of just 3mm. |"It's equipped with an automated 360-degree safety perimeter with a 5-metre range," explains Mr Bonamy.
QuadBots employ a combination of magnetic guidance, route management and tracking (via RFID tags) systems that run on the EasyBot platform. "This means that after brief training, clients are in control of the programming and are able to redesign the circuit according to their particular production needs, without having to depend on third parties," notes the EasyBot Platform Manager.
In addition, the QuadBot runs on inductively charged lithium batteries that can be recharged in a matter of a minute. "As contact is unnecessary, this AGV can be recharged as it carries out loading and unloading tasks," explains Mr Bonamy.
ASTI Mobile Robotics' new AGV has two communications systems: 5-GHz WiFi is used in fleet management and data capture, while narrowband radio frequency enables point-to-point communication with the automated workstations.
Essentially, say ASTI, this QuadBot ushers in manufacturing and assembly methods that constitute an advance in load handling and safety while providing greater precision and enhanced carrying capacity. This newest AGV joins ASTI Mobile Robotics' EasyBot range comprising the Basic (up to 250 kg), Standard (up to 600 kg), Bidibot (600–1000 kg), Omnibot (up to 1500 kg) and Tribot (up to 10 t) models.