Rethinking ASRS and Robots
11th December 2020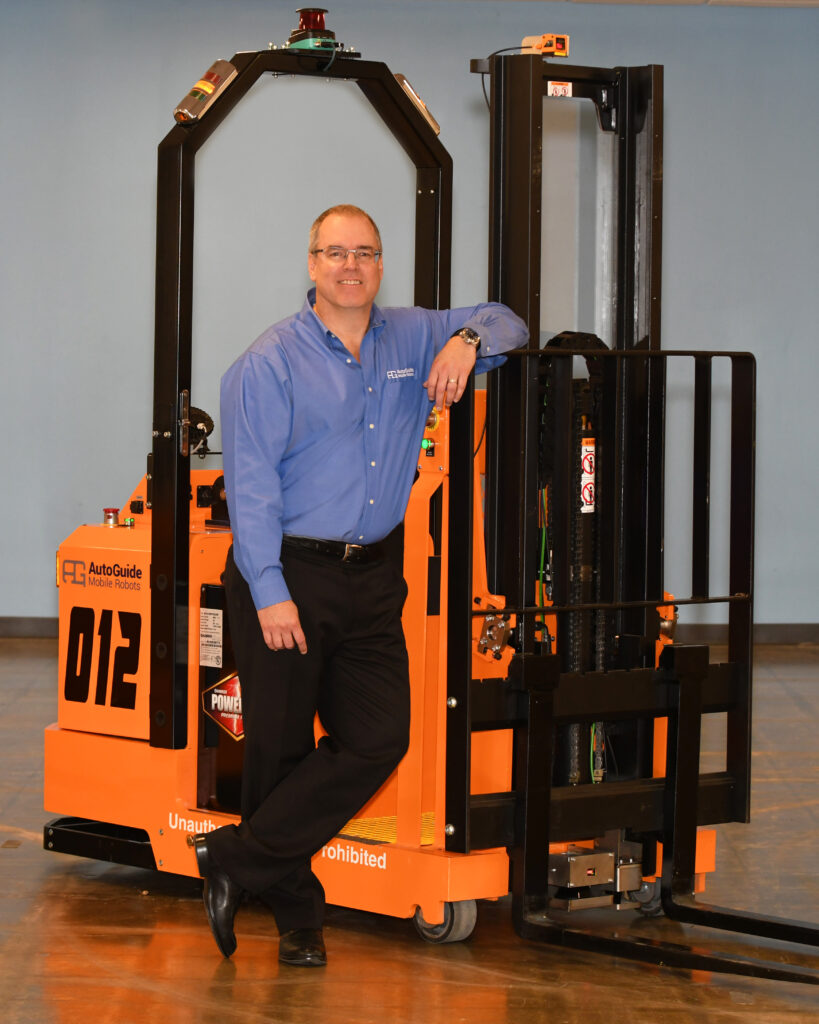 Rethinking automated storage and retrieval systems is the challenge that Rob Sullivan, President and CEO of AutoGuide, has laid down for the industry. David Priestman joined him online to
learn more.
AutoGuide Mobile Robots designs, develops and manufactures high-payload industrial autonomous mobile robots (AMRs) for assembly, warehousing and distribution operations. The company has a mobile robot R&D centre located in Chelmsford, Massachusetts, and a manufacturing facility in Georgetown, Kentucky and was acquired by Teradyne last November. European
production is coming shortly.
Covid is driving ecommerce and next day delivery, leading to increased expectations. AutoGuide has launched what it claims is the first fully autonomous mobile robot designed to automate racking and picking operations at high bay warehouses, competing with traditional stacker cranes in pallet storage aisles. The new 'MAX-N High Bay' is an autonomous counterbalanced forklift that can travel up to 4 mph and lift 1000kg payloads up to 11m high.
The MAX-N High Bay works seamlessly with existing warehouse infrastructure so there's no need to invest in new racking systems or pallets, and installation can be complete in weeks. Like all AutoGuide AMRs, the MAX-N High Bay exceeds safety standards and travels along a network of approved, predictable paths to decrease workplace risk for employees in shared workspaces. Using 'SurePath Enterprise' software, it receives data from existing order management and warehouse management systems and can be quickly deployed to complete a wide array of high bay operations. SurePath Enterprise defines the most efficient route for each job.
Rob Sullivan points out that traditional high bay operations can be complex and potentially dangerous. "Autonomous solutions increase efficiencies and keep both employees and products safe, providing an excellent return on investment in high-bay environments. Labour costs are more than half of distribution centre budgets. Adding space is difficult."
The MAX-N High Bay is part of AutoGuide's patent-pending modular AMR system designed to maximize fleet flexibility and uptime. The Max-N High Bay is one of multiple high-payload adapters designed to fit the MAX-N Base AMR. With a change of adapters, the base AMR is converted from a high-bay forklift to a pallet stacker or tow tractor. In addition, AutoGuide claims to be the only manufacturer that engineers and builds AMRs from the ground up to be fully autonomous, high performance material transport robots. The majority of robotic solutions are retrofitted manual vehicles, built from parts supplied by various vendors.
With inventory management software, the MAX-N High Bay becomes part of the new AutoGuide Mobile ASRS. The inventory management software connects with facility WMS and inventory
management applications to keep track of facility inventory, manage finished goods or WIP inventories; speed reconciliation; and provide daily cycle counting digitally.
"As part of the new AutoGuide Mobile ASRS, our autonomous MAX-N High Bay can safely and efficiently transport materials from the receiving dock directly to the storage racks without the need for conveyor systems or other inflexible material handling infrastructure," Sullivan says. "When connected to detailed, facility-wide inventory awareness, the MAX-N High Bay can get material exactly where it belongs. It's time for ASRS to be untethered, autonomous and accessible for all warehouse facilities. With our Mobile ASRS, what used to be automated and heavy is now
autonomous and light. Mobile ASRS can be rolled out in a matter of weeks and bring autonomous efficiency to smaller footprints across the facility floor."
Large, high-revenue facilities that move thousands of pallets a day have increasingly installed ASRS solutions with proprietary racks, custom pallets and massive cranes. Smaller facilities that move less inventory recognize the efficiencies offered by ASRS but have been unable to justify the high-cost and time-consuming deployment. Customers can start flexibly with just 5% automation
with mobile ASRS, combined with existing racking and work up from there. AutoGuide AMRs bring facility-wide freedom to automation strategies, so facility managers do not have to restrict
storage and retrieval operations to specific, crane-only zones.
"Human error in inventory management is both common and costly and automating manual vehicles is suboptimal," Sullivan concluded. "Mobile ASRS is best-in-class. Digital inventory
control helps eliminate storage and retrieval errors." Read the whole article here.