ASTI AGV Solution Ensures Smooth Traffic at Philips Valladolid
1st September 2017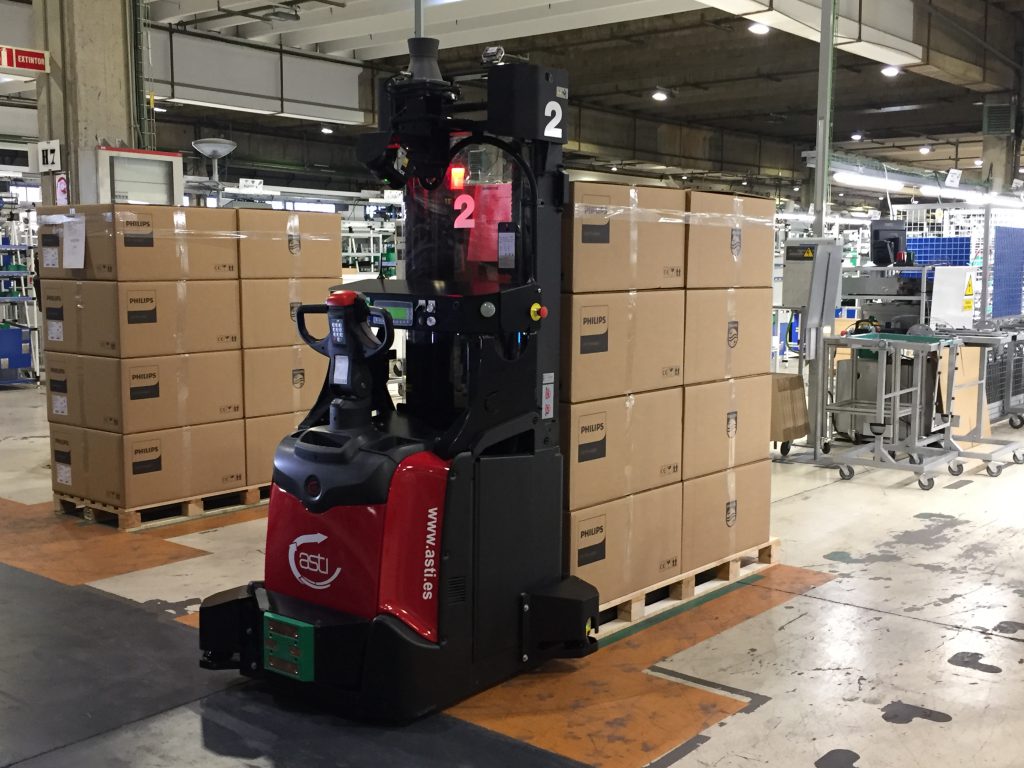 Spanish AGV specialist ASTI has pioneered the installation of a new tool to automatically manage AGV traffic control at Philips Indal (Valladolid), an application of Machine learning (ML) based on artificial intelligence (AI).
The factory, dedicated to outdoor professional lighting, with LED solutions, had already installed two automated guided vehicles, an EasyBot for light loads and a RoboFast – forked vehicle based on a stacker machine. Some months after installation of the second vehicle, the company ordered the installation of a second RoboFast to optimise their processes.
In October 2016, ASTI installed a forked automated vehicle, the first machine to provide 12 services per hour, in this facility producing lamps for Spain and Europe. It was a stacking AGV – with internal standing arm – with a laser guiding system, lead-acid battery, battery interchange table and high frequency recharger. Ignacio Martin, production engineer at the site, explains, "We have 24 lines demanding for services to the RoboFast so we considered having two vehicles so we can get close to 20 services per hour." Therefore, a second vehicle was installed with the same characteristics. Both vehicles were implemented with an S100 anti-collision laser.
The initial objective was to transport finished lamps to the packaging area with the maximum load capacity of 350 kg. "This is exactly what we expect from the AGV, to convey loaded and empty pallets to save five minutes per person so we can take care of our business which is producing lamps; for transporting material, better leave it to ASTI," highlights Martín. "It is a clever idea to execute repetitive processes without adding value automatically," indicates production engineer. He adds: "Our shifts finish at 3pm and the vehicle goes on working until 4:30 pm."
"Installing a second AGV in the same factory it is always difficult, because apart from starting up the vehicle itself, you must manage other vehicle traffic," explains Omar del Amo , project manager of this solution. "Designing the traffic takes time in our facilities and with this new tool, we achieve faster implementations."
Located in Burgos and with 100% Spanish private capital, ASTI (www.asti.es) is an engineering company focused on mobile robotics, particularly AGVs. It is dedicated to the study, design, assembly, starting up and maintenance of automatic logistic solutions to optimise the internal transport or movement of materials and products within companies.