Articulated forklift trucks at the heart
1st July 2016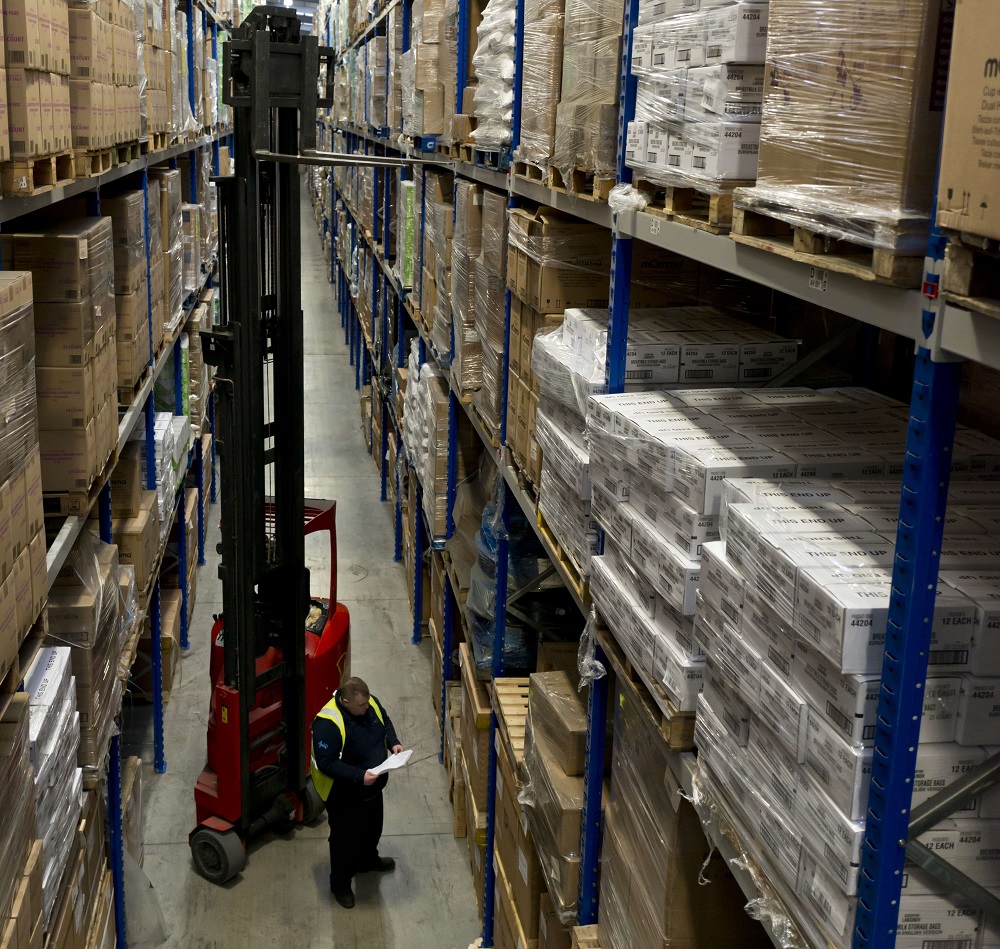 With a core range that includes paper cups, soup containers, fast food trays, plastic cutlery, drinking cups and straws, disposable wooden coffee stirrers and skewers, Go-Pak has established itself as one of the leading suppliers in the highly competitive global food service disposables market since its launch some seven years ago.
Such has been Go-Pak's success that the company's original 10 metre high UK warehouse facility, no longer offered sufficient storage space to allow products to be held in the quantities required to maintain optimum supply chain efficiency, so in May 2016 Go-Pak moved to a new 13 metre high, 76,000 sq ft facility in the Gloucester port town of Sharpness.
Located on a site owned by Howard Tenens, Go-Pak's new high bay store, is three times the size of the company's former unit.
The high-bay store which, when full, has capacity for nearly 10,000 standard 1200 x 1000 mm ISO pallets, is designed around a narrow aisle configuration and is served by articulated forklift trucks from Narrow Aisle Ltd's Flexi range.
Go-Pak has always operated Flexi articulated trucks and when it became clear that the company was outgrowing its existing warehouse unit Go-Pak turned to Narrow Aisle Flexi for intralogistics advice and storage system design input.
Design engineers from Narrow Aisle Ltd's Warehouse Systems Division worked closely with Go-Pak's logistics team to develop the most efficient and cost effective storage system for the company.

"It was clear from the company's previous experience that a narrow aisle high-bay building was required The space that the new unit offered matched the company's product and pallet load throughput profile," says Narrow Aisle Ltd's technical design manager, Phil Callan.
Flexi Warehouse Systems planned Go-Pak's storage cube and the highest pallet lift within the racking is 12.7 metres.
A fleet of four electric-powered Flexi AC HiMAX 1400 forklifts serves the aisles. The HiMAX allows pallet loads to be stacked over 12 metres high and its space frame HiVIS lift mast and specially developed high quality integrated tilting and side shifting fork carriage eliminates mast deflection at the highest lift heights making pallet moves hugely more efficient.
The HiMAX's HiVIStriplex free lift mast offers excellent forward visibility and when retrieving and putting away pallet loads at the highest level, a high definition LCD CCTV ensures Go-Pak's operators have a clear view.
Multi-shift availability is achieved thanks to the Flexi HiMAX's simple cassette battery changing and 6.5 hour charging technology that ensures the trucks are available around the clock if required.

"The Flexi HiMAX is the perfect solution for high bay warehouses where fast throughput capability and narrow aisle storage density are required," says Narrow Aisle's sales and marketing director, John Maguire.
The trucks have been provided on a five-year inclusive contract rental package that means all planned maintenance, safety inspections and repairs are included in one fixed monthly rental charge. Incoming loads arrive at the new Gloucester site in containers from Southampton – the port where Go-Pak's globally sourced products enter the UK.
Due to the nature of the products, containers are packed 'floor to ceiling' to avoid the cost of shipping pallets as well as freeing up the volume within each container that would be taken if loads were palletized. And, because the loads are light in weight, the incoming ISO containers can be de-stuffed by hand by warehouse personnel at Go-Pak's Gloucester facility.
Once unloaded loads of each product type are assembled, placed on to pallets and wrapped within the docking area before being logged on to Go-Pak's WMS and allocated a storage position within the racking. They are picked up directly and put away by the Flexi HiMAX trucks, no intermediate trucks or pick and deposit stations are required and, therefore, on-site handling costs are minimised.
Outgoing orders are picked in full pallet loads – again using the Flexi HiMAX's – and transferred directly to a combination of Go-Pak's own delivery vehicles or those operated by the company's haulage partner for onward delivery to clients. Again no other intermediate trucks are required.

"We are delighted with our new facility which, we feel will allow us to sustain the highest supply chain efficiency," says Go-Pak's warehouse manager, Bob Rumble. "Moving all our current stock from our old multi shed site to our new state of the art facility was a daunting prospect but, with Flexi Warehouse Systems' help, the whole project was implemented smoothly and within the timescales allocated," he adds.
Flexi's Warehouse Systems Division offers a complete service from design through to supply and installation of all storage equipment, racks, fire protection, labelling, the latest warehouse management systems and battery changing systems with full project management and training included.