Airrob – Future Warehousing System
9th October 2023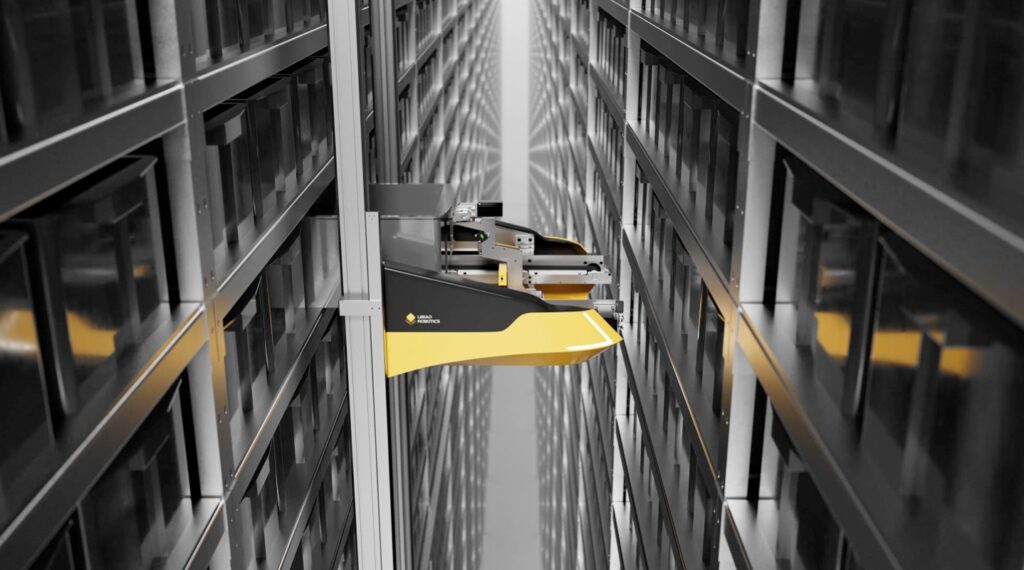 A new, ultra energy-efficient, robot-based tote handling solution from LiBiao Robotics is launched today – Airrob. Delivering high storage density, rapid and accurate picking and future-proof scalability, this exceptionally cost-effective, ground-breaking automated picking solution brings a host of exciting benefits.
Watch the video of Airrob here.
The Airrob tote handling system delivers high-storage density and a high flow rate by introducing automation to racking structures. It achieves efficient and intensive picking, storing and delivery of items. The system consists of Airrob, ground robots, racks, totes and work stations. Free from limitations of rack types, the system can be deployed in under a month and expanded.
One Airrob can pair with multiple ground robots. Twin-directional picking in aisle width as narrow as 850mm is possible, with just 10mm space between totes. One single Airrob can pick and store 150 totes per hour.
LiBiao is a global pioneer of intelligent sorting robots, and one of the world's leading suppliers of flexible intelligent sorting solutions, creating the world's first portable, modular and automated unit sorting system. The company integrates logistics automation, research and development, production and sales of intelligent equipment.
Since its establishment, LiBiao has always specialized in the development and innovation of logistics automation technology, emphasizing original intelligent technology, independent system bottom layer and application development. All of its products are independently researched and developed, and the company has accumulated over 100 exclusive invention patents. With the sorting robot series as the core, and the automatic control system, automatic scanning and weighing system, intelligent charging system as supporting components, LiBiao has gradually built up a rich product ecosystem for intelligent logistics applications.
Now, LiBiao's intelligent sorting system has been widely applied across various industries and scenarios, including express delivery, supermarkets, retail, shoes & garments, medicine, catering, cold storage, book publications, manufacturing, etc. In addition, over 35,000 sorting robots are running in many countries and regions such as the US, Japan, South Korea, Australia and Europe. Its services cover markets worldwide, including companies such as: Walmart, Orbis, Mitsui & Co., MonarchFx, Nordstrom, Target, K-mart, USPS, China Post, Deppon Express, JD.com, ZTO Express, STO Express, SLC, etc.