AGV System for Irish Chemical Industry
9th January 2023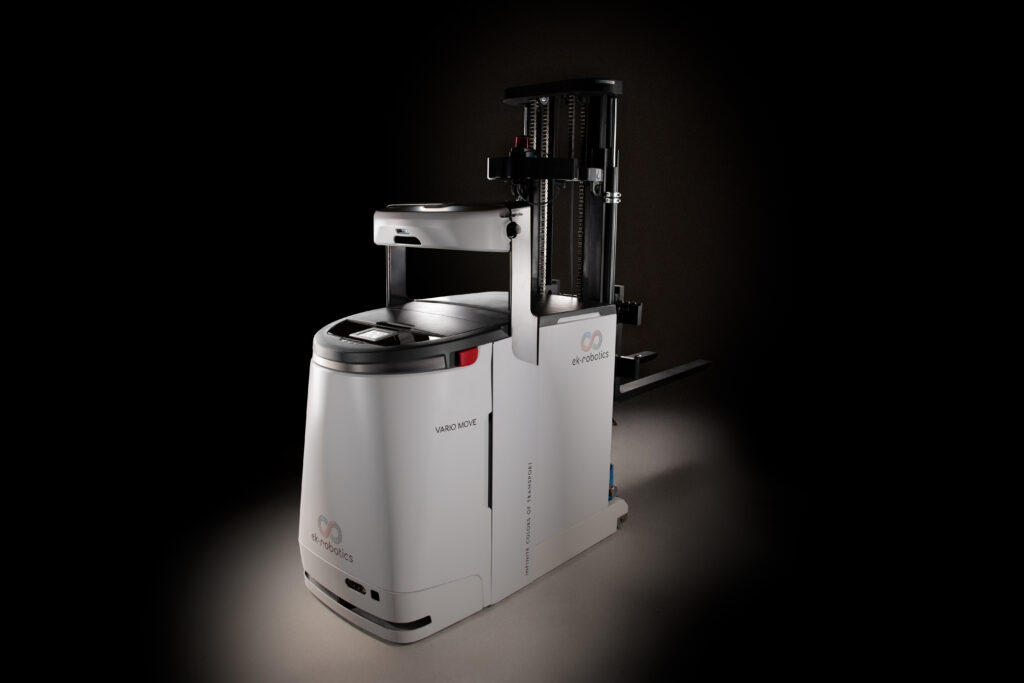 ek robotics has announced an automation and logistics deal with Chemco Group. The company will realize the automation of the central warehouse in Dublin with three different types of transport robots.
Chemco Ireland Limited is a comprehensive chemical solutions provider. They work in partnership with some of the world's largest companies, providing expertise, world-class efficiency, and transparent operations. With the goal of making the intralogistics processes in the central warehouse in Dublin more cost-efficient, the family-owned company chose an automated guided vehicle (AGV) system from ek robotics. In 2024, a transport robot fleet of nine AGVs will be used in the central warehouse. Four SMART MOVE narrow-aisle trucks, three VARIO MOVE and one HEAVY MOVE as well as another VARIO MOVE for the new building at the Dublin site will be responsible for the automated storage and retrieval of goods in the existing racking system in a three-shift system with transfer heights of 10 meters.
"We were looking at ways to make our warehouse logistics more cost-efficient, while maintaining our smooth and quality distribution and storage for our clients. We decided that automation was the way to go, and we had discussions with ek robotics. Since then, we haven't looked back and we're looking forward to the implementation of the Automated Guided Vehicles", says Jamie McDonald, Operations Manager at Chemco. Graham German, Project Director at ek robotics UK, said: "This project has been a completely collaborative partnership and we have thoroughly enjoyed working alongside Chemco to reach the perfect automated solution. We expect all our trucks to arrive on site at Chemco in around a year's time at the end of 2023, with the fully automated operation commissioned and in action towards 2024." Chris Price, Managing Director of ek robotics UK, added: "We are absolutely delighted to be working with Chemco. We love challenges, which is why we wanted to get involved in the chemical industry – something we haven't done before in the UK business – whilst also working with an excellent company such as Chemco. "We're glad that Chemco have not only chosen automation, but they've also chosen to partner with ek robotics. This is another great step forward for our business."
About ek robotics
ek robotics is the world's leading manufacturer and system integrator of innovative high-tech transport robotics for production and warehouse logistics. At five locations in Europe (Rosengarten, Germany, headquarters), Reutlingen (Germany), Milan (Italy), Prague (Czech Republic) and Buckingham (UK), the transport robotics specialist with more than 300 employees creates intelligent, networked and flexible transport solutions for the fully automated, in-plant material flow of its global customers. With 60 years of experience in design, development, manufacturing, integration, turnkey delivery, and support throughout the entire lifecycle of automated guided vehicles (AGVs), ek robotics is among the technical elite in this fast-growing industry of the future.