AGV Solution: Automation in 2-3 days
10th January 2023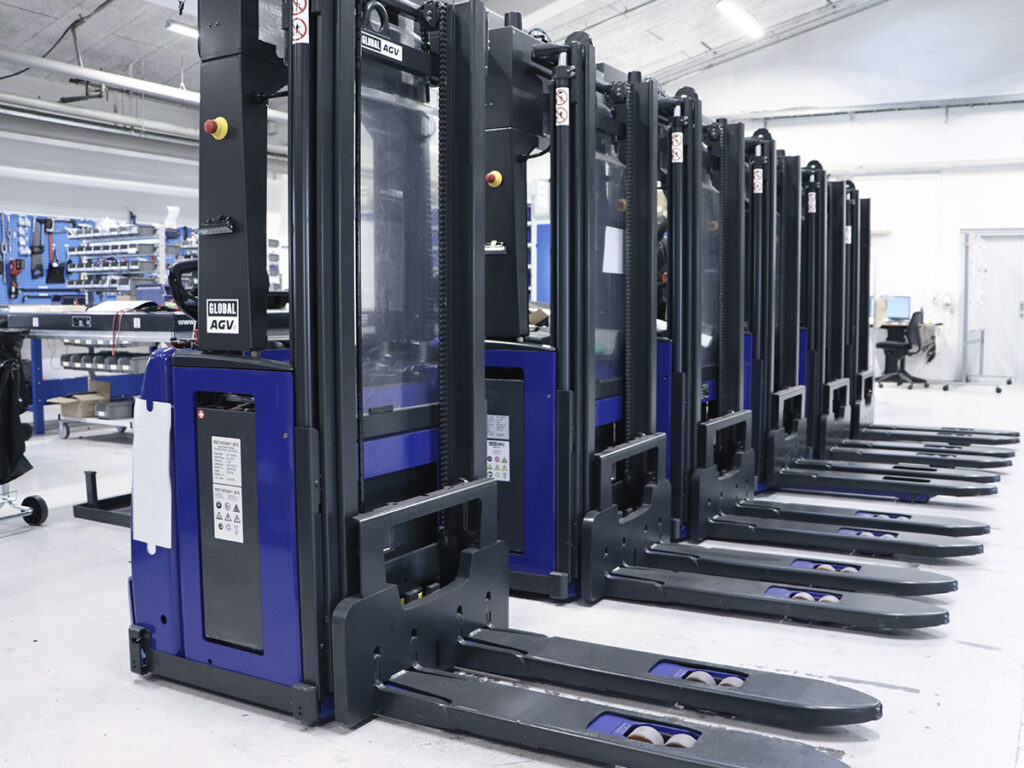 BILA has removed the three biggest obstacles for getting an easy and quick start with an AGV solution for the automation of pallet transport. The solution is called Global AGV – an innovative solution that has been created through 30 years of practical know-how and technical experience with automation across branches and industries – and that is the main reason for its simplicity and user-friendliness.
Automation solution with quick installation
Three things prevent many industrial companies from automating logistics in their factories and warehouses; automation tends to be expensive, inconvenient, and incredibly time-consuming to implement self-driving forklifts. It doesn't have to be that way. Not anymore. It is easy to automate A-B pallet transport regardless of company size or type with the adaptable Global AGV. The driverless forklift truck from BILA solves routine tasks and eliminates bottlenecks and production stops easily and efficiently. This frees up valuable resources for e.g. quality assurance.
LEGO Mindstorm, 50 standard blocks and extensive experience with automation
The biggest advantage of Global AGV is how simple and user-friendly it is. The reason behind its simplicity can be found in the parent company BILA A/S. As Scandinavia's largest automation company, BILA has helped automate and innovate the internal logistics of many national and international companies for over 30 years. And it is the practical experience and technical know-how acquired over the years that form the foundation for Global AGV.
In other words, Global AGV was created out of integrated knowledge of automation, where we have taken the best of the best and gathered it in a simple and user-friendly system. "With countless installations and projects through the years – from single stand-alone products to large and complex projects – we understand the challenges the customer encounters in connection with an automation project. Successfully implementing automation is about looking at the company's starting and ending point, and what needs to change in terms of mindset to reach the goal in the best way possible," says Kim Rimer Andersen, Product Manager, Global AGV.
The result is a self-driving forklift truck with a LEGO Mindstorm-like setup: a drag and drop structure with more than 50 standard blocks that you can easily implement in the construction of flows and route combinations. You don't need special skills nor PLC programmers when you install a Global AGV. A few days of employee-training is all you need.
"We have seen many solutions over the past few years but have not come across such a simple solution as the AGV, we have now chosen from Global AGV. The AGV was by far the preferable choice in a production like ours. The process of implementing the AGV solution has been easy to initiate. It is both easy to install and start up, which is a big advantage for us," says Søren Kristensen, Factory Manager at Lantmännen Unibake.
Save 60%
AGV solutions are no longer reserved for large companies with huge budgets. With Global AGV, optimising internal transport is no longer a huge project, but something that can be implemented in less than a week – and even with a 60% saving on day-to-day performance. And Global AGV is the simplest stand-alone logistics solution on the market. The AGV is easy to install and can be operated by anyone. Thanks to the simple software and intuitive interface, it only takes a few days on average to install and commission the driverless forklift. Due to its flexibility, it can be modulated and adapted to your requirements, making it easy to integrate into your existing production environment.
For increased flexibility, the machine is equipped with dual-mode technology, which enables immediate switching between automatic and manual operation. All in all, the Global AGV is perfect in a dynamic production environment with many A-B pallet transports.
"The AGV solution is a good example of added value in the overall production flow. The self-driving truck basically takes care of itself and drives without problems on the well-defined routes from A to B. It's easy, simple, and straightforward. We can easily change the driving route or other functions, so that the AGV solution can be adapted if, for example, it has to drive longer or stack in new ways," says team leader Allan Poulsen from Arla Foods in Rødkærsbro.