AGV Opportunity at end-of-line
4th January 2023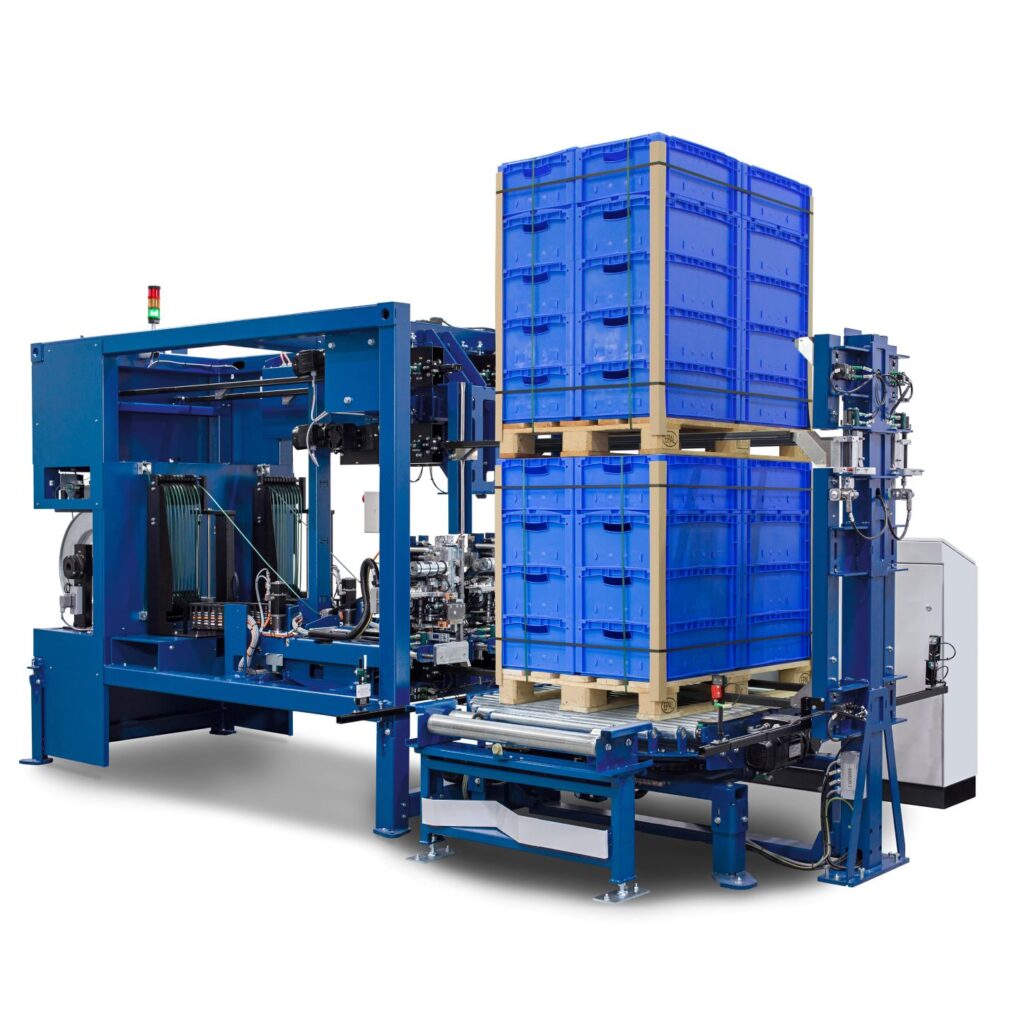 AGVs (Automated guide vehicles) and strapping machines can work in harmony to optimise highly flexible end-of-line processes.
Customer requests and needs can be highly unpredictable. This is especially true in ecommerce, where new products have to be developed, manufactured, secured for transport and shipped faster than in any other sector. Ultra-fast fashion companies add hundreds or even a thousand of new garments to their range every week. To make this enormous product selection possible, clothing is often manufactured on demand instead of being mass produced in advance.
This level of flexibility must also be reflected at the end of the production line – because different products need to be secured for transport in different ways. T-shirts and other lightweight products can be simply packed in bags and shipped, while packages containing heavier goods need to be secured with strapping. Picked loads with products or packages of different sizes stacked on pallets must be stretch wrapped prior to strapping to ensure the required stability.
Flexibility improves performance
Automated guided vehicles (AGVs) and other modern transport systems offer the necessary flexibility at the end of the line. They are space-saving, scalable and extremely adaptable. For instance, if a company wants to increase its throughput, it can simply increase the number of AGVs rather than build a new production line.
According to a study conducted by software specialists at Inform, the deployment of AGVs nearly doubled from 2013 to 2021. Unlike stationary technology, such as conveyors using chains, rollers or belts, AGVs offer a key advantage: when feeding is flexible, individual machines can operate at maximum capacity – without having to adapt to slower upstream machinery. With this standalone solution, each product is only conveyed to the machine that secures it for transport. This approach is especially suitable for strapping machines. Johannes Wieder, Sales Manager Logistics at Mosca, explains: "Strapping machines often have a much higher throughput than upstream machines and can easily process products from several different lines. As a result, high-performance machines only operate at full capacity when they are integrated into flexible lines that use technologies like AGV."
Prototype application shows potential
Mosca joined forces with materials handling experts from Gebhardt Intralogistics to show how automated guided vehicles and strapping machines can work together in a common application. Jan Schlichting, Sales Manager Mobile Robotics & AGV at Gebhardt, explains the potential of the layout: "Mosca machines are well-known for high performance. Companies can further exploit this capacity when they combine AGVs and strapping machines in one operation." The prototype application uses Gebhardt's automated transport system KARIS in combination with a Mosca EVOLUTION SoniXs MS-6 H with vertical edge protection and a KZV-321 pallet strapping machine.
Regardless of machine in operation, the procedure remains the same: KARIS system AGVs pick up the products and transport them to a Mosca machine that applies strapping, banding or stretch wrapping to secure the product for transport. The AGV picks up the secured product again and takes it to the next station. Each product follows its own route based on the specific requirements. Unstable product stacks with picked loads, for example, can first be wrapped and then strapped; individual cartons may only require strapping.
AGV necessity?
Several production lines can be brought together in the application within one building, or across multiple buildings. "You don't necessarily need automated guided vehicles to use strapping machines as a consolidation point for the flow of goods," says Jan Schlichting. "But consolidating several lines from different buildings with stationary conveyor technology is much more difficult and costly."
Even long and complicated routes are no problem for AGVs. On the contrary: they save time over long routes because they reach their maximum speed on open distances. For KARIS this is about 1.2 metres per second. Navigation through the various buildings is managed without a guidance system, reflectors or induction loops. Prior to the first run, vehicles are manually guided through the building to create a digital map. Afterwards, traffic regulations are defined in the building layout. In everyday operation, the vehicles use sensor technology and swarm intelligence to avoid colliding with employees or other AGVs in the fleet. At the same time, they always calculate the most efficient route for each product.
Test runs with customer products
The prototype application with the Mosca KZV-321 and Evolution SoniXs MS-6 H has already premiered in the Mosca showroom and at trade fairs. Mosca customers are invited to conduct test runs with their products on-site in the Mosca showroom to see how the solution meets their needs. "The application is very interesting for many of our customers," Johannes Wieder explains. "But we always work closely together to determine whether it is the right solution for the customer's specific needs."
One of the key advantages of the current prototype application is its scalability. If more throughput is required, the number of AGVs can be easily increased without building a completely new line. Additional machines can also be integrated into existing lines with the AGVs – without expensive, time-consuming conversions of stationary conveyor technology. The space-saving AGV also leaves more room for machines, employees and future production lines. Johannes Wieder points out: "AGVs are practically unavoidable for companies that are working in the e-commerce or pharmaceutical sector and need to flexibly and reliably secure many different products for transport. In this respect, the prototype application clearly shows that the combination of strapping machines and AGVs is full of potential."