ABM Greiffenberger to display wide-ranging portfolio
23rd February 2022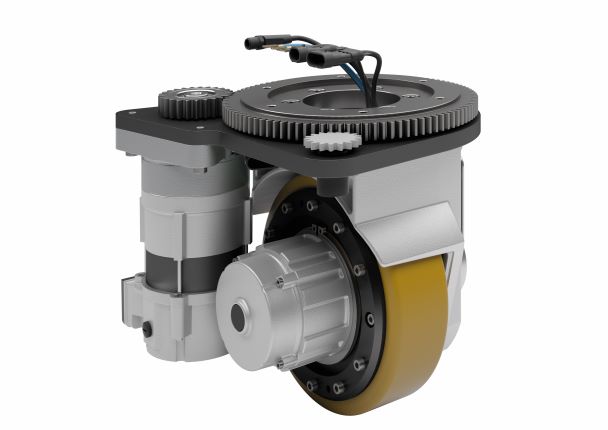 Visitors to LogiMAT 2022 in Stuttgart can find out about the powerful ABM Greiffenberger drives in Hall 3 at Booth B15. ABM Greiffenberger has suitable drives for all mobile and stationary applications in logistics centres. In close partnership with customers, the one-stop provider for intralogistics delivers both optimised modular system solutions and individual solutions with maximum added value for users.
Many things are moved in and around a logistics centre – and wherever this happens, drives are required. It starts, for example, with mobile applications such as electric buses that drive employees to their place of work or lorries that transport goods to the receiving point – drives for auxiliary units such as hydraulic pumps, compressors and fans are needed here. When the lorries drive up to the dock, rolling doors open and close so that the employees can load or unload.
By means of pallet trucks, forklifts or automated guided vehicles (AGVs), the goods are moved to container and pallet conveyors, which bring them to the high-bay storage area. Other devices and machines, such as ergonomic lift assists for handling the goods and machines for cleaning the floors in the building, are also deployed. ABM Greiffenberger offers suitable motors, gearboxes, brakes and inverters for all these applications – for either mains or battery power supply.
These drive solutions include the Sinochron motor series, which visitors can find out about at the trade fair booth. The permanently excited synchronous motors are perfect for operation with sensorless control thanks to their special design. The advantages offered by synchronous motors are a high power density and a compact size. With efficiencies of more than 90%, these motors score points in intralogistics applications in which drives are only operated at part load as well as in auxiliary units in lorries and buses.
ABM Greiffenberger has added compact and powerful liquid-cooled motors to its efficient drive technology offering. The motors possess a high thermal stability and offer exceptional protection with ratings of up to IP6K9K. They can be controlled via inverters and can be attached to all ABM helical, parallel shaft and angular gearboxes with little effort. They are ideal in areas such as mobile drive technology, where they are used, for example, as aggregate and traction drives in electric vehicles and construction machines.
Reduced complexity
ABM offers suitable inverters that are optimally matched to the respective drive systems for all applications. They meet controllability, networking, digitalisation and connection technology as well as other requirements.
ABM will present another innovation with the wheel hub drive with electric steering for AGVs and forklifts. It has a drive torque of 360Nm; the integrated electric steering brings a torque of up to 300Nm to the wheel. Users benefit from a precisely controllable and efficient AC motor technology. They receive complete solutions from a single source and only have to take care of the interface for the drive technology.
The powerful chain hoists will also be presented at LogiMAT. They are modularly designed and provide reliable overload protection thanks to the friction couplings. The integrated electronic control is new. Via plug and play technology, the operator can easily extend the basic version to include the travel function. The new solution from ABM Greiffenberger is particularly long-lasting – wear of switching contacts does not occur. The corrosion-resistant and robust chain hoists also operate reliably in harsh environments. High-quality helical gearing enables quiet running and lowers noise emissions.
ABM Greiffenberger is a systems supplier for all applications in intralogistics and develops customised, installation-optimised solutions that are optimally tailored to the respective applications. With this, ABM maintains its goal of delivering high-quality, reliable drive solutions and supporting its customers in the capacity of a partner with engineering and manufacturing expertise.