7 steps to a successful retrofit project
24th August 2021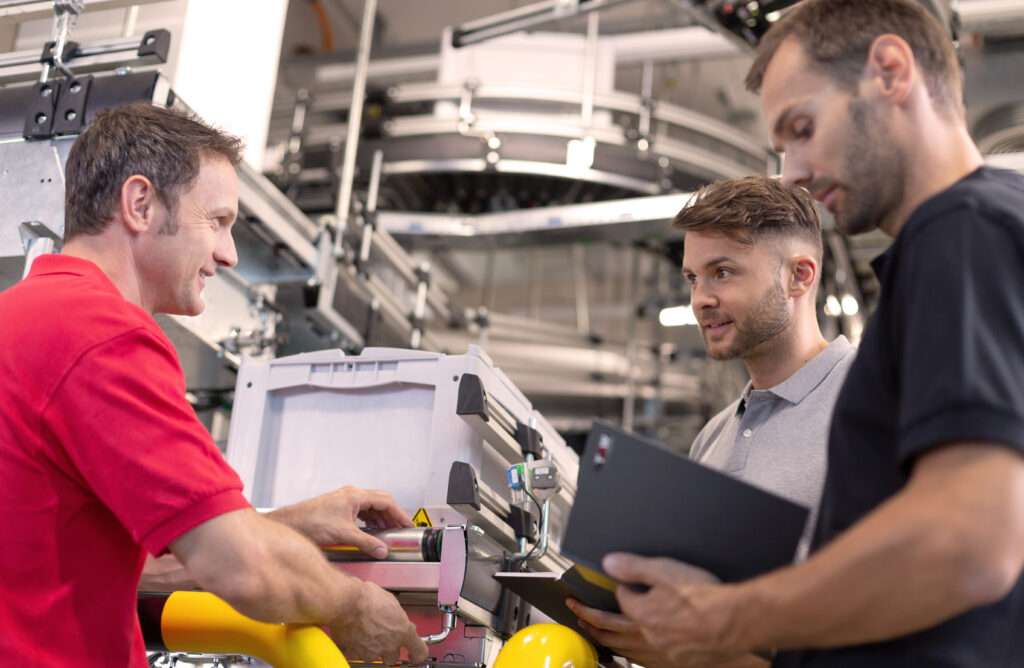 In this article, written by Markus Kammerhofer, Director Sales Retro, TGW Logistics Group, we look at the most important factors for a successful retrofit intralogistics project.
Promising faster delivery and establishing resilient supply chains is only possible with state-of-the art intralogistics systems. Yet anyone planning a retrofit project needs to find a competent partner and to keep a few rules in mind.
Next year will mark the 60th anniversary of the opening of the first high bay warehouse (HBW). The trailblazer was Bertelsmann's "Book Silo," opened in Germany in 1962. Since then, thousands of HBWs have been built and some of them have been going for decades. But whether HBWs or automated mini-load warehouses, this fact remains: after years in operation, practically no system still exists in the same form as when it first opened. Steel components may be sturdy, but IT and control elements as well as mechatronics must be regularly updated to the state of the art. And with rapidly changing product ranges, volumes and customer demands, modernisation and expansion become inevitable.
Fundamentally, retrofit activities can be divided into three subcategories: adjustments, expansions and modernisation. The first subcategory consists of measures that often need to be taken within months of a system being put into operation, so that the company can keep up with new market requirements. Expansions are particularly important for companies that experience strong growth after go-live. Regular modernisation of the control systems and IT is generally necessary every four to five years because the technology changes. The mechanical equipment often does not have to be renewed until after ten or more years.
E-commerce growth, increased automation: the rising number of intralogistics systems means growth in the retrofit market as well. TGW now handles almost five times as many retrofit projects annually as it did ten years ago. Another important driver is the system users' increasing awareness that they can only keep up with the competition if they adapt to their customers' needs. And those who promise shorter and shorter delivery times have no choice but to establish a resilient supply chain. Unplanned system downtimes are a nightmare for supply chain managers, and long cycle times are a clear competitive disadvantage in today's world of high-performance logistics.
Putting off retrofitting means taking risks. For one thing, spare parts could run out or technology could become unavailable. For another, knowledge is lost over the years when, for example, the IT experts who still know how to work with the programming languages C and C++ retire. Younger software specialists often do not have such expertise. The situation is similar for controls systems.
As the speed at which technology changes continues to increase, companies are gearing up for the future. Even just upgrading the software increases functionality. A new warehouse management system enables better connectivity with other systems, such as manufacturing execution systems, supply chain management systems and enterprise resource planning systems, allowing for a more continuous data flow. The goal is to be able to exchange information along the value added chain in real time. On top of that, with increasing regularity companies are looking to integrate autonomous technologies such as automated guided vehicles or robots into their overall system. That can only yield optimal results if the system is running on state-of-the-art technology. Modern warehouse management systems also have the option of touchscreen controls.
The advantages: they are easy to use and it does not take long to train employees. This is also true of the continuous zoom option for system visualisation. These days, users can zoom in down to the system's sensor level to find defective components, for example. Maintenance is also faster and easier after a retrofit because modern components have been integrated into the system.
Since the subject of sustainability has come to the fore in politics, society and business, it has also become one of the drivers of retrofit projects. Generally speaking, these projects are inherently sustainable investments because they not only extend the lifespan of a company's systems but also increase the company's efficiency. Many companies have adopted ambitious programmes aimed at long-term emission reduction. They are more conscientious than before about resources and carefully and thoroughly examine every link in their supply chain to find out where they could cut down on emissions. In doing so, they delve deep and compare things like the energy consumption of different storage and retrieval machines or conveyor system elements.
The bottom line is, companies should not debate whether or not to undertake a retrofit, but rather when and how. Of course they have to budget for it. But what is the alternative? If the competition can fulfil customer wishes faster and better, the company runs the risk of losing customers, and in this digital age the competition is often no more than a click away. For example: in the past, a user would be satisfied with one delivery containing 50 order lines. Today, that customer wants the same volume delivered to ten different places, at ten different times, just as they have come to expect from the well-known B2C platforms. The customer wants to take advantage of that flexibility in their own company too. Looking at it that way shines a different light on investing in a retrofit and the corresponding return on investment.
Once a company has recognised the need for a retrofit or an expansion, they need to find the right partner to carry it out. Over the course of its more than 50-year history, TGW has worked out the most important success factors for such projects. Alongside experienced project managers, a structured plan and a functional specification, defining the migration phases is among the important success factors for a project. Additionally, employees need to be well trained so that the people working on-site are deeply familiar with the system. Another important factor is choosing the right moment for a retrofit. There are managers who assume they can wait until their systems are approaching the breaking point before thinking about it. But they are forgetting an important aspect: the lead time for a project can be up to a year and is often even longer now due to the corona pandemic.
TGW approaches customers when their systems have reached 85 percent capacity so that specialists and the user can develop a solution together that will afford the desired benefits in good time. The experts also make sure that retrofit specialists are trained in such a way as to accumulate comprehensive know-how. Furthermore, the products used in the projects are specially designed for retrofits.
In summary, here are the seven most important success factors for a retrofit project:
Consider the lead time and start early enough
Choose experienced partners and project managers
Develop a structured plan
Integrate specially developed retrofit solutions
Create a comprehensive functional specification
Clearly define migration phases
Intensive employee training
Markus Kammerhofer is Director Sales Retro at TGW. He holds a degree in Computer Science and has been working for TGW since 2012. In April of 2013 he took over the Retrofit Sales department, and since the autumn of 2017 he has managed the Lifetime Services Competence Center Retrofit with a view to expanding TGW's retrofit efforts worldwide. Kammerhofer has more than 20 years of professional experience in an industrial environment. His focus is on software, processes and automation engineering.