Vertical Edge Protection for Bundled Products
18th November 2020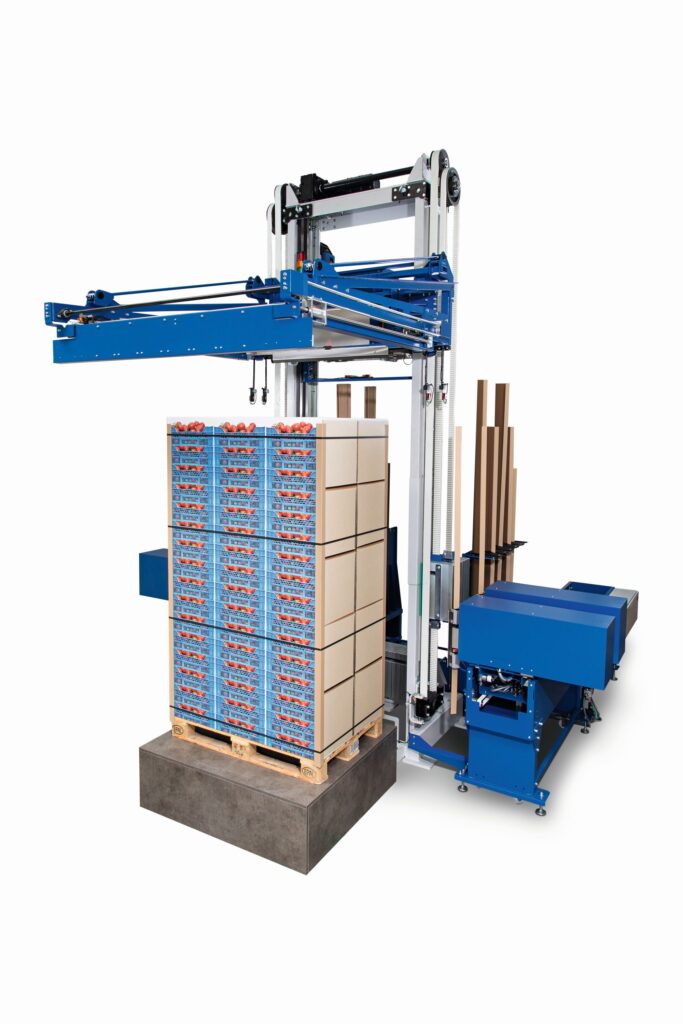 The Mosca EVOLUTION SoniXs MS-6 H by Mosca is high-end strapping machine. It is now available with a vertical edge protection applicator – which makes it ideal for users who need to secure sensitive products, plastic crates, or other stacked goods. The edge protection system automatically attaches four cardboard edge protectors to the product to be secured. This not only protects the edges during transport, it also joins products stacked in layers to form a bundle – offering an eco-friendly alternative to stretch wrapping. Different edge protector sizes and large buffers offer companies maximum flexibility for different products and high throughput.
Introduced in 2017, the EVOLUTION SoniXs MS-6 H was the first horizontal strapping machine to feature Mosca's ultrasonic technology. This high-speed unit uses mechanical vibrations instead of heat to weld strap ends and ensure a secure seal – especially on bulky furniture or kitchen appliances. The edge protection feeder applies edge protectors made of recyclable cardboard and thus extends the scope of EVOLUTION SoniXs MS-6 H applications to other industries. Mosca GmbH CEO Timo Mosca explains: "Companies in the food and beverage industry are looking for eco-friendly alternatives when it comes to securing goods for transport. An edge protection applicator offers significant potential for users who, for instance, need to secure plastic crates stacked on top of each other. In the past, this was done with stretch wrapping machines." Cardboard edge protectors offer a material-saving alternative to stretch wrapping, which requires a relatively large amount of plastic film to create a bundle. They are also suitable for sensitive products, such as fruit and vegetables packed in crates that cannot be wrapped in plastic. The new machine feature is also available to customers who already use an EVOLUTION SoniXs MS-6 H in their production line. "We can easily upgrade existing machines with the edge protection applicator," says Timo Mosca.
Fully automated strapping
The EVOLUTION SoniXs MS-6 H is specially designed for use in fully automated production lines. That's why the edge protection system is also fully automatic. Four photoelectric sensors detect the edges of a product placed on the machine. The edge protection applicator then guides cardboard angles to all four edges in parallel and gently places them on the product. To optimally secure the bundle, the machine uses its movable strap guide frame to strap the product and the edge protectors horizontally at multiple positions. Using Mosca or OEM conveyor technology, the product is then forwarded for vertical strapping or direct transport. The EVOLUTION SoniXs MS-6 H can double strap up to 150 bundles per hour.
Large edge protection magazine for maximum flexibility
The EVOLUTION SoniXs MS-6 H has been reliably strapping products in different sizes since its introduction in 2017. Reliability was also a key focus in the development of the edge protection system. Its magazine can be filled with cardboard angles in three different formats to accommodate edge protectors ranging from 600 to 2400 mm in length with a side length of 40×40 to 60×60 mm and a material thickness of 2-6 mm. This enables users to flexibly choose the edge protectors that best match their products and requirements while avoiding unnecessary material expenditure. Each of the twelve edge protector buffers holds up to 55 edge protectors with a thickness of three millimetres. This ensures maximum machine availability even at high throughput rates.
Additional applications for pallet strapping machines
In addition to the application for the EVOLUTION SoniXs MS-6 H, Mosca will soon offer the newly developed edge protection system for other horizontal strapping machines, including the KOV-315 and its variants: KOB-315 and KOH-315. These fully automatic pallet strapping machines are commonly used in the construction industry as well as for bulky items. The edge protectors can be used to bundle bricks and other stacked products. Thanks to the machine's extremely high strap tension, heavy goods can be reliably secured for safe transport. For sensitive products, such as freshly produced aerated concrete (Ytong) bricks, the cardboard angles protect the delicate product edges from transport damage.