Doosan Launch low-cost NXE Series Electric Forklifts
17th November 2020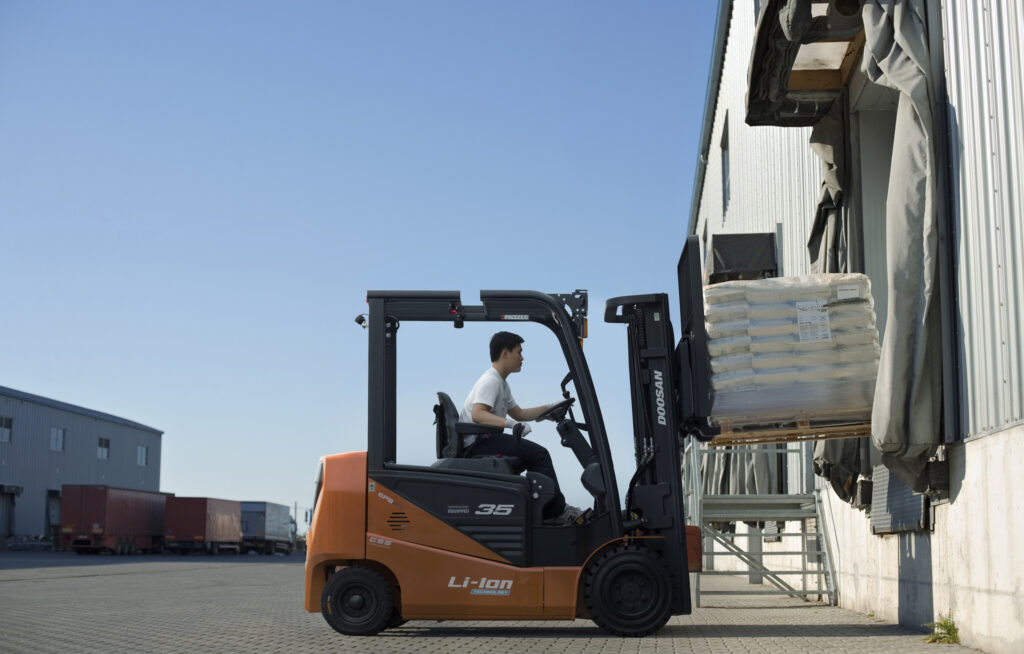 Doosan has launched the NXE Series – a versatile range of four-wheel electric counterbalance forklift trucks suited to the needs of the small-to-medium size enterprise (SME), or where occasional usage or light duties are the norm.
This electric equivalent of Doosan's 'value' GX IC engine range, offers all the advantages of electric power in a series of competitively priced four-wheel models, giving occasional users a reliable low-cost 'buy new' alternative to purchasing a second-hand or reconditioned forklift truck.
Available in four models – B20NS, B25NS, B30NS and B35NS – across a capacity range from 2.0 to 3.5 tonnes, the new Doosan NXE Series is engineered to deliver high performance, reliability and safety at a reasonable cost. Productivity is maximised through the combination of a highly efficient IP67 rated Curtis AC controller, high performance motor and robust drive axle – giving optimum power and control over travel and lifting/lowering speeds.
The versatility of electric power is now available to occasional users in a durable and reliable low-cost forklift truck, making it a viable alternative to increasingly regulated IC Engine equivalents. Electric power offers clean operating performance both inside the warehouse and outside in the yard.
Safety-enhancing design features of the new Doosan NXE series include: excellent all round visibility with a clear view forward through the mast, a low front cowl to reduce blind spots and an electronic foot brake for fast, responsive braking.
Safety features include: anti-roll back on slopes, automatic speed control when cornering, automatic parking brake, ISO 3691 hydraulic locking valve – preventing unintentional lowering and tilting of the mast – and an operator sensing system that only allows the truck to operate when the driver is seated. In addition, a large anti-slip plate and entry grab bar make it easy and safe for the driver to climb on and off the vehicle.
The water and dust-proof IP67 rated Curtis AC controller protects against moisture, even when immersed to a depth of one metre, ensuring optimum power and performance throughout, with smooth and responsive travel and hydraulic operation.
Performance is further assured with the IP54 rated AC motor, offering full protection in wet weather, and the single drive axle transmits power and torque with minimal noise.
Braking is made simpler. Unlike conventional hydraulic brakes, the e-motor foot brake directly controls the power delivered to the electric motor – reducing maintenance costs.
Designed for full operator comfort, the spacious cab design offers extra knee clearance, a low step height and floor plate for easier driver access, and excellent all-round visibility for safer manoeuvring with greater awareness. Further features include, ergonomically designed hydraulic levers, with a forward and reverse switch incorporated, making changing direction smooth and effortless, and a full colour display highlights key information on the status of the truck.
The NXE Series has been designed with ease of maintenance in mind. Using a laptop key truck performance parameters can be simply adjusted – no need for special tools – and the fuse and CAN port are centralised for convenience. Access to the battery is straightforward too, with an easy-lift-up hood cylinder and tool-less removable side panel.
Click here for more foklift technology news