Transport Market Monitor Now an Interactive Online Tool
1st October 2019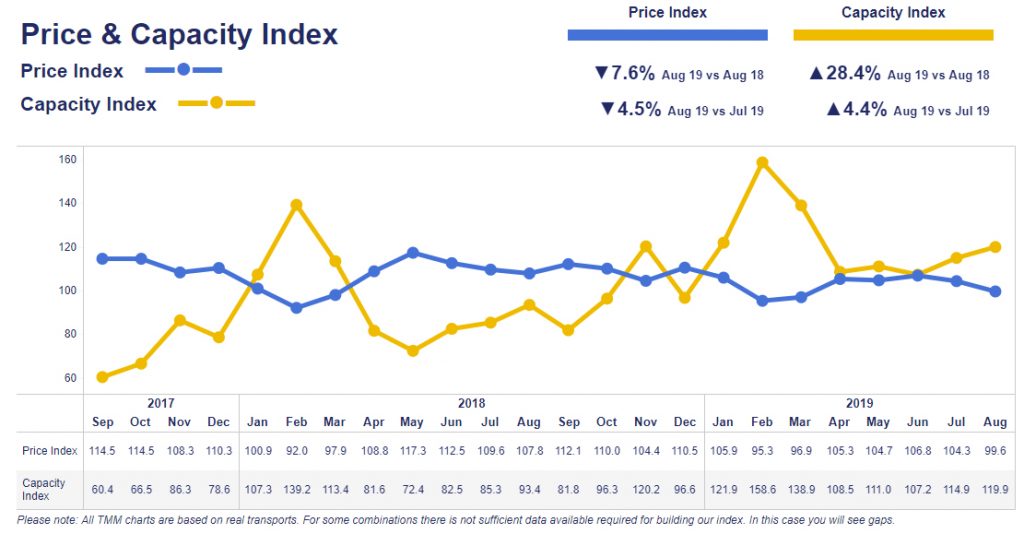 Tim Consult has developed the Transport Market Monitor (TMM) into an interactive, web-based analysis tool. The TMM is a unique tool in the market with transport data from additional industries and numerous routes.
Tim Consult, a subsidiary of Transporeon, has developed the proven, quarterly information service Transport Market Monitor (TMM) into an interactive digital database. Through an intuitive user interface, registered users can view detailed charts containing price and capacity development for numerous industries and different country-country combinations. Shipping companies can thus compare development of their own transportation costs with index-based market figures. Carriers have the advantage of firming up their competitive position with a market-appropriate price strategy.
"The digital TMM is unparalleled on the market", says Oliver Kahrs, General Manager of Tim Consult, the market intelligence consulting company belonging to Transporeon. "No other supplier has as broad a database of industries, regions and transportation connections. Moreover, only valid market data from real shipments are included in the TMM. We give market participants valid and precise insights into developments in the transportation market to create market transparency in a unique breadth and depth. That makes the TMM a uniquely valuable information source for shippers and logistics service providers", says Kahrs with satisfaction.
The TMM brings together data from up to 150,000 road-bound freight orders across all industries, which are processed monthly over the spot market by Transporeon, Europe's number one for cloud-based transportation logistics services. The TMM uses an index to compare the data on a time axis.
Information on monthly price and capacity developments in the road-bound transportation market can be filtered according to numerous sectors and depicted graphically. The database has been massively expanded by digitalizing the TMM and transportation data from additional industries, such as the chemical, automotive or consumer good sectors are now included in the TMM. Until now, only quarterly developments in the timber, building materials and paper industries were considered in the TMM.
Shippers, carriers and all other market participants can subscribe to the new and highperformance online service at www.transportmarketmonitor.com.