Transporeon Carrier Convention 2021 kicks off
18th June 2021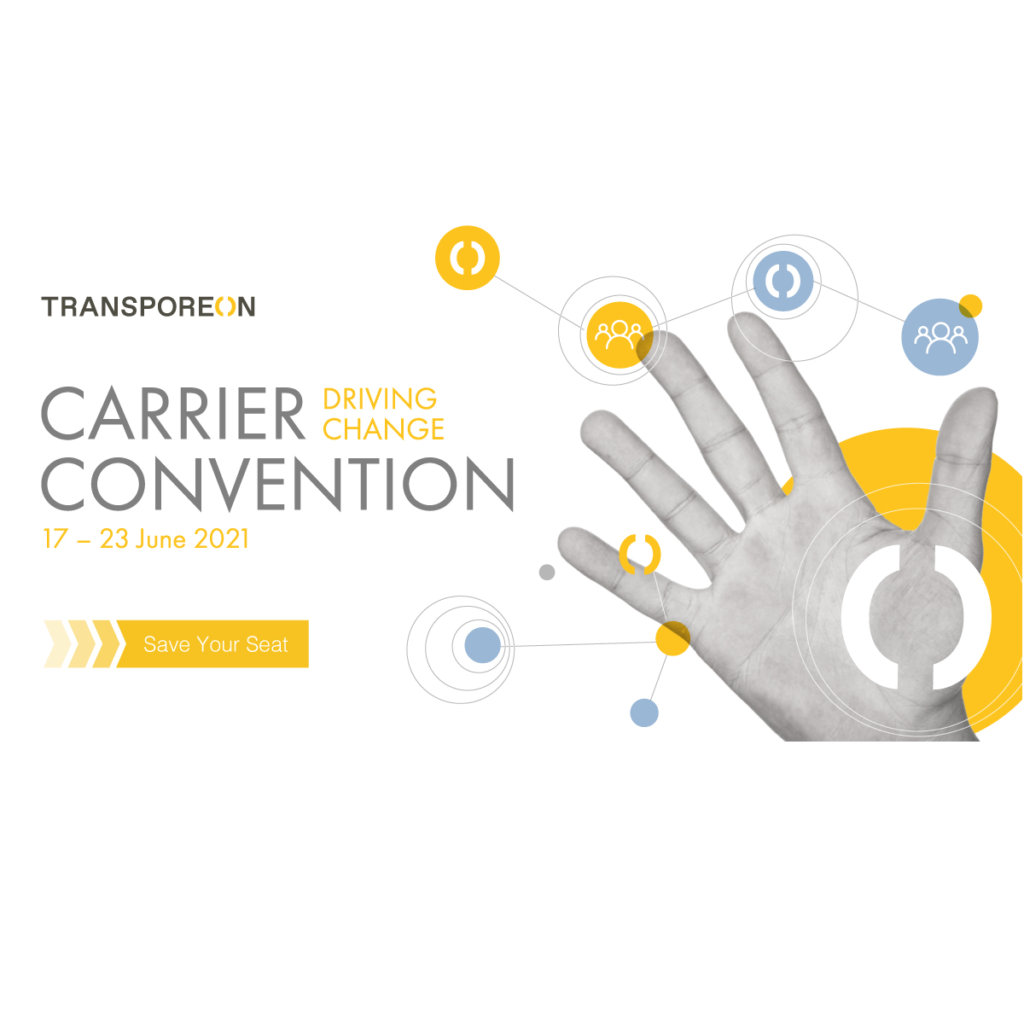 Transporeon has kicked off its largest event and convention for the audience of carriers, 3PL and 4PL operators and forwarders. During the 5-day online event (17-23 June), Transporeon will announce and present products and services that help carriers to improve collaboration with shippers, freight forwarders and other carriers and, with this, helps them to drive their economic and ecological efficiency.
The agenda revolves around three main themes that are business critical in an increasingly connected world and changing business environment: smart data network services, connectivity, and real-time insights.
Transporeon Insights
Transporeon has one of the richest datasets globally. More than €45bn worth of freight went through the different parts of its platform last year. It is an invaluable resource that can help make logistics more efficient to the benefit of all involved parties.
With Transporeon Insights the company announces a new advanced analytics and market intelligence tool that allows to make informed, data-driven pricing (buy/sell) decisions by providing near real-time visibility on the contract and spot pricing as well as capacity market development. This new tool helps to create further transparency on the European FTL market enabling better-informed procurement strategies for shippers as well as increased asset profitability for carriers.
Transporeon Insights will be made available for all market participants in September 2021 starting with beta customers from June.
Transporeon Autonomous Procurement
Transporeon extends its product offering into the field of autonomous procurement with the recent acquisition of TNX Logistics. With Transporeon Autonomous Procurement, forwarders are now able to achieve significant improvements in their spot buying strategies. The product supports autonomous procurement for up to 90% of road spot freight.
It assists with pricing, negotiating, and assigning spot freight to best fitting carries. Carriers benefit, as they save time because they receive targeted offers and can optimally load their trucks by just accepting offers instead of negotiating and waiting for assignments.
Strategic partnership with ZeKju
Transporeon announces a strategic partnership with ZeKju and will also be a minority investor in ZeKju, a platform that enables digital communication in the road transport industry.
Combining commonly used consumer messengers with value-adding features like translation, ZeKju provides a simple way to digitalize communication in road transport. In contrast to app-based communication solutions, ZeKju requires neither truck drivers nor dispatchers to install any new software. As such, it is the perfect tool for small and mid-sized carriers to digitalise their operations.
"We share Transporeon's vision to support the road transport industry with state-of-the-art, pragmatic digitalisation services. And we strongly believe that Transporeon is a perfect partner to make ZeKju available to a large number of carriers," says Dr. Hendrik Rosenboom, founder of ZeKju.
Visibility Data Centre
With the new Visibility Data Centre, carriers now have one central place to manage all their activities regarding onboarding their fleet and building a virtual subcontractor network. The Visibility Data Centre also provides the carrier dispatchers the possibility to allocate assets on an upcoming transport. It ensures correct master data collection and allows the carriers' customers to receive real-time visibility throughout the transport.
In addition to the onboarding of subcontractors and connecting their own and the subcontractor's fleet, carriers can benefit from the 'Fleet Viewer', which consolidates a mixed fleet providing one single overview of the carrier's asset pool. This gives the dispatcher transparent insights into available capacity across their fleet.
Furthermore, dispatchers will be able to communicate directly with the carries utilizing the ZeKju technology. And since real-time visibility is becoming an industry requirement, the carriers can easily share data on transport level through Sixfold's 'OVD' (Open Visibility Data). This way they can ensure data is shared on transport level rather than on fleet level. The Visibility Data Centre is therefore perfect as a daily work tool for carriers.
New Carrier Business Unit at Transporeon
As of 1st July 2021, Gruziana Hoxha will join Transporeon as Executive Director for Carrier Management, signalling the next stage of the company's evolution to a more carrier centric organisation.
"It is a great pleasure to welcome Gruziana to the Transporeon Group. In her new role she will build and lead our new Carrier Business Unit and further develop the products and services we deliver to the carrier community on our platform," says Stephan Sieber, CEO Transporeon. "Over the last years already, Transporeon has increasingly invested in developing carrier-centric services, with products like carrier premium account and carrier trust centre, a growing portfolio of turn-key integration tools for most common carrier applications as well as advanced onboarding and support processes.
"Therefore, building a new Carrier Business Unit is the logical next step for us to further drive our growing product portfolio that is focused on helping carriers grow their business and also support them in their carbon emissions reduction goals."
Gruziana Hoxha adds: "After almost 10 years of experience in the supply chain industry, leading, developing and scaling diverse teams in multi-national and fast-growing companies like Fercam, Uber Freight and most recently Sennder, and with my passion for the digitalisation in the global logistics and transportation industry, I am absolutely thrilled to have the opportunity to build the carrier organisation at Transporeon."
Carrier of the Year Awards
The Carrier Convention will close with the premier of the Transporeon Carrier Award Ceremony which celebrates the six winners for the "Carrier of the Year Awards". These awards recognise outstanding customer commitment and high transparency regarding transport performance.
Registrations for the Carrier Convention are still open. It's not too late to register here.