TIMOCOM presents shipment tracking for carriers
5th September 2022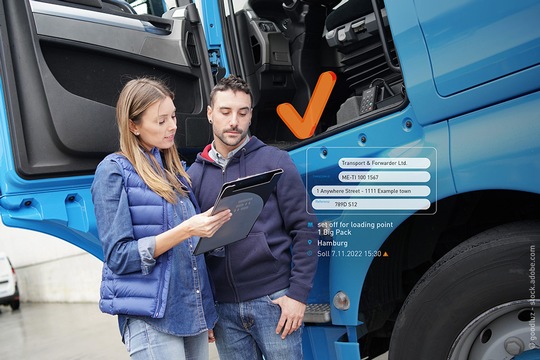 TIMOCOM will be presenting several innovations at the IAA Transportation in Hanover from the 20th to the 25th of September in Hall 13, Booth C40. These innovations are specifically tailored to meet the needs of carriers, in particular smaller companies and mobile device users.
"We are expanding our European road transportation marketplace to include new products and features – two will be available during the trade fair, and the prototype for the third will be on display," according to Gunnar Gburek, Head of Business Affairs at TIMOCOM.
Those visiting the TIMOCOM trade fair booth can look forward to testing the following innovations:
Modernised freight exchange: TIMOCOM users can now perform as many simultaneous searches as they like, receive notifications regarding new offers and exclude specific offers from the search results list. The new freight exchange is also much simpler to use on mobile devices, making it ideal for finding freight when on the go across Europe.
Live shipment tracking: This latest feature is designed to meet the needs of carriers. It makes it easy to exchange transport information, including an informative shipment status and an ETA calculation optimised for trucks. "It was important to us that service providers have a tool that allows them to maintain full control over which data they share but still meet the needs of transport customers, who want more transparency within the transport process," according to Steven van Cauteren, Director of Key Account & Partner Management at TIMOCOM. Carriers can share information in real time with their business partner using a digital representation of the shipment, allowing all those involved in the transport process to react quickly to any issues. The product is currently being introduced in the DACH region.
Tour planning: This prototype is an extension of the live shipment tracking feature. It allows road hauliers to factor in tours when scheduling drivers and shipments, doing away with manual entries in Word or Excel. The drivers can then view their tour on their mobile device. "The tour planning feature is a prototype designed to make life easier for service providers. We are currently searching for beta testers, who will allow us to continue to develop the product in line with our customer's needs," says Steven Van Cauteren. The feature is primarily designed for use by smaller companies and road hauliers.
Logistics transport customers are increasingly requesting digital processes and more transparency from their service providers. TIMOCOM's latest innovations help carriers meet these demands while maintaining control over their own data. This allows companies to concentrate on their core business while still profiting from digitalisation of their processes.