Webinar: 3M's Journey to Cross-docking Excellence
6th June 2023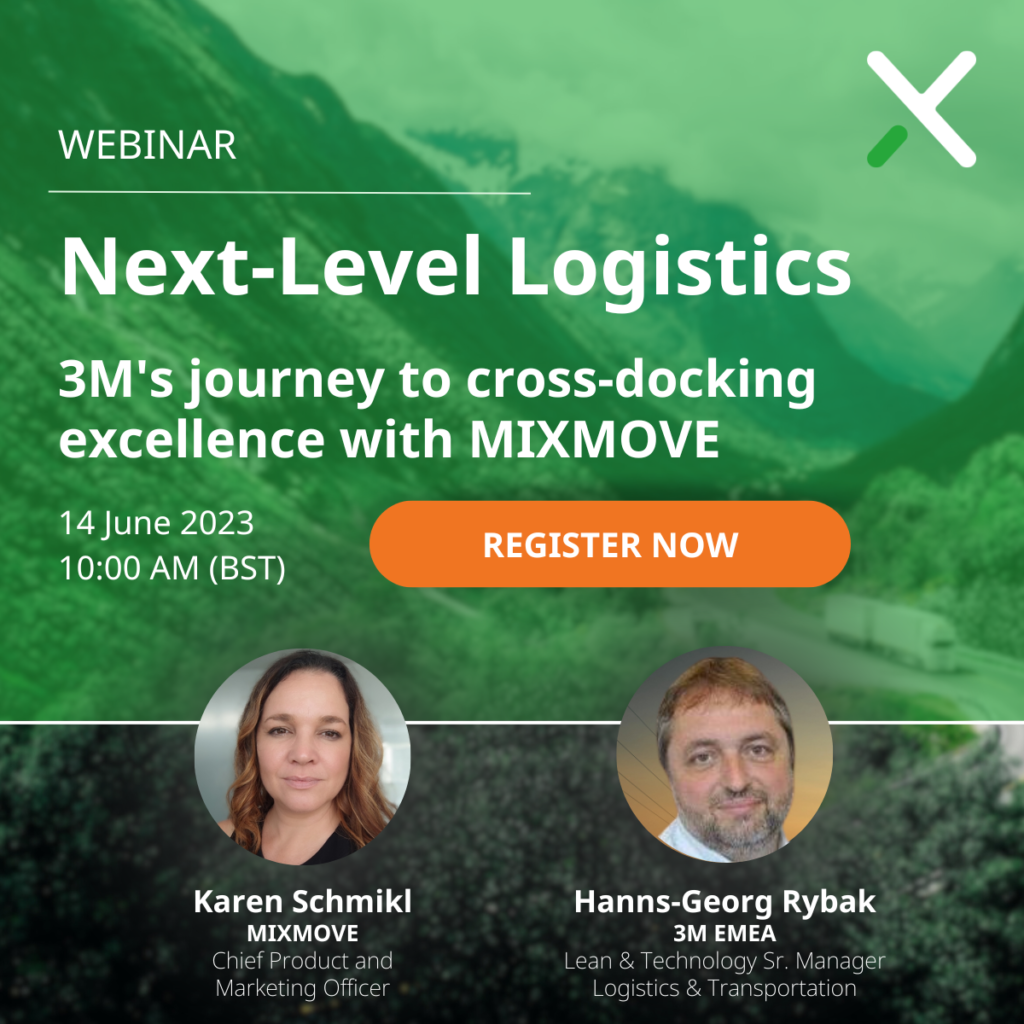 As a company that produces more than 60,000 products across various industries, 3M needed an efficient way to deliver goods from their factory to their customers. However, producing irregular pallets for each customer at the same factory where the goods were produced made it difficult to stack and transport goods efficiently, resulting in trucks and containers being only 35-45% loaded. This situation was neither sustainable nor cost-effective for 3M.
Since 2012, 3M has been using the MIXMOVE X-Dock cloud software to streamline their logistics operations with smart algorithms, resulting in improved fill rates, reduced transport costs, increased delivery accuracy, and decreased carbon footprint. The software has also provided full visibility of operations across all carriers and hubs in the EMEA region, leading to improved productivity for 3M.
MIXMOVE is cloud software that supports logistics by connecting systems, increasing profitability and reducing CO2 emissions. For more than 10 years, MIXMOVE has given shippers, carriers and logistics service providers the best customer experience in getting logistics transparency, predictability and resilience. With a proven track record in delivering high ROI for their customers, some of which include DSV, Gebrüder Weiss, 3M, Volkswagen TPS, DHL and more.
MIXMOVE is delighted to invite you to a live 45-minute webinar "Next-Level Logistics: 3M's journey to cross-docking excellence with MIXMOVE", on June 14th, at 10:00 AM BST.
During the webinar, the speakers, Hanns-Georg Rybak, Lean & Technology Senior Manager Logistics & Transportation, 3M EMEA, and Karen Schmikl, Chief Product & Marketing Officer, MIXMOVE, will delve into the logistics challenges faced by 3M and how MIXMOVE's logistics and fulfilment cloud software supports their cross-docking processes and challenges.
They will also highlight 3M's gains and main values of using MIXMOVE X-Dock cloud software and discuss the benefits of adopting a cross-docking process, no matter the shape, size, or complexity of your distribution network.
Don't miss out on this opportunity to learn from 3M's success story and gain insights into optimising your own logistics network. Register now for this free 45-minute webinar!
– Live Webinar: Next-Level Logistics: 3M's journey to cross-docking excellence with MIXMOVE
Date: June 14, 2023 at 10:00 AM BST
Speakers:
– Hanns-Georg Rybak, Lean & Technology Senior Manager Logistics & Transportation, 3M EMEA
– Karen Schmikl, Chief Product & Marketing Officer, MIXMOVE