Transactional Insurance Acquisition Transformed
20th September 2023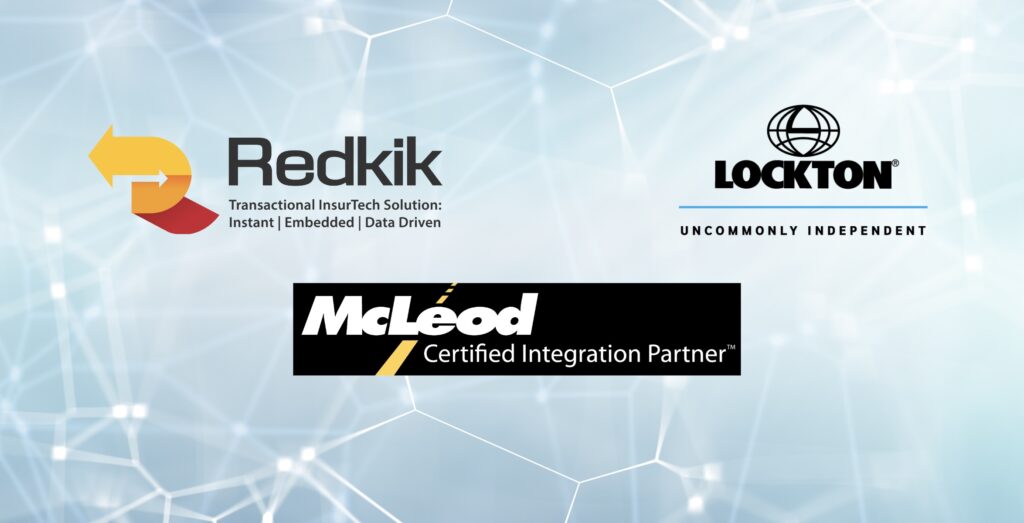 Redkik, an innovative global software company and Lockton Companies, the world's largest privately held insurance broker, are thrilled to announce a strategic partnership with McLeod Software, a provider of transportation dispatch, accounting, operations, brokerage management software, and document management systems specifically developed for the trucking industry. This collaborative effort marks a significant milestone in reshaping how logistics and transportation companies manage insurance and streamline operations.
With a mission to simplify and improve the insurance industry, Redkik is revolutionizing the way cargo insurance is acquired and managed. Their integrated solution provides instant Certificates of Insurance (COIs) at the time of booking, along with comprehensive administrative, financial, and claims support, offering peace of mind and operational efficiency to industry players.
Lockton Companies supports Redkik by providing insurance programs and relationships to support Redkik's solutions for cargo and other transactional products. This includes claim support and risk control services for the trucking industry.
McLeod Software is renowned for delivering advanced management solutions and services tailored specifically to the trucking industry. With a focus on increasing efficiency and reducing costs, McLeod Software empowers transportation companies to enhance customer service levels, optimize operating ratios, attract and retain the best drivers, and automate processes to eliminate inefficiencies.
This strategic partnership among Redkik, Lockton and McLeod Software unites industry leaders dedicated to fostering growth and efficiency within all logistics and transportation sectors. By integrating Redkik's cutting-edge technology and product delivery platform with Lockton's best in class insurance solutions and McLeod Software's comprehensive suite of management tools, transportation companies will gain access to a complete ecosystem of resources and support to drive operational excellence.
Chris Kalinski, CEO, and Founder of Redkik, expressed excitement about the partnership, saying, "We are thrilled to join forces with these transportation industry giants in our mission to revolutionize the supply chain. This partnership signifies our commitment to simplifying complex processes and providing McLeod's clients with the tools they need to thrive."
Ben Morgan, Head of the Lockton Transportation and Logistics practice in Texas, said, "The transportation world is changing by the minute. The technology solutions available from these strong companies revolutionize the delivery of real-time meaningful risk management and insurance products and services. We're proud to be a part of the effort."
Ryan Sparrow, Product Manager of McLeod's Logix Solutions/DocumentPower resonated the excitement, "We are excited to add Redkik's technology and insurance solution to our product offering and hope to provide our clients with the simplest possible way to add insurance to a transport."
The partnership among Redkik, Lockton and McLeod Software is poised to redefine how logistics and transportation companies approach insurance and operational management. Together, these industry leaders aim to provide a comprehensive solution that not only enhances competitiveness but also ensures peace of mind for all stakeholders.
Born of personal industry experiences, Redkik provides a global InsurTech solution curated with the mission to transform and improve the insurance industry for all parties within logistics and transportation. Through Redkik's easily embedded integration, the acquisition of appropriate cargo insurance has never been easier. Instant COIs at time of booking coupled with administrative, financial, and claims assistance take the time and guesswork out of insurance and provide peace of mind.