Logistics Software Specialist Continues Events Series
29th June 2017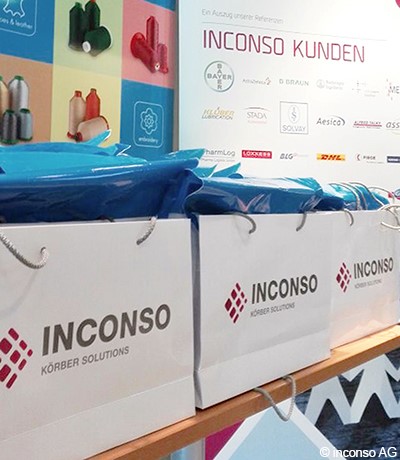 Over 20 renowned industry, retail and logistics services representatives participated in the event 'inconso on-site at AMANN' organized by inconso in mid-May 2017. At the central distribution warehouse in Erligheim in Baden-Württemberg, the logistics software specialist inconso and Amann & Söhne GmbH & Co. KG let guests go behind the scenes of the facility, which was fully modernized in 2015.
The leading manufacturer of high-quality sewing thread and knitting yarn entered the fourth industrial age with the migration to SAP EWM and SAPUI5 as well as the incorporation of over 50 smart devices. Fittingly, the program included many talks, such as by Dr. Karsten Fuchs, Member of the Management Board of inconso AG as well as Jürgen Scheihing, Central Warehouse and Shipping Manager at Amann & Söhne, and Peter Horn, CIO at Amann & Söhne.
"SAP EWM has created an optimal basis for efficient processes and and future extensions in the central DC. Moreover, the logistics concept allows for comprehensive logistics of the highest technical quality that, in combination with SAPUI5 and intuitively usable smart devices, were very well received by the business units," states Scheihing.
During the subsequent tour, event participants were able to explore the distribution centre with an automated storage and retrieval system (ASRS), transfer system and automated de-palletizer. From here, AMANN ships products that arrive from plants in Germany, the Czech Republic, Great Britain, Romania and China. Currently, up to 2,500 packages leave the DC the same day thanks to SAP EWM.
Logistics software specialist inconso partnered the logistics concept carried out in the central DC from the concept phase to the handover and carried out the go-live at the turn of the year from 2015 to 2016 during ongoing operation. inconso AG is a certified SAP partner and has "SAP Recognized Expertise" in the category Supply Chain Management / Extended Warehouse since 2014.