Successful digitisation of wine press hall in Bavaria
24th March 2022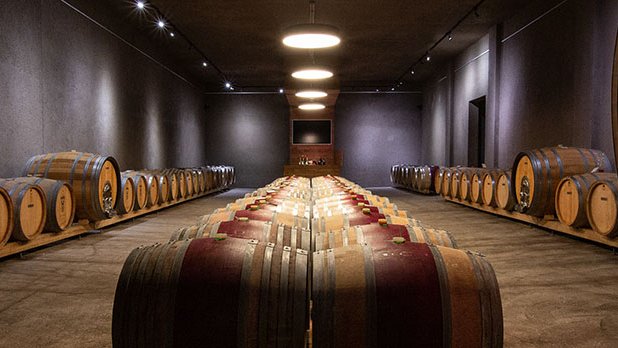 One of Europe's most modern wine press halls is located in the Franconian town of Kitzingen in the southern German state of Bavaria. During wine season, several hundred tonnes of grapes are processed there daily. Around 2,000 grape containers need to be stored and tracked. For this reason, the Winzergemeinschaft Franken eG (GWF) emphasised digitalisation early during the construction of the hall.
The project was entrusted to digitisation specialist ENTIAC, relying on hardware from deister electronic.
The project goal was to ensure efficient and seamless communication between the forklifts in the wine press hall and the control software in the main office. Grape containers were to be directed to the correct storage location or directly to the storage vat or grape press. For this purpose, the forklifts had to be automatically supplied with corresponding driving orders after picking up and sorting out the containers.
Consistent documentation
In wine production, all processes must be fully documented. This becomes a real challenge when around 2,000 containers of 600kg of grapes each, coming from hundreds of wineries need to be moved around the 5,000 sq m hall area with the help of forklifts.
"In order to automate documentation and tracking, each of the four forklifts in the wine press hall was therefore equipped with one of the powerful, reliable wide-range readers from deister electronic," reports Jörg Dombrowski, responsible project manager at system integrator ENTIAC. "This communicates with one of our COM boxes, which is also attached to the forklift. Thanks to their robust design, the readers are ideally suited for the adverse conditions in the wine press hall."
The grape containers are each equipped with four inconspicuously attached RFID sticker tags that are automatically read by the forklift when they are picked up. Information about the contents is stored on the tags – such as the grape quantity and variety and winery of origin. The ENTIAC-COM-Box sends this data via WLAN to the warehouse control software, which in turn automatically displays driving orders and destination storage locations to the driving personnel on a tablet on the forklift.
Fast implementation, fewer errors
The team of four forklift drivers was pleased with the shallow learning curve, the system-related working comfort and the low susceptibility to errors, summarises Dombrowski: "Without the system, we would have to get off the forklift for each container and do the documentation by hand scanner and paper list. Now it's all fully automatic."
The decision-makers of the project – the logistics management, the management of the wine press station, the IT department and the GWF management – were pleased with the short and effective implementation phase: the system was ready to use for the 2021 grape harvest.
Challenge
Integration with existing control station and control/software solutions
Contactless identification of the grape containers when picked up by forklifts
Solution
Four TSU 200 wide range readers (logIdent)
8,000 RFID sticker tags (four for each of the 2,000 grape containers)
Control hardware and software from ENTIAC
Benefits
Clear assignment & identification of the containers
Digital, complete documentation
Tracking of the grape containers throughout the entire process