Mobile App Allows Hours-in-Use Forklift Rental Scheme
22nd March 2018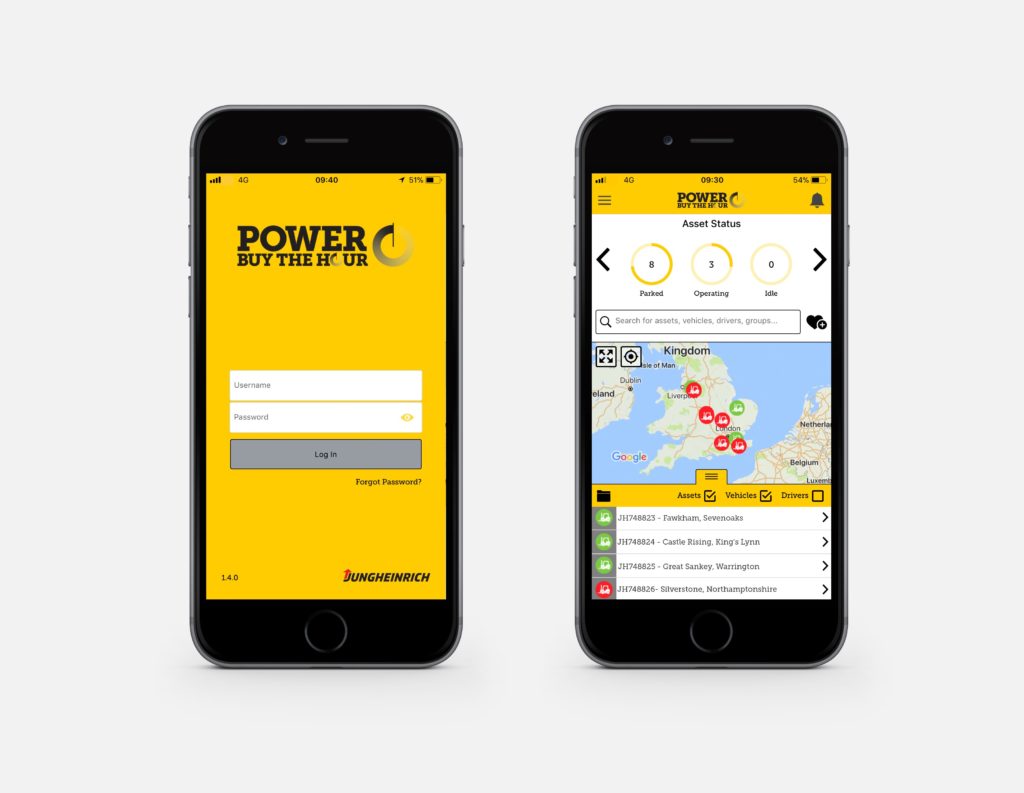 Jungheinrich UK has announced the launch of its 'Power Buy the Hour' mobile app, now available to download for Android and iOS. Designed to complement the Jungheinrich range of innovative Power Buy the Hour rental packages, the app will provide customers with telematics data from their fleet for detailed insight at their fingertips and in real time.
The launch of Power Buy the Hour last year represented a completely new lifting 'as a service' approach to IC engine forklift rental contracts of 12 months or more. Telematics data is monitored to ensure customers only pay for the hours a truck is in use as opposed to the hours it is on site, which can now be further utilised through the new Power Buy the Hour mobile app.
With access to the data, organisations can benefit from complete visibility of each truck, achieving greater control and insight in line with the business's individual requirements; vehicle information is available around the clock, including usage data, warning alerts, when the trucks are being used and how, while added GPS information provides an increased level of security, as trucks can be located on a map and quickly recovered should they appear in an unexpected location.
The use of telematics also creates a huge data pool around how the trucks are used. Analysing this data via the app allows for preventative maintenance programmes to be implemented, so the vehicle can trigger repair work as required, rather than time-based schedules or arranging unnecessary maintenance. This results in minimal downtime for the customer and avoids disruptive failures or outages.
Neil Warren, Sales Management Director, Jungheinrich UK, explains: "Power Buy the Hour rental packages were launched in response to extensive research into the forklift truck rental market, which suggests forklift rental has fallen short of evolving in line with customers' changing needs. Influenced by a raft of challenges from political and economic uncertainty to rising customer expectations, businesses now require a far more flexible approach to truck rental, and to accommodate this 76% of respondents answered that they would be interested in a rental model that charged for truck usage based on the hours used rather than a fixed term agreement.