Case Study: Demand Management Efficiency for Brandt Group
17th October 2018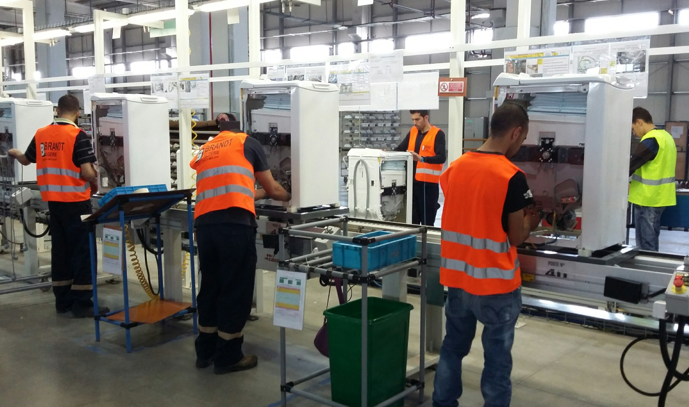 Brandt Group, the Franco-Algerian home appliances manufacturer, has optimised the supply of washing machines, cutting costs and excess stock by up to a third after implementing supply chain software from FuturMaster.
The company
The Brandt Group designs and manufactures washing, cooking and cooling appliances under four distinct brands which are shipped to fifty countries and present in millions of households: De Dietrich and Brandt are the best known international brands, while Sauter and Vedette are primarily for the French market.
The manufacturer operates four factories, two in France and two in Algeria and has three warehouses around the world. It had revenues of €450m in 2017 and says it plans to double revenues to over a billion euros in the next three years by increasing production, launching new ranges and developing new markets principally in the Middle East and North Africa.
Since the acquisition of the Brandt business in 2014 by the $4bn Algerian industrial Group Cevital, the company has honed its sights on improving the efficiency of its global supply chain processes.
After investing €500m in a new 110 hectare production facility in Algeria (the largest in Africa) to try and steadily shift production away from China, Brandt has managed to reduce lead times on deliveries for parts and finished goods from three months down to just two weeks.
Tuk Le, supply chain director at Brandt, says she thinks closer proximity to Europe and Africa and greater control over production and supply will give the company a competitive advantage. She adds that with 90 percent of parts coming from the EU, border controls to and from Algeria and presenting the necessary paperwork is now much easier.
Today, around 85 percent of its washing machines – its best-selling line of products – are completely made by Brandt, including all the component parts and packaging. The company controls around a third of the washing machine market – shifting over 300,000 units a year – and boasts a virtual monopoly on locally produced top-loading washing machines.
The challenge
However, with a product coming off the production line every 12 seconds, an average of 300 parts required for each machine and some parts taking around 22 weeks to be ready, the supply chain team have to plan well ahead.
"We try to adhere to the principals of 'just-in-time' production and never over-stocking, but it's a fine balance optimising the process and avoiding stopping production because of missing parts," says Le.
What's more, with currently around 2,000 individual product types and plans to expand ranges – particularly fridges, freezers and air conditioning units to meet increasing demand across the Middle East and North Africa – and ramping up annual production in Algeria to five million large electrical appliances being produced by 2020, Brandt needs to be able to gauge exactly what products need producing for each market, and when.
The solution
So, in 2017, the manufacturer implemented FuturMaster's demand management software for calculating sales forecasts and, later the same year, added its distribution planning solution to help optimise stock levels and distribution across the globe. The company also switched its enterprise systems from Sage to SAP. More recently, in September 2018, Brandt went live with FuturMaster's production planning software to focus more on the synchronisation of industrial supply chain and capacity planning at its new factory in Algeria.
"We use FuturMaster to manage the complexity of our supply chain, to optimise production capacity and to reduce costs," says Le.
The benefits
She hopes that better forecasting and planning will ensure it no longer has to stop the production line – due often to missing or delayed parts – which can be a massive cost to the business.
"We've been having to stop production four or five days a month – something that's a heavy burden on our supply chain – but expect soon to reduce that to zero," she says.
Significant cost and time savings are also anticipated from no longer having to outsource so much to China, where currently around thirty suppliers are still relied upon. Controlling and producing more ranges in Algeria means the company can diversify and fill containers with a mix of exactly those products required by different retailers around the world, rather than having to ship in bulk and store several weeks worth of large consignments in multiple warehouses.
For instance, big home appliance retailers like Darty in France might order three month's worth of goods in advance and want a consignment of around a thousand products to be delivered within ten days.
Now, with costs for transporting containers from Algeria about fifteen times less than China, not to mention twenty days quicker, Brandt is able to reduce reserve stock from three months down to twenty one days. It's also managed to increase service levels to retailers from a low of around 40 percent three years ago to approaching 95 percent today.
Every month, various departments – from marketing, sales and production – meet to discuss forecasts and plan ahead on a daily, weekly or monthly basis, sometimes up to a year or two ahead.
"You need long term visibility so you can order and produce the necessary parts for assembly in line with demand for different products in different parts of the world," says Le.
The company has various subsidiaries in France, Algeria, Morocco, Tunisia, Spain, Malaysia and Singapore. The business later plans to implement FuturMaster's Sales & Operations Planning (S&OP) tool to help co-ordinate information and reporting between each entity. And with around two new products being launched a year, Brandt may next turn to FuturMaster's promotional planning tool to work more closely with retailers in future.