School of logistics honours young SCM experts
14th July 2022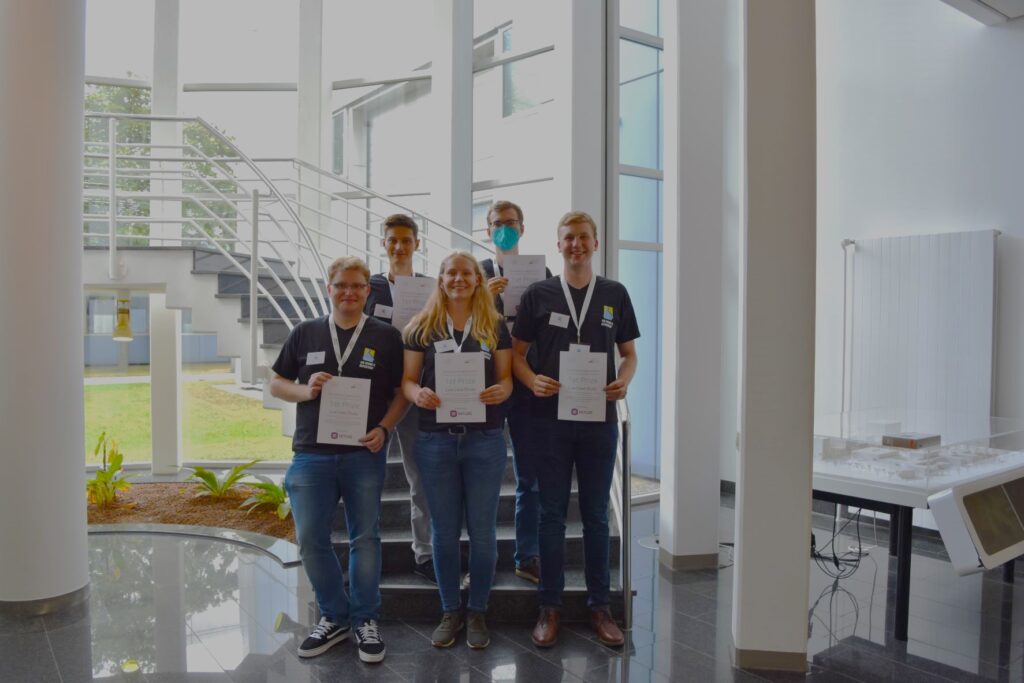 The Dortmund based PhD School of Logistics, the summer school of the Graduate School of Logistics, has recognised five doctoral students who, as a team, had developed the best solution to a live case study in the field of fashion logistics. Univ. Prof. Dr. Dr. h. c. Michael Henke, Speaker of the Board of the Graduate School of Logistics at TU Dortmund, congratulated the group consisting of Dominik Bons (Chair of Corporate Logistics, TU Dortmund), Simon Kammerer (Institute of Energy Systems, Energy Efficiency and Energy Economics), Lara Kuhlmann (Graduate School of Logistics), Alexander Lunin (TU Darmstadt) and Julian Brinkmeyer (Chair of Corporate Logistics, TU Dortmund).
Four interdisciplinary teams with a total of 19 young men and women took part in the live case study during the 7th PhD School of Logistics (July 4th to 8th ) at the Fraunhofer Institute for Logistics and Material Flow IML. The organiser invited experts from the Open Logistics Foundation and from Bochum-based SCM software provider Setlog as cooperation partners. The IT specialists from the Ruhr region helped to develop the assignment and provided data that had previously been generated from Setlog's SCM software OSCA.
In the context of a volatile economy, the participants were given the task of analysing current data from the apparel industry and presenting a SCM concept that is flexible, resilient, sustainable, and future-proof. Background: The supply chains in the fashion industry are very complex. A pair of jeans is transported up to 20,000km from production to the store. The supply chain consists of at least 20 milestones. To make matters worse, the current crises are lengthening delivery times and pushing prices up.
The teams could decide for themselves which key figures they wanted to optimise – for example, costs, delivery times or transport routes. However, they had to provide suggestions on how to optimise supply chains using platforms based on blockchain technology. They also had to specify which well-known open-source components would help to implement the solution.
"A particular challenge for the teams was the time pressure during the live case study. Only nine hours were allotted for the development, and only 15 minutes for the presentation to the jury," reports scientist Michael Henke. He is very satisfied with the results: "The participants showed that modern supply chain management benefits enormously from digital technologies such as blockchain and open-source components. Without them, the flexible, resilient and sustainable supply chain networks of tomorrow are unthinkable."
Ralf Duester, board member of Setlog, emphasises: "Supporting open-source activities is not a contradiction for us as a software provider either – on the contrary: only together can we design solutions that are used everywhere in industry. And only in this way we can increase the speed of developments. That is also why we are a founding member of the Open Logistics e.V. association and supported this very realistic live case study."
Caption
The winning team of the live case study (from left to right): Dominik Bons (Chair of Corporate Logistics, TU Dortmund), Simon Kammerer (Institute of Energy Systems, Energy Efficiency and Energy Economics), Lara Kuhlmann (Graduate School of Logistics), Alexander Lunin (TU Darmstadt), Julian Brinkmeyer (Chair of Corporate Logistics, TU Dortmund). Explained in a keynote the necessity of a new supply chain management and the advantages of open source developments: Professor Michael Henke (TU Dortmund and Fraunhofer IML). Photos: Graduate School of Logistics