'Nirvana' for nervous importers
16th November 2021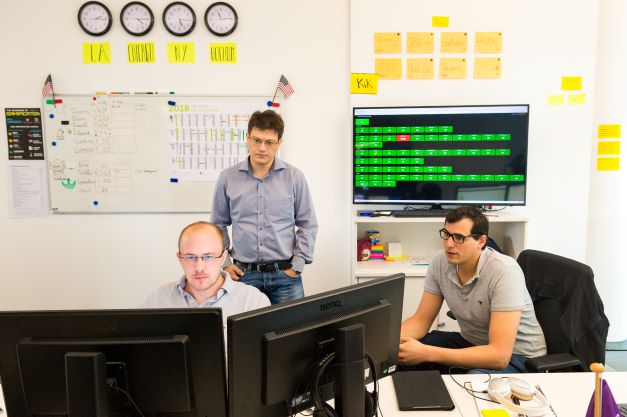 As supply chain disruptions continue to dominate news headlines, a noted inbound supply chain software specialist is making sure that nervous importers are guaranteed a good night's sleep. Logistics Business magazine editor Paul Hamblin meets Setlog.
In the logistics industry, much of the noise around Digital Integration and Real-time Visibility (RTV) software and their ability to improve both service and efficiencies has been focused on the last-mile sector, on the journey of goods around a warehouse and then out to the end consumer. Indeed, end-consumer comfort with the technology is a key component of its raison d'être.
But what about the much longer, more complex and decidedly uncertain route taken by the goods before they even arrive at the warehouse? In other words, their journey from a producer or supplier in Asia or Africa to, say, their European-based importer? In a world where disruption has been perhaps the most common word in the global supply chain lexicon over the past 24 months – and with no likelihood of unexpected disruptions ceasing any time soon – ­importers will be happy to hear about a software provider able to offer solutions aimed at full collaboration and visibility of the total inbound supply chain.
Founded 20 years ago, now with offices in New York and Bochum (Germany) serving over 150 customers and brands, Setlog offers a digital ecosystem in which every stakeholder in the supply chain takes part. It includes the importer's WMS and ERP and all constituent parts, plus suppliers, factories, forwarders, laboratories, buying offices, warehouses and quality control mechanisms, all linked to a common, easy-to-use, 100% integrated Digital Independence and visible gateway that enables all parties at all locations to see all data and all workflows at all relevant times. And all managed by easy-to-use, downloadable software.
It's called Online Supply Chain Accelerator, or OSCA. "Data silos are everywhere, and they are killing businesses," Guido Brackelsberg, Setlog co-founder and MD Sales, tells me. "Those businesses need shorter lead times. It's driven by the Amazons of this world and it's leading to more decentralised supply chains that are not optimally connected. To achieve the agility they need, our view is that businesses need digital independence, a digital core to manage sourcing, procurement and their global logistics processes. It's why we focus on API integration and better movement of data. Collaboration of inbound supply chains is going to be a must for everyone, whether you are in fashion or frying pans."
The obvious immediate benefit is faster lead times – 2-4 months, rather than the 8-12 months of a traditional or not fully integrated supply chain. Put that win against an autumn of doom-laden headlines about global shortages, blocked ports and stranded container ships and you have a story to make a Setlog target customer sit up and take notice.
As supply chain disruptions continue to dominate news headlines, a noted inbound supply chain software specialist is making sure that nervous importers are guaranteed a good night's sleep. Paul Hamblin meets Setlog. "Let's not even talk about how bad it is out there," agrees Guido Brackelsberg.
"The benefit we offer against this backdrop is security, reassurance. You have a much better grip on your supply chain because your supplier is sharing all of his/her information. Our customers say to us: 'I can sleep at night now, because of OSCA. If something goes wrong in my supply chain outside my control – and I know it's going to – I can alleviate the pain. I can act, rather than react.'" Clearly it is a highly intricate network, but for the core user it is easy to operate via the software. "That's what 20 years of experience gives us," says Brackelsberg. "Knowing what a warehouse worker in Bangladesh is confident about operating intuitively in the same way as counterparts around the world. Everyone sees the same screens."
A SaaS business model, Setlog is migrating OSCA to a platform approach so a supplier will only need to be added to the ecosystem once. That same supplier might work with five different customers with five different workflows. In each case, full end-to-end visibility with integrated API and data analytics are promised, all with nirvana in mind for the importer – digital independence.