Next-Generation Automation at Logimat 2023
13th April 2023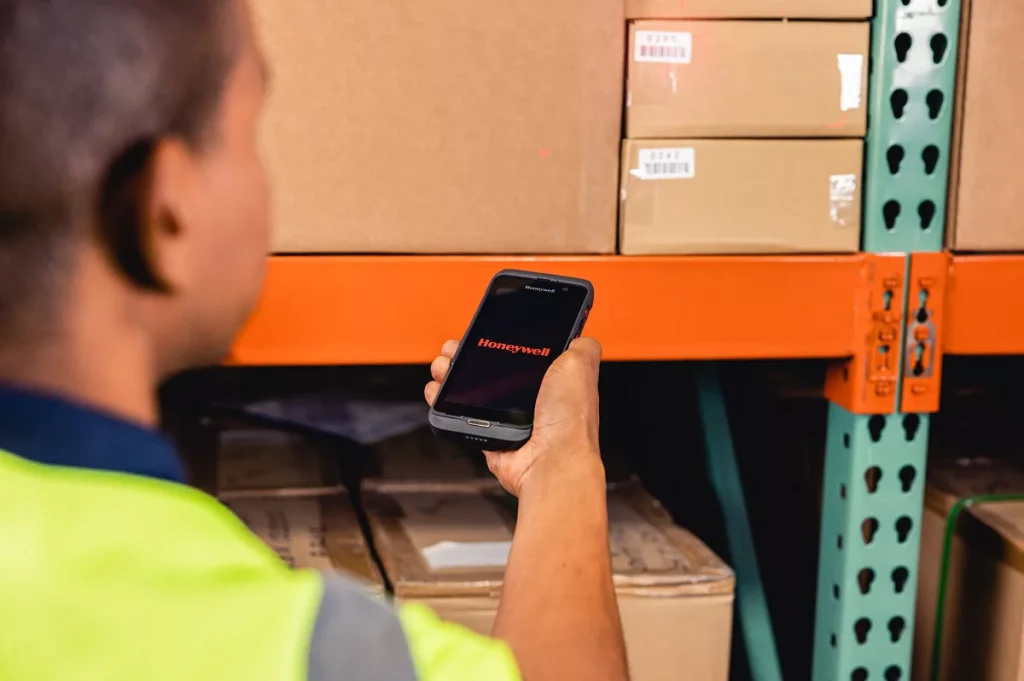 Honeywell will showcase its latest technology for the transportation, logistics and warehouse sectors at LogiMAT 2023 in Stuttgart. The company will introduce its first 5G devices catered for the warehouse and logistics sector – the Honeywell CT47 handheld computer (pictured) and the Honeywell ScanPal EDA 57 handheld computer – designed to provide enhanced data connectivity and communications in both indoor and outdoor environments.
Honeywell is one of the largest providers of industrial handheld devices and material handling equipment in the world. More than 2.5 million mobility devices are deployed in thousands of operations globally, and many of the top global retailers rely on automated material handling solutions from Honeywell.
Other Honeywell solutions that will be on display at LogiMAT include:
Wearable solutions: Honeywell's latest wearable computer, the CW45, brings optimised ergonomics and performance to arm-worn applications.
Voice automation technology: Currently available in more than 40 different languages, Honeywell Voice guides warehouse operators through tasks or steps to complete processes such as picking, inventory replenishment, maintenance and repairs.
Asset optimisation software: Operational Intelligence empowers warehouses and distribution centres to optimise warehouse processes and manage devices with data and actionable insights in real time that lead to greater productivity.
Material handling equipment: Honeywell's IntelliSort HS 2.0 high-speed sliding shoe sorter is engineered to deliver high throughput rates and effective product handling.
Digital Transformation
Honeywell's comprehensive suite of solutions empower warehouse operations to advance their digital transformation journey. With many companies seeing digitalisation as a key factor for future success, discussions around digital solutions will be an integral part of LogiMAT 2023. A Gartner survey found that 50% of supply chain organisations worldwide will invest in artificial intelligence and advanced analytics technologies by 2024, with a view to better manage and draw insights from their data.
Within the UK specifically, a recent Make UK report found that 77% of UK manufacturers have increased spend on digital technologies since 2020, with 80% intending to do so by the end of 2024. Supply chain management was one of the most prominent investment areas, with 30% having already started to digitalise their supply chain operations and a further 40% considering doing so.
"Digital transformation is key to keeping ahead of rapidly increasing market demands and to remain resilient amidst unpredictable supply chains," said Horst Mollik, vice president and general manager of Honeywell Productivity Solutions and Services Europe. "The pressure to increase levels of efficiency and productivity has never been greater in distribution and fulfilment operations, and digitalisation is a key factor to deal with today's challenges and prepare for the future. In that space and beyond, Honeywell is committed to helping businesses optimise and manage their entire fulfilment processes, from receiving to shipping – and everything in between."
Honeywell's solutions will be spread across two booths at the Stuttgart Trade Fair Centre – in Hall 3, Booth 3A03, and in Hall 4, Booth F41.