Network Security Targets Hit by IT Solution
9th March 2023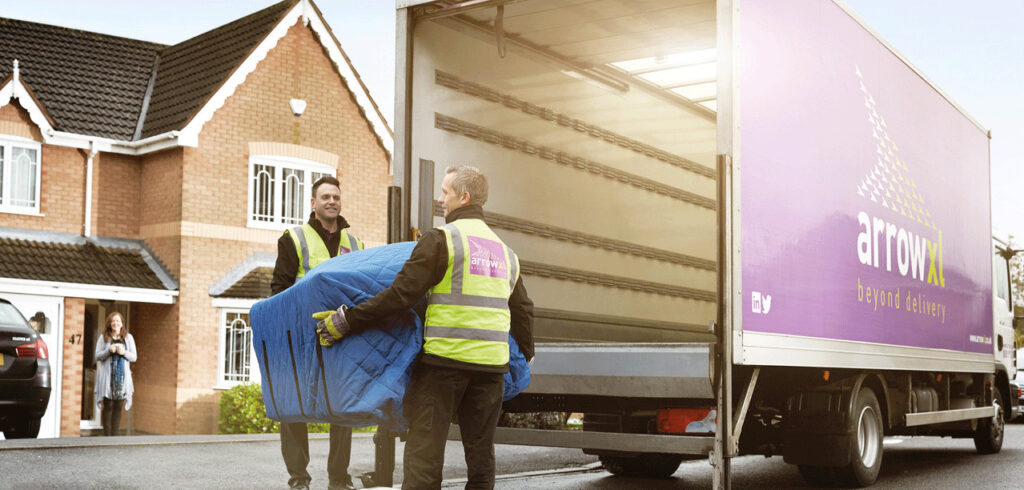 With over 25 years of experience, ArrowXL, a British two-person delivery and warehousing specialist headquartered in Wigan, has invested in an improved network security system The company focuses on delivering large, heavy and unwieldy orders such as sofas, domestic appliances and gym equipment. It also offers additional value-add services, including appliance fitting, furniture assembly and removal of old items. ArrowXL places exceptional service at the centre of all its operations, ensuring deliveries are made on time and with minimal disruption to customers. This requires fast, reliable and secure IT across the company's distribution network. So, when ArrowXL's multi-site network began to suffer sustained outages and the incumbent supplier breached SLAs, it was time to take action.
Secure SD-WAN and renewed structured cabling
After looking at several competing solutions, the decision was taken to roll out Node4's fully managed Secure SD-WAN across eight sites and replace the structured cabling, comms cabinets and access points. This infrastructure would help provide improved connectivity indoors and outdoors for each location. Rachel Hopkins, Chief Information Officer at ArrowXL, explains: "Right from the outset, there was a high degree of consensus about choosing Node4's Secure SD-WAN. Node4's bid team demonstrated the solution's superior speed, versatility and security very clearly. They also made a compelling case for how their additional services and solutions could add further value to the business in the future."
Security Operations Centre (SOC) Managed Service
With the initial phase of the SD-WAN rollout completed, Rachel and her team turned their attention to sourcing and implementing a managed threat and detect service. She takes up the story: "Node4 was our incumbent network and data centre provider by this stage, so partnering with them to deliver further security-related services enabled a much more responsive proposition. However, to ensure best value, we approached several other potential providers during the procurement process. Ultimately, we chose Threat Detect, Node4's Security Operations Centre service — or SOC. We were particularly impressed by the solution's use of the latest AI technology and third-party intelligence sources. But the real added value for us came from the fact that our network would be monitored round the clock by Node4's team of expert security analysts — which removed the need for us to hire an Information Security team.
An IT network that delivers on its promises
Today, Node4's Secure SD-WAN forms the backbone of ArrowXL's network technology. Its centralised provisioning, consistent performance, network traffic visibility and ease of deployment have played a pivotal role in ensuring that deliveries happen on time and with minimal stress for customers, warehouse personnel and drivers. No matter when and where there are spikes in usage, Node4's SD-WAN can adapt and maintain network speeds — ensuring the system is not overloaded and does not crash. The solution also features a next-generation firewall at each location to protect users from internal and external cyber threats .
"Node4's Secure SD-WAN provides us with a faster, more robust IT network that, to date, hasn't experienced any significant outages," explains Rachel. "There's no doubt that this leading-edge technology has delivered significant benefits to our business. We now have a resilient network that spans all our main locations, with plans to roll it out to all our outbases. We expect to see further longer-term benefits as ArrowXL continues to evolve and grow. Node4's SD-WAN will enable us to manage that change, allowing us to add or remove sites as necessary. It means we can be more flexible, adaptable and agile in our approach."
Within two weeks of mobilisation, the SOC had already demonstrated its worth — identifying and isolating several accounts targeted by cyber criminals. It confirmed Rachel's belief that taking a managed service approach to security was the correct choice. To hire a suitably qualified manager plus several analysts to provide the 24-hour coverage required would cost significantly more than using the Node4 managed threat and detect service and wouldn't deliver an equivalent service. "Our sector has suffered an increasing number of cyber attacks in recent months, so it's an incredible relief to know we have that skill on tap to neutralise these threats when they present themselves. With Node4's SOC solution in place, it's really brought home just how little sense it would have made for an organisation of our size to try and deliver its own 24/7 capability — particularly in the context of having to attract and retain a team with these highly sought after skills — and why it was such a sensible choice to take a managed services approach."
Taking stock, Rachel explains that Node4 has made a substantial contribution to ArrowXL's IT infrastructure and information security — and that, today, the company also plays a vital role in providing advice and consultancy on future projects. Rachel notes: "Our partnership with Node4 is so important because we have a relatively small in-house IT team. They supplement our skills, knowledge and expertise in specialisms we'd be unable to attract and retain. They're not afraid to talk about new technology and help us drive innovation — just as they did when proposing the SD-WAN and the managed service security offering. That's why I see Node4 as an extension of my team — and much, much more than a service provider. It's a partnership that will only strengthen as we embark on more IT infrastructure improvements over the coming months and years."